Written in 2001: Wynndel is a small community at the south end of Kootenay Lake, not far from Creston. There are still a handful of grain elevators in the area, and still some grain growing, especially in the Creston Valley. I painted this elevator in 1995 and wonder whether it is still standing and, indeed, whether there are still tracks on the rail line.

From Westley Paynter, October, 2013:

I had come across your website a while ago and I remembered it today when I noticed the grain elevator in Wynndel BC was being torn down. Here's a picture....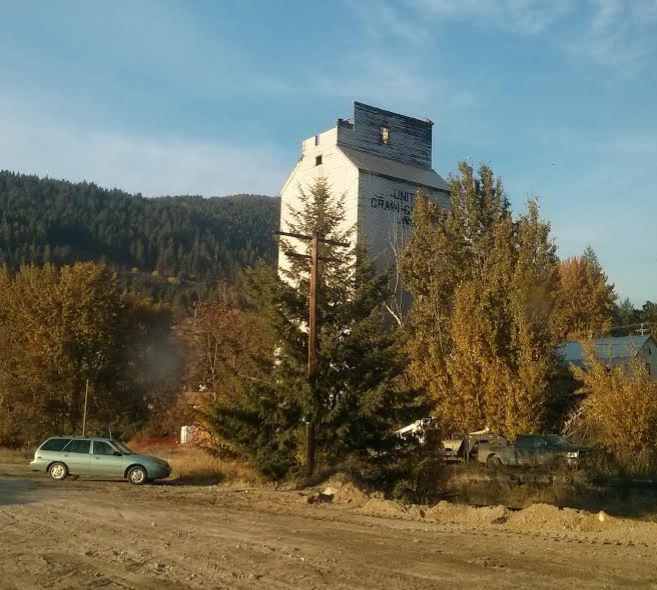 From Nicole Rogne, 2012:

I just came across your page on Vanishing BC about the Wynndel grain elevator! I haven't explored more of the website yet, but I thought I'd send a quick e-mail to say that the Wynndel grain elevator is still standing as of April, 2012, althought it is no longer in use - there is a 2001 calendar in the small office beside it, along with some other things, and there is still equipment in the elevator - since it is so close to homes, it has not been vandalized. However, there is talk that it will come down soon, nobody knows how soon yet. I live VERY close to the elevator and tracks (they're still there) and the train runs twice every night between 9PM and 3AM. The Wigens also still live here and own quite a bit of property in Wynndel.



See also the Creston flats page for the historical link to the Canal Flats project.

Notes from Creston Review 1958 Centennial edition: "O.J. Wigen, the father of Wynndel, first set foot there in 1893 in his mining pursuits. When the mining petered out, interests turned to logging and sawmilling. In 1901, Mr. Wigen cleared the first orchard and gave Wynndel its start as a strawberry growing centre. Tree fruits did not gain prominence unil more recent years. Some of the pioneers will recall the names of such early settlers as Fred Hagen, Clem Payette, Monrad Wigen, Matt Hagen, Walker Cooper and Ed Butterfield. Sirdar was the lake terminus for the CPR Crow's Nest line, founded by J. Lumsden in 1898. The trains went 3 miles beyond Sirdar to Kootenay Landing, but returned to the shops at Sirdar."

Santo Pascuzzo and Peter Cherbo were two of the pioneers – Sirdar is noted for its stone terracing.