Due to the amount of material, there are 5 North Bend pages: Highline Houses, the Harry Lee house, the North Bend store/CPR Hotel, the Mountain Hotel and this one.
From Deborah St. Jean, daughter of Ada Burgess - St. Jean, (Maple Ridge), 2022:
My grandmother and some of her siblings were born in Keefers, BC; children of Sarah Jane and Valentine Richmond. After a house fire there where they lost their youngest, Vera Angelina (3) to the fire, moved to North Bend. They lived in the house in the fork in the road. One fork goes high and one low around their house and property. When my grandmother, Margarette Richmond, was about 16 or so she worked in the train station coffee counter where she later met my grandfather, George Burgess, who worked for CPR. Margarette and George married in North Bend, and settled down into their own house in 1922, next to his parents who lived on the McKeown family farm. George's father, William (Bill) Burgess (his wife was Mary Jane McKeown), delivered fresh milk, eggs and fresh veggies, etc., by horse and wagon to the families in North Bend.
My mother, Ada Burgess, was born in the upper floor master bedroom (overlooking the fork in the road) in July 1923, and siblings as well, in the years after that. I believe the two story house is still there. George continued to work for the CPR for 50 years.
The Burgesses' and the McKeowns' and the Richmonds' children all attended the North Bend elementary school.
The Burgesses', McKeowns and Richmonds, about 1935, moved down to the Lower Mainland.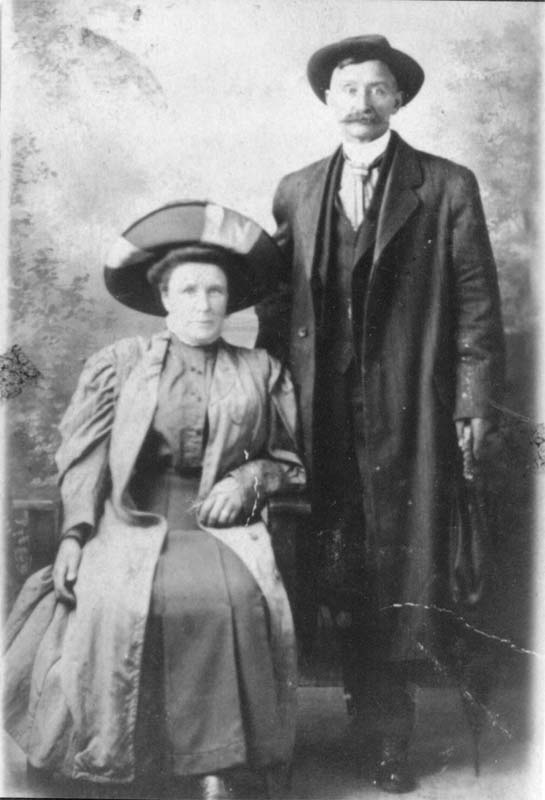 William and Mary Jane McKeown Burgess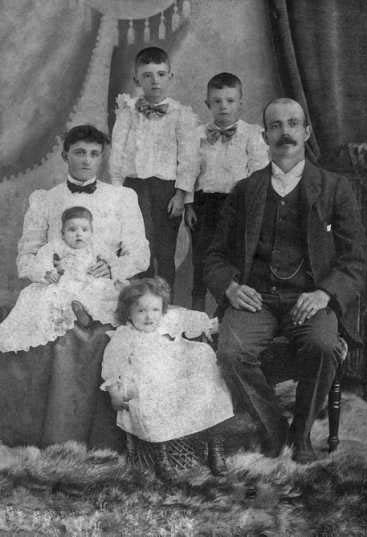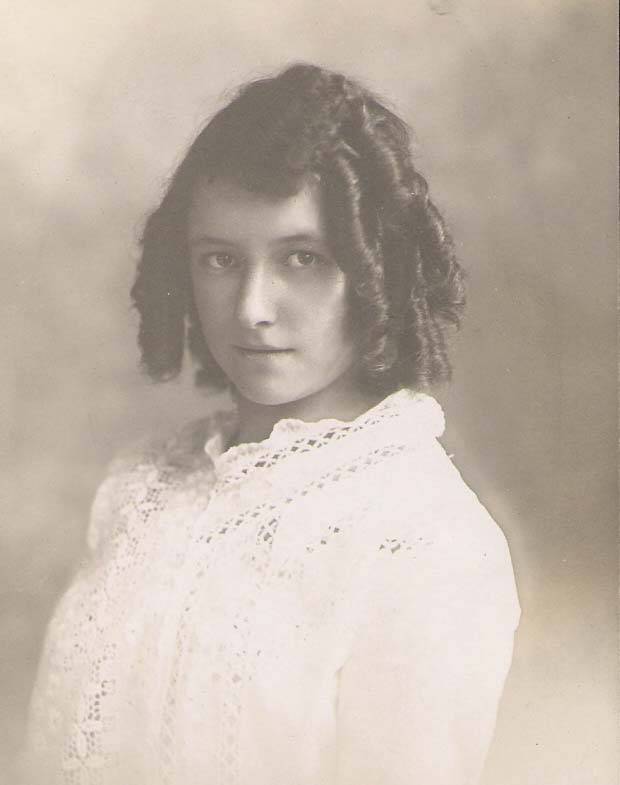 Ada Burgess, about 1920.

From Jorge de Seixas Azevedo, 2021: My parents were immigrants, they arrived from Portugal. My father started working at the Canadian Pacific Railway in 1958 to 1964/65. We lived in one of the CPR houses, which I think was one of the "highline houses". I am sending you two pictures taken in our garden in 1963.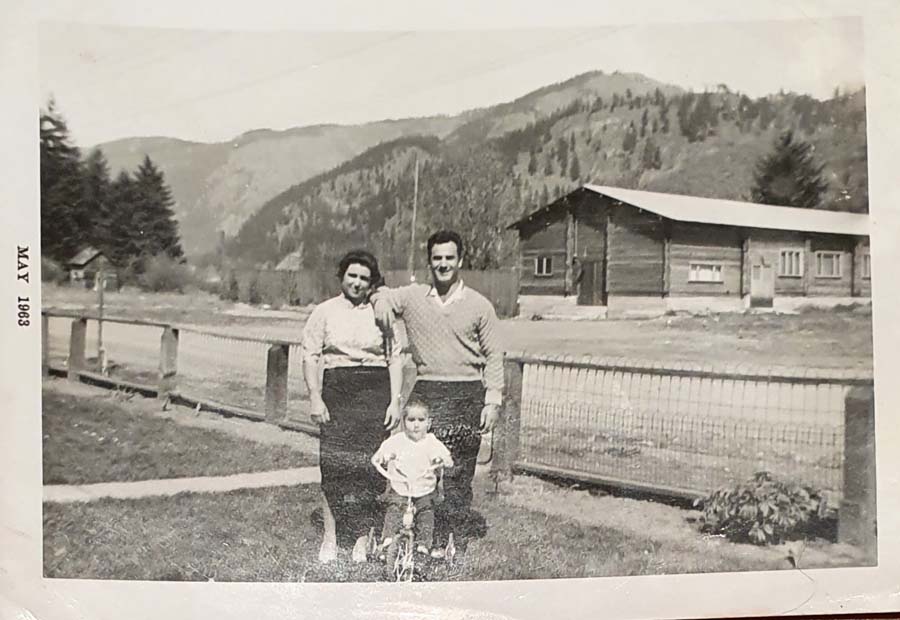 From April Lewis, 2021: I visited North Bend yesterday and thought of my grandmother, Signe M. Petersen, born 1895, who emigrated to North Bend from Sweden around 1915 and worked as a housekeeper. She later married Charles William Clingwall (originally Klingval) and they are both buried in Aldergrove. Any information would be greatly appreciated. (On behalf of Martin Vallner Clingwall, grandson).

From Larry Carlson, 2020: I knew Wendy Sahaydack and remember the band they had I think my brother Dave Carlson May have played with the band but I am not absoluteley sure . I moved to north bend in 1948 I was one years old my dad Godfrey Carlson worked for his brother Almer Carlson in the red and white food store. My other uncle Andy Carlson ran the same store in Boston Bar that store is still there but the name has changed . I lived in North Bend from 1948 to 1968 gratuted in 1967 at hope secondary school I still miss the sound of the steam engines from when I was a kid then the Diesel engines came on line I rember the round house the ice house we used to snak in there on a hot summer day to cool off there were big blocks of ice they put them on the passenger cars for ice boxes in the restaurant car that was on the train all of that is long gone including my uncles store the hous where I grew up in I was an empty lot the elematary school is now a museum I plan to visit the north bend for the last time on Oct 1 2020. I am now 73 and have a lot of fond memories there.
From Brian McLeod, 2016: I spent most of my summers up in North Bend. My uncle was the head dispatcher and lived in the big white house at the top of the entrance road. It was a CPR house right next to the school. I remember the Red and White store, couple of churches, and of course the yard. I was there when North Bend got it's swimming pool just up the hill from the roundhouse. I have a lot of good memories of North Bend and I thought I would say hello. Oh yes not to forget the ferry across the river—scared the heck out of me. Anyway thanks for all you have done for our North Bend. I usually make a couple of trips a year back to her.

From Terry Fisher, 2016: I added some info to your Harry Lee house page back in 2007. I was just revisiting your North Bend page and noted a few requests for info.

"Raoul Duke, 2015: was wondering whereabouts the hobo camp was and any info on bo's in the area would be appreciated, thank you."

The site is North of the town on the south side of the railway. There is not much left there. The shacks were all burnt down over the years as the Hobos passed or moved on. It can be accessed easily buy parking near Dads place. (Cliff Fisher's) To get there cross the river to North Bend, turn right just before the railway and follow the road as it branches east toward the river and up a slight hill to the river. Parking here Follow the river bank edge north along the river, there is a nice trail takes you all the way too the 2nd creek north of town or the east end of the CPR North Bend Yard. Note you will pass the remains of the old CPR Powder shack along the way, about 100 meters south of the railway wye. Once you drop down onto the lower bench's of the river you cross a parcel of private land so please treat it with respect! the trail continues up river on the left side past the fellow's garden. there are a few steep hills one drops you off the upper bench where you park down too near to the water level. The other climbs back up to the upper bench once you cross the 1st creek bridge. This is a nice way to spend a few hours on a spring or warm summer day! Watch for the wild orchids along the way! April through mid May most years. Six different Orchids identified so far, Rattle Snake, Twin Leaf, Spotted and Striped Red and Yellow Coral Root, Calypso and Mountain Lady Slipper!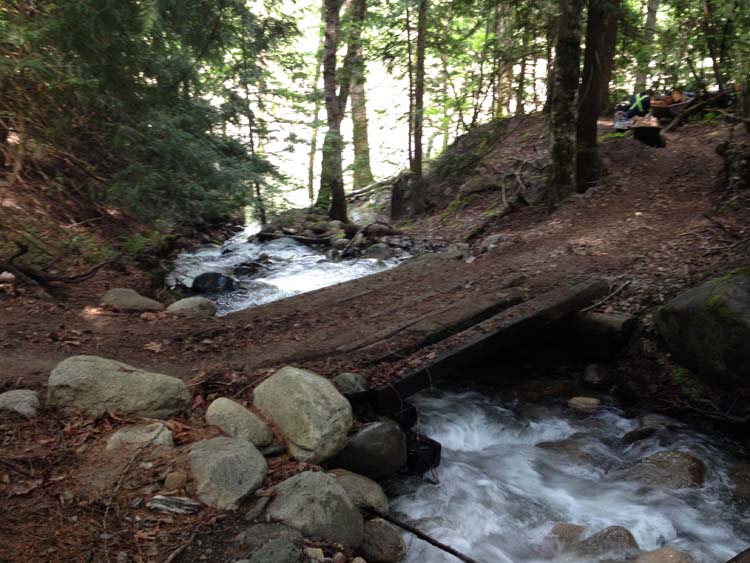 First Creek Bridge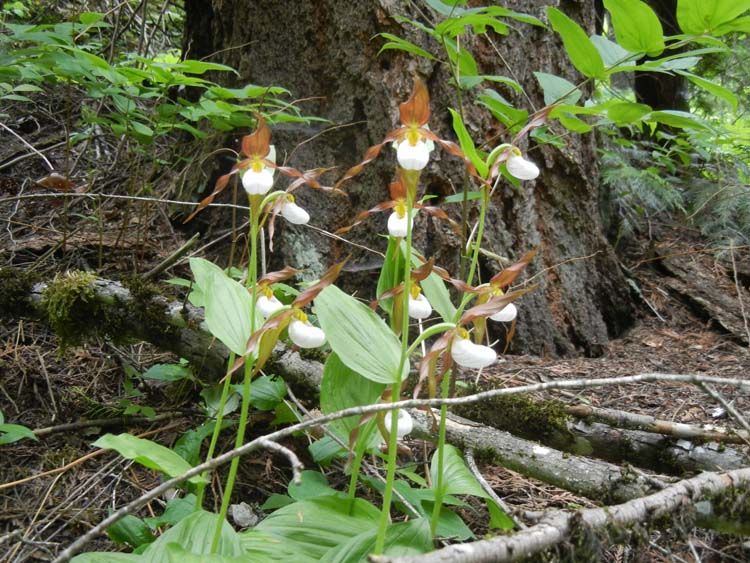 Mountain Lady Slippers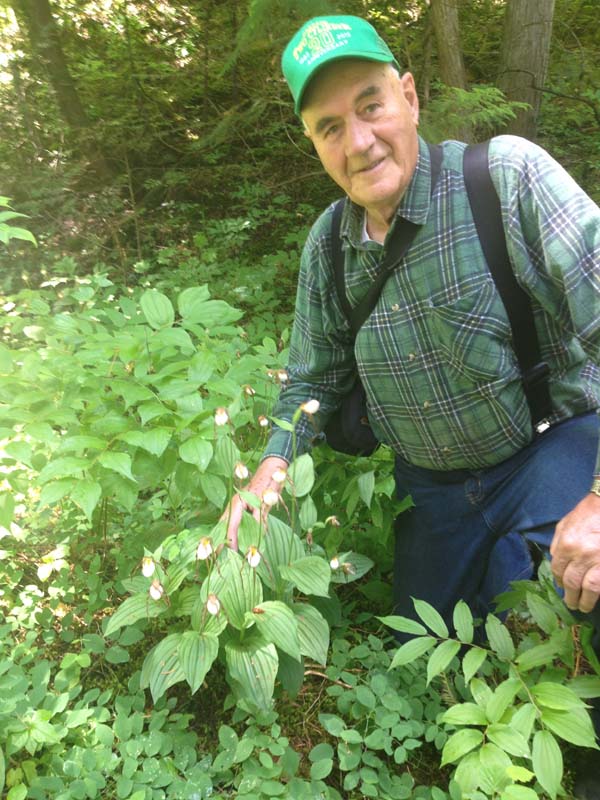 Cliff Fisher with the native orchids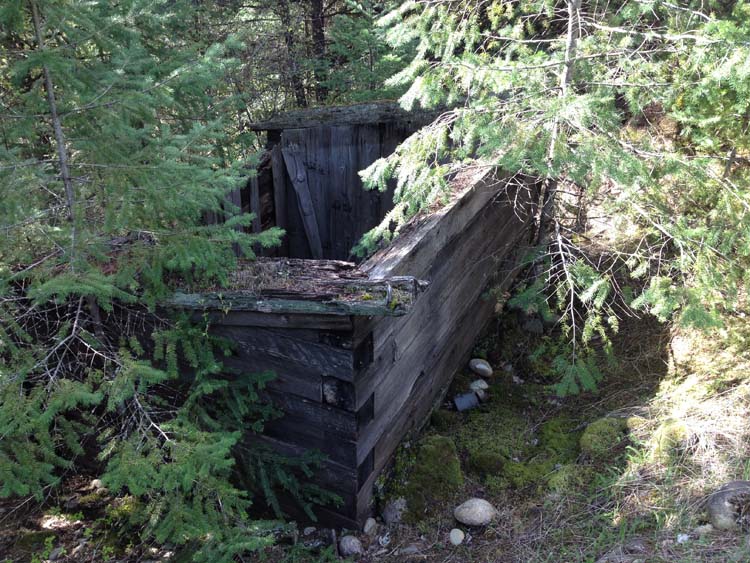 Old powder shack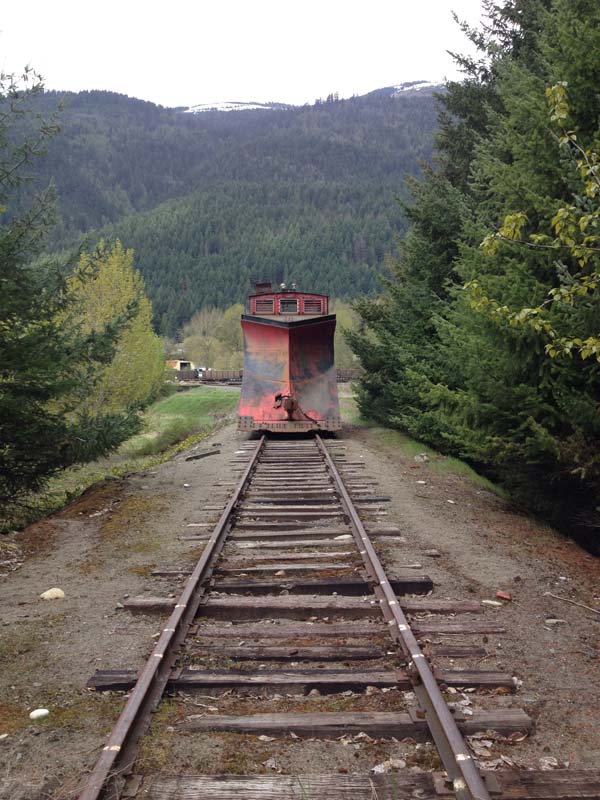 Snow plow

On a different note. I read a comment by a lady by the name of Yvonne Gowen wondering where her great uncle Beau Gowen lived.

Dad often talks about "old Beaudy Gowen" and has some very interesting stories to relate. If she gets back in touch with the website here we can connect.

From Raoul Duke, 2015: was wondering whereabouts the hobo camp was and any info on bo's in the area would be appreciated, thank you.
From Patrick Wheelhouse, 2015: My Grand Mother and Father are from North Bend, my great uncle Elmer as well, I so hoped I could find a picture of June Carlson and Godfrey Carlson, I was only 2 when I lived a summer in North Bend with my Grand Parents, did return and go to school there in grade 5 if I remember correctly. What a wonderful community it was, I so loved the ferry across the river to Boston Bar, always exciting for a child, my brother was terrified but not me. My Uncle Elmer worked the store for many years on North Bend and my Grandfather ran the bottle depot from his home just a few houses down the street. I believe my Grandmother June worked cleaning the CPR bunkhouses. Wonderful memories of North Bend, your pictures brought back a lot of memories for me.

From LD Lawn Care, 2014: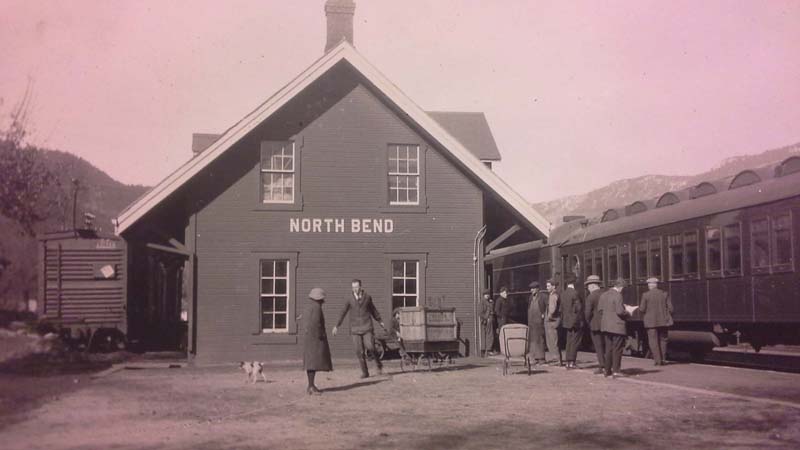 Unknown photographer, date c. 1920?

***

From Larry Turner, 2014: My parents moved to North Bend in 1958 , I was born in May 1959 and as a child I grew up exploring the great history surrounding the Fraser Canyon until leaving in the winter of 1987. Boston Bar originated in the 1860s downstream approx. 3 miles just south of the Westerlund farm between the existing CPR tracks and the river. The river bar by that name is across the Fraser River from the mouth of Anderson creek. When the CPR railroad was built in the 1880s North Bend was created and the town of Boston Bar was moved to the east side of the river just north of the confluence of the Fraser and Anderson creek. This put the town next to the Caribou Trail. Due to flooding that occurred in the years after Boston Bar was moved further north to higher ground.

On a different note. I read a comment by a lady by the name of Yvonne Gowen wondering where her great uncle Beau Gowen lived. Can you put me in touch with her?

From Rob Dumont, 2014: I am looking for information on a sawmill that operated in North Bend, BC in the 1940s and early 1950s. I believe the name of the sawmill was Kitsilano Sawmills. I believe it was located about 5 km north of where the old aerial ferry was located.
From Dave Hills, 2014: Would you happen to have any contacts for a museum or maybe historical society in the North Bend area? Reason being my Grandfather was stationed there in the Mounted Police, sometime between about 1905 and 1925, or thereabouts. I'd like to find out if there are any surviving service records or perhaps photographs of him in the archives.

From Peter Skobin, 2014: our family lived in North Bend from 1949 till 1958. We live in the Bahamas and would like to be at this year's May day celebrations. Can you send me more info also would like to see the museum in the old school.

From Michael Gordon, 2013: My great Uncle George Robertson Gordon (my grandfather's oldest brother) arrived in North Bend in 1885 "merchandizing" before settling in Granville (Vancouver in 1886). This is an excerpt from his biographical entry in Volume III of British Columbia: From the earliest times to the present (SJ Clarke, 1914):

George Robertson Gordon, financial agent at Vancouver, devoting his time largely to his duties as executor of several estates and also to the handling of private interests, was born at Goderich, Ontario, September 1, 1861. His par ents, James and Mary Ann (Gordon) Gordon, were both natives of Ireland, the former born in County Fermanagh and the latter in County Armagh. The father learned the carpenter's trade there and in 1855 crossed the Atlantic to the new world, becoming a resident of Goderich, Ontario, where for thirty-five years he conducted business as a contractor. He filled the offices of town assessor and building inspector for a number of years and passed away in Goderich in 1892, at the age of sixty-seven years. His wife arrived in Canada in early womanhood and they were married in Hamilton. She passed away a number of years before her husband, dying in 1875, at the age of forty-two.

At the usual age George R. Gordon began his education as a public-school student in his native city and passed through consecutive grades to the high school, from which he was graduated before entering mercantile circles in 1876, at the age of fifteen. He was first employed as a clerk in a general store in his home town, spending his time in that way until 1881, when he removed westward to Manitoba. Owing to ill health while in that province, he soon returned to the east and remained in Ontario until 1884, when he located at Spences Bridge, British Columbia, remaining there for a year. In 1885 he embarked in merchandising at North Bend, British Columbia, in partnership with E. Johnston, but in the spring of 1886 sold out to his partner and came to Vancouver, which was then a small and unimportant town, known as Granville. Here he has resided continuously since and with the growth of the city has been closely associated, watching its development from early days and taking active part in its progress. He began merchandising here in March, 1886, but was burned out by the fire which occurred on the I3th of June of that year. Nothing daunted by this calamity, however, he secured another stock of goods and was soon again engaged in business, in which he continued until 1900, winning a substantial measure of success through all the intervening years, for his trade increased with the growth of the city, his straightforward and honorable business methods securing him a gratifying patronage. With the opening year of the century he closed out his business and turned his attention to other pursuits becoming secretary of the Terminal City Building Society, the City of Vancouver Building Society and the Burrard Building Society, the last named being the only one of the three now in existence. He resigned his position as secretary in 1911 and at the present time is executor of several estates, while his private interests also make large claim upon his attention and energies. He is the holder of much valuable business and residential property in Vancouver and is the owner of a fine farm of one hundred and twelve acres at Langley, British Columbia, which is devoted to the production of fruit, the raising of stock and poultry and to dairy interests, each branch of the business bringing to him a substantial return.



From Dan Clark, 2013: I'm the GGGrandson of Thomas Clark, the CPR station agent at Yale 1901 - 1911 (at least). I believe he was the station master at Lytton around 1916, since his son John Godfrey Clark homesteaded at the mouth of the Stein River. I think John Godfrey took over as the station master.

Another of Thomas's sons, William Samuel Clark, was at Keefer's Village in the 1911 Census. I'm wondering where Keefer's Village was (is this the same as North Bend)? Is there anything left of Keefer's Village? [Editor's note: Keefer's was up the line, i.e. north, on the same side of the river; it's mentioned elsewhere on this site on the Harry Lee page] I wonder what William Samuel might have been doing there? Logging?

Do you know if there are CPR records that I could use as a resource to find out more about Thomas, John Godfrey and other Clarks who worked on the railroad (George Campbell was the telegraph operator in Yale in 1911).

I'm also wondering if any of William Samual Clark's family stayed in the Boston Bar/Keefers area or if they homesteaded anywhere along the river? Eventually he moved to Burnaby where he died in 1944.

From Charlotte (McKenzie) Senger, 2012: Happened to discover the North Bend history and although I lived there for only a year (1959-60) I still remember my classmates of grade eleven and wonder where they are today. I read the note from Kay Henderson (Wiebe). She listed her siblings and one of them (Doug) was in school with me. She might know some of the others that I met that year, as well.......don't wish to be nosy.......... just at the age when you think a lot about the past.

From Joan Blakeborough, 2012: Here is the poster for our May Day Celebrations. Also I have a note for one of your contributors, Charlotte Granewall. I have the early school teachers and auditors list. On it for 1913-1914--1914-1915 her uncle Abraham was the school auditor. I thought she might not have this information, and would like it for her records.
Note from Arlana Nickel, 2010: I have come across some more photos pertaining to North Bend BC and was wondering if they could be put on the Vanishing BC site. These are photos that have people identified. I just thought they might help people researching their family history.
Unless otherwise noted, the photographs below are by Aida Abray Snowden and were submitted by Arlana Nickel.