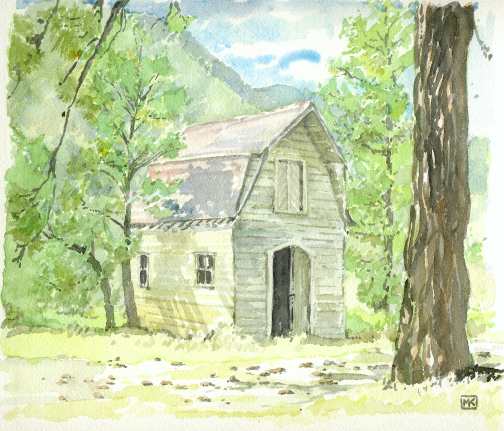 Written/sketched in 2003: On the bench above the Cisco bridges, on the left bank of the river, stand the ruins of a resort known as Siska Lodge (Siska being the name of the Indian village a mile or two downstream). These days, you can miss it entirely if your eye doesn't catch the deep green patch of the acacia grove – a different colour from the bleached olive and black tones of the pines that typically dot the hillsides. Although all the buildings, except for the exquisite little barn in the watercolour above, are either reduced to piles of sticks or else (like the old lodge house) are roofless walls, the land is still neatly terraced, dotted with acacias, and irrigated for the current owner's vegetable garden.
At Cisco, below Lytton, the bridges of the two great national railways cross the Fraser River. The CPR surveys of the 1880s chose a narrow canyon there to take the river from the left bank across to the right; then, in the 1910s, the Canadian Northern Pacific (now the Canadian National) was forced to use a slightly wider spot just upstream to cross to the left bank on its way downstream toward Boston Bar. The site was much photographed, as in the hand-tinted one below, probably from the 1920s and published by the Gowen, Sutton Co. Ltd. of Vancouver, which inadvertently describes it as being on the Thompson River (which joins the Fraser at Lytton).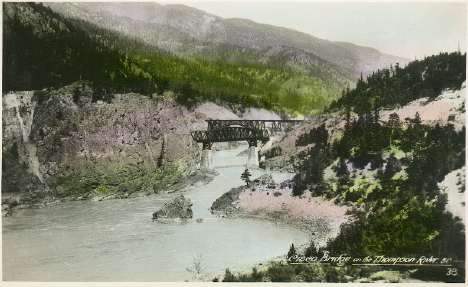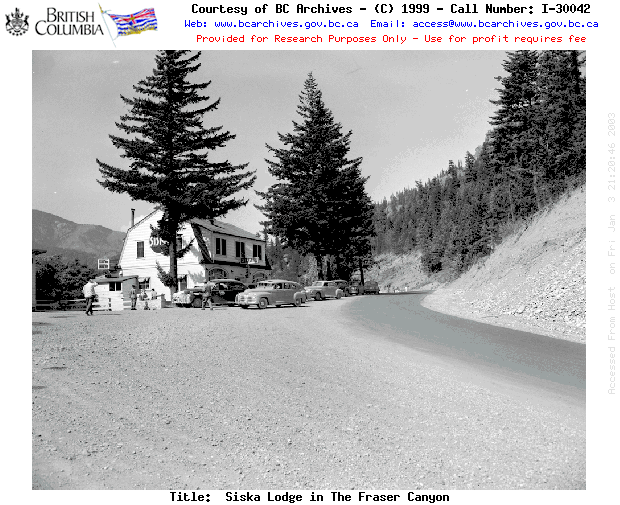 1949 photo by anonymous provincial government employee. The acacia trees that now are the only real indication of the old resort are visible to the left of the lodge.

I don't know who built Siska Lodge or ran it before 1961, but during the 1960s it was owned and managed by Fred and Florence Lindsay. As a lodge, according to correspondent Doris Tuohey, it was a "good colonial house" with "a good restaurant"--several acres with fruit trees and cabins. Both Lindsays--he as a writer and she as an illustrator--deserve also to be remembered for their published works.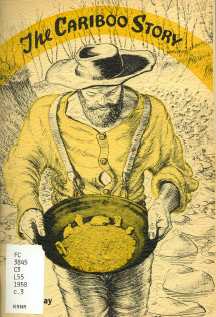 Author's name obscured, unfortunately, by the UBC library cataloguing information!

Lindsay wrote and published Outlaws (1963), Cariboo Story (1958), Cariboo Yarns (1962) and Cariboo Dream (1972) – rollicking stories of the goldrush days illustrated with historic photographs and the drawings of Gwen Lewis. With Florence as illustrator, he wrote a children's book called Mouse Mountain. His obituary (Province, July 20, 1973, p. 9) noted that he had not only published a weekly newspaper in Quesnel but served as an alderman there, where he made "a few enemies and a hell of a lot of friends." He died in Vernon of a heart attack.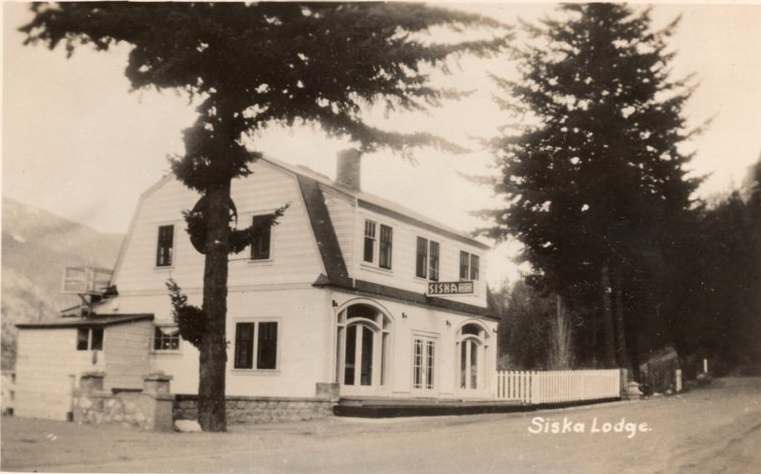 From Gerald, 2017: there are a few other shots of Siska Lodge on Hank's Truck Pictures.

From Linda Weekley Stradley, 2015: I don't know for sure when Siska Lodge burned down, but my Social Studies teacher hired myself and another girl from Kumsheen to come out and clean his cabin in 1969, so I know it was still there then. I married in 1973 and left Lytton, so I can't say I know when it met its end.

From Chuck Morris, 2013: Reading an excerpt about Siska Lodge I noted an entry by a fellow looking for pictures of the gas station and buildings at Jackass Flats. I too would be interested in this as we (Mom and Dad and three of my siblings and I) spent at least a year there. We went to school in Lytton and slept in one of the out buildings on the property.
When we moved from there we were going to Puntzi Mountain and Dad left our old Ford truck completely loaded with belongings, hidden behind the main building. When he and I had come down to get it many months later it was long gone.
For the short time we were there, somewhere in the early 60's, I have many fond memories of playing in the bush. In fact, on the treed hillside behind the main building, about 20 or so feet up was a couple of old car bodies. We used to play in those as well (without fear of them freeing themselves and sliding down the hill!).

The earlier message, from Dennis Chappell: I'm looking for pictures of the Jack Ass Café and Restaurant south of Lytton. I remember seeing it before it burned down, but that was a long time ago.
From Sharon Negraiff Ellis, 2013: I googled to see where the post card I have of Siska Lodge was again. I knew there is a Siska Native village near Kanaka Bar as I once had a dog (which I got from the former managers of Kanaka Bar ) Alexis & Bill. I named him Siska, as I think the dog was from the village. He was a beautiful malemute which at the time was too much to handle and went to a home on a Ginseng farm in Merritt. I have a photo of him I will have to dig out one day. I am attaching my Gowen & Sutton postcard of the Siska Lodge.

From Cliff Beattie, 2012: I just read your piece on vanishing places in the Fraser Canyon, Fred Lindsay was a very good friend of mine and the last time we visited at Siska Lodge we were sitting at the kitchen table and Fred was Missing his wife Florence, he had a big bag of silver coins on the table and said help your self he didn't want them anymore so my friend that was traveling with me and myself spent the afternoon trying to cheer him up, we did not take the money but left him a little more happy than when we found him. I have most of Fred's books I am missing Mouse Mountain though but would like to find a copy. After I moved Fred to the Vernon area he offered me the motel for free and I have kicked my ass ever since for not taking him up on his offer, by this time Florence had passed away.

Note from Robin Hickman, 2008: I live in Salmon Arm, as have members of my family since 1907 when my great grandfather, A. A. Brooke, homesteaded here after moving from Switzerland via Manitoba. He was a watercolour artist and painted illustrations in diaries he kept of his life since his early teens. His father was also an artist who made his living by painting landscapes of Switzerland and selling them to tourists. The reason for this was that he was banished to Switzerland by his father from England for having fallen in love with a family maid, my great, great grandmother. It was with some amazement that I happened upon your website after doing a Google search and found many ties to our family. My father, Bob Hickman, contracted to Charlie Nakamura during the 1950's and up until the bankruptcy of the Nakamura Mill in 1961. Further, my grandfather and grandmother, Harold and Nellie Brooke owned and operated Siska Lodge in the 1940s and 1950s. My uncle, Ronnie Brooke, lived his early years at Siska Lodge and is the holder of the diaries painted by A. A. Brooke. My family visited them several times at Siska Lodge in the 1950s, stayed in the old hotel and had many adventures on the river, railway trestles and area.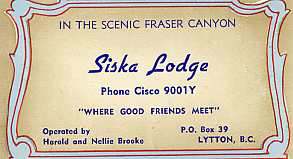 Collection of David Pollock
Note from David Pollock: I have a business card dating back to the 30s from Siska Lodge. I carry it in the glove box of my '35 Plymouth Coupe along with an envelope of miniature postcards of the canyon. The car is a twin to one my uncle used to drive the canyon route in the 30s and one day I intend to cover the same ground with it. I remember dining at Siska.... the potatoes were "off" and I have never forgotten the flavour. I think it burned down about 1965.