February 12, 2007: More pictures of our new home and its surroundings are posted!

As if in answer to the politicians seeking guidance to solve the water shortages caused by the drought, there has been an almost Biblical inundation, at least in our part of New South Wales. Flash floods, heavy showers, filling dams. Livestock swept away in a few places, where "we heven't seen ryne loik thet foah 30 oah 40 yee-ahs." Such a climate of extremes. Perhaps this is a hint for the politicians that timing is everything and the best action is no action at all, one they would gladly take. We here in Katoomba have had about 120 mm in the past day and a bit, the stormwater rushing down the lane past the house and into the gully, whence it quickly makes its way down to Katoomba Falls and into the catchment for the city of Sydney, 100 km away.

The first time it rained after we moved here was about two weeks ago, following a spell of hot, dry weather. I awoke in the middle of the night to the sound of a shower on the trees in the garden and felt very contented, very peaceful. Magic rain, giving life back to the landscape. A few days before on a blazing afternoon in Sydney we had watched a hapless myna bird trying desperately to scoop up a bit of water from a tiny puddle, perhaps a spill from a hose somehow caught in a dent in a sidewalk. How do these creatures cope in such a harsh place?

Yesterday morning it began to rain here, but more steadily, and the clouds were low, enshrouding the trees in the gully below the house -- we are at about 1040 metres elevation on the high mountain ridge, after all. There were swirls of mist like blowing smoke moving along the streets and the staccato rattle of raindrops against the windows. This was a melancholy, chilling rain, like the rains of Vancouver springs. The crimson rosellas perched quietly in the cherry tree, waiting it out. As if by perfect timing, a box of winter clothes and shoes had recently arrived, one we had mailed in late November just before departing from Canada. Ironically, in our last week in Vancouver there was heavy rain becoming slush, then snow, and all we had wear was sandals. Included in the box was the beloved Pirelli hot-water bottle, which had gotten us through 2 brutal weeks in a stone cottage in Provence in January, 1993. It was quickly pressed into service.

Our home is like a Canadian summer cottage, in that it's built to let heat out rather than keep it in, so it's as cold inside as it is outside in the rain and cloud. Louvers instead of windows in a couple of places, and draft snakes -- the tubes of padded fabric meant to be kicked against the base of a door to keep out the cold winds -- at the front and back doors. But at least it is a

traditional

mountain home, with doors on the rooms so individual ones can be closed off and heated. Central heating in Australia is a rare bird. Nevertheless, we have some work to do weatherstripping and insulating before winter arrives.

All of which made me reflect on the months since we left our Langley farm early last August, and the process we went through of settling, sort of, in the apartment on West 10th in Vancouver. We were subletting, it really wasn't our place, and so the noise of neighbours and the racket from the street didn't affect me at all. And we didn't have internet there, relying instead on local cafes like the charming Wicked at 7th and Hemlock with its comfortable chairs, strong coffee and fast wi-fi.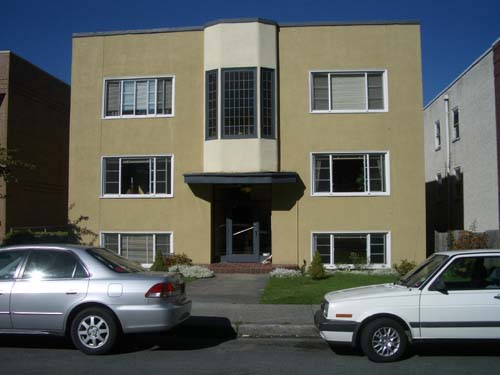 The 1945, 10-suite walk-up neo-Deco apartment building in Vancouver at 1446 West 10th, a half block from Broadway and Granville, where we spent the autumn of 2006 -- our window the middle one on the left. The equivalent of hitting the reset button after leaving the farm and before moving to Australia.



The idea that broadband internet access is a such a part of settling into a place is a bit unsettling, as it were. Why can't I just go away and be away like I did years ago? What's the need to be so connected? Why did the internet cafes of Cortona or Xania always catch my eye? However, upon reflection I find I'm just doing what people have done since the postal service was invented 150+ years ago. Whether it was Ernest Hemingway or Aunt Louise, people have always spent a huge amount of their time writing letters and postcards. In the Hemingway biography I'm still slogging my way through, he is constantly writing letters and it's a wonder he managed to write any stories. In the research I did on Rogers family in Vancouver, it was clear that everyone spent every available minute writing to each other.

Technically, settling also requires a cat. But it's too soon here, we're coming and going too much, we haven't made any long-term decisions yet. So I have consoled myself with posting some pencil drawings of Mary Ann, our cat from the farm whose departure for a new home was one of the toughest parts of our move.