Note from Kelly Berg, 2004: I believe that Sid Beech (the mexican restaurant owner) was my grandfather. I was just starting to do some research on my grandfather and found your site. Please if you have any information on Sid Beech, his restaurant, ANYTHING, I would greatly appreciate it!!! My name is Kelly Beech (maiden name). I would be his first grandchild. My dad is also Sid Beech, and we live in the Gig Harbor Washington area. My grandmother Patricia is 81 years old and lives close to me. My dad was only 6 or 7 when his father died of cancer I believe, in 1954?
[Send me any information and I'll pass it along to her. I used the obituary material below, and the illustration, in Vancouver Remembered, published in 2006]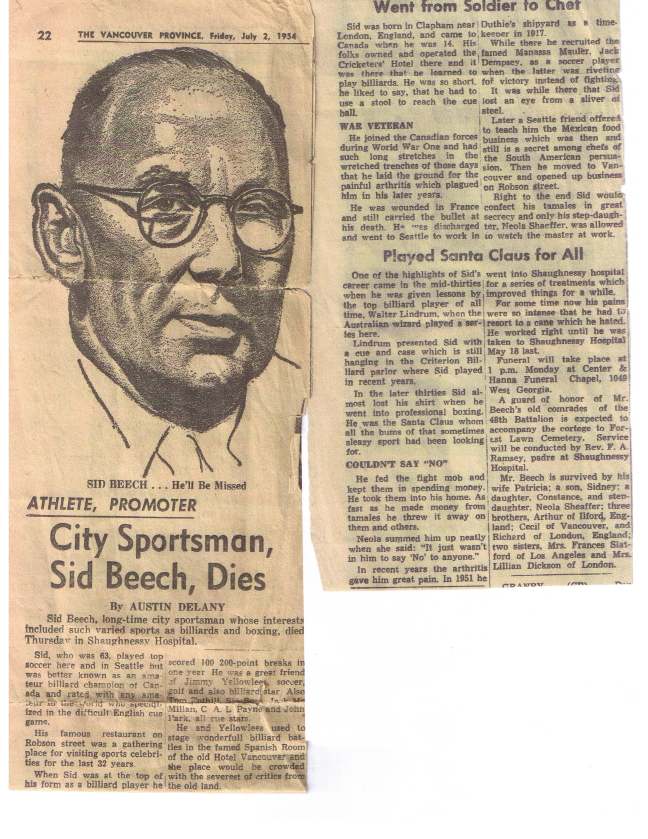 An earlier note from Ivan Moldowan, Vancouver, about Sid Beech: Someone told me that you sketched or painted a picture of a old wooden rooming house that used to stand on the Northwest corner of Robson and Seymour streets in downtown Vancouver.[It was demolished in 1985.] The building, named the Orillia, had a number of stores, including the once famous Sid Beech's Mexican food restaurant, on the ground floor. My interest in this is because, for many years in the thirties and forties, my grandfather occupied the corner store, 601 Robson, which was a combination pool hall and cigar store. As I was born in the west end in 1936, I spent many years hanging around my grandfather's store, and bothering all the merchants in Blackburn's market across both streets. The barbershop that stood between 601 and Sid Beech's was run by a Mr. Evans, who cut my hair until he retired. (At that time, I then went to another barber, Mike Principe, (brother of well known barber and fight promoter, Al Principe) who had the barbershop in the basement of the building at the Northwest corner of Robson and Granville.
As for old family photos, I looked into my collection to discover what there is from that area; so far I have found only one, taken in 1945 in front of Sid Beech's. Unfortunately, only a tiny part of the building is in the photo. Did you know about Blackburn's market, or have any photos of it? It was a very popular "farmers' market" kind of place to shop for fresh produce, meat, chicken, etc., in those days, and it was occupied by many colorful characters, as I recall. Hey, but so did the rest of that area. Did you ever see pictures of Benny Pastinsky's (The Mayor of Robson Street) jewellery store on the North side of Robson, half a block West of Granville? Or across the street from 601 Robson, Sid Young's pawn shop? Whatever became of all the old pictures Foncie's Photos took of that area? And did you know there was another street photographer - JO'S PHOTO CO., 867 Granville Street?
An even earlier note from Sally Wilson, Sechelt, Feb 2007, about Sid Beech:
Hi......... Stumbled upon your site while looking for any information that may be available re: Sid Beech's recipe for his World Famous Tamales that came served with an incredible sauce ! My parents introduced me to his restaurant when I was about 10 years old (that would be 55 years ago now).

I was so impressed that I took my friend there for lunch when we were both 13 and thought we were all grown up. My parents & I moved to Prince Rupert B.C. around 1953 (a fairly remote area up north) and my Father craved Sid's Tamales so much that he made a request to have some flown up to us. I remember they arrived packed, sauce & all, in milk jugs ! In any case I've spent a good part of my life trying to duplicate that sauce, the recipe for which it was rumored, Sid took with him to the grave. So when I saw the reference from his Granddaughter Kelly Berg and the fact that Sid's wife Patricia was still alive I became instantly selfish and want to BEG for the sauce recipe if anyone has it.

[Postscript: The Wilsons made contact with the Bergs in the USA, but so far the sauce recipe has eluded them. Sid Beech and the Vancouver Tamale parlour are on page 85 of the book. ]
From Darrell Ohs, 2012, about The Cave: a Cave Supper Club souvenir, c. 1957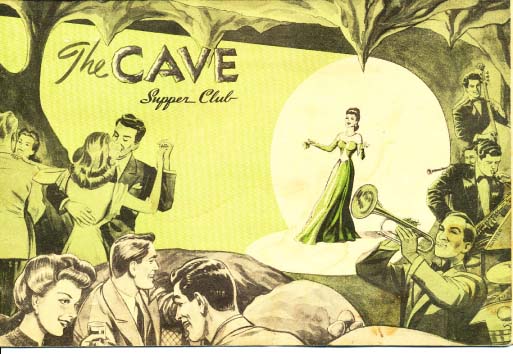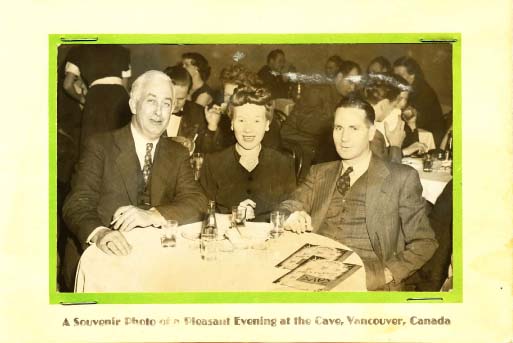 The fellow on the left is Darrell Ohs' grandfather John "Paddy" Burke from Great Central Lake.

***
From Larry Taylor, 2011, about Lindley family: I am trying to write my memoirs for my grandchildren and I make contact as I am seeking information with regard to the H. Lindley family of Lower Nicola. Henry Lindley, an immigrant from Yorkshire England was my Great grandfather. One of his sons George, was my grandfather. George`s wife Sarah Garcia was my Grandmother. Bernadette( Bernie)Taylor nee: Lindley was my Mother.
I have very limited information with regard to my Greatgrandmother.
I understand she was daughter of Chief Nicolas. Would be grateful for any information or advice with regard to the early Lindley family.
To Larry Taylor from Brent Stratichuk, New Westminster, 2011: This is in response to Larry Taylor's search for information on Henry Lindley and family. In short, I'm the great great grandson of Henry & Marguerite Lindley, by way of their daughter Sarah (nee Oelrich), Sarah's son John Oelrich and John's daughter June (my recently discovered birth mother). I've done plenty of research myself on this lineage, especially trying to verify that connection between Marguerite and Chief Nicola.
***
From Carl and DeDe Sparks about the North Van Ferry wharf, 2011: In your book "Vancouver Remembered" page 42, it is stated:- "In between at the foot of Columbia Street, the North Vancouver ferry wharf (and until 1947 the West Vancouver wharf) brought cars and people to the city via a subway underneath the CPR tracks". Our memory of the subway is that it was for pedestrians only. If a train blocked the level crossing, vehicles had to wait.

In the caption for the picture on page 43, it is stated:- "Access to the dock was by a subway under the CPR tracks at the foot of Columbia Street, visible in the foreground". We believe access to the dock was at the foot of Main Street. We think there was an over-pass to clear the tracks, but don't remember for sure.
From Lucky in Parksville, 2011, about Granite Creek Mining Company: I've recently found out that one of my relatives (Ernest Eplett) was a miner for Granite Creek Mining Company in the early 1900's, and was killed on the 6th of August 1912. Would you have "Anything" on the mine, or newspaper articles for that time?

From Laurel Allard, 2011, about Deep Inlet: In the summer of 1946 I lived in Deep Inlet(Amai Inlet). My father Silas Pugh, my mother Ida Pugh, my two uncles Paul Pugh and Bud Pugh were also there. My Uncle Bud had staked a gold claim and a mining engineer, Bill Patmore and his wife and small child were living around a point at the base of the Phil Mill. Mr. Patmore had arrived to do explorations on my uncles' claims. When the time came for the claims to be registered again Bill Patmore registered them in his name instead in the name of Bud Pugh. He "jumped" my uncle's claims. My uncle took him to court but the judge told my uncle that he would have to restake the claims but my uncle, because of the difficult terrain didn't feel he could. He got a settlement of $5,000. I was almost ten at the time and I remember the l946 earthquake. We lived for four months in two log cabins around the point from the Phil Mill. My name is Laurel Pugh Allard and I live in Parksville. I often think of that summer and wonder how much is left.

Note from Martin Piltz, 2011, about Sky Ranch: ...My uncle , August piltz settled in b. c. in the early 1900's. His ranch was north of williams lake,named by him, Sky ranch...I've been there a couple of times, and passed up a chance to work on it when i was young. On hindsight, a good move, Hard scrabble at best...Long hours, hard work, harsh conditions...Old Gus loved it tho, kind of a mean cuss, but fair. My father was his younger brother...and haddent seen him in 30 years when he first went north from Portland to visit in about 1948... I would like to correspond with any one who has any info on Gus,as I have heard he left a legasy of sorts...Myself, I was born in winnepeg in 1933, and we move here shortly after. Its like a garden of eden, little snow, no bugs or flies. As I remember, when we left there was 5 ft of snow and 30 below...
Note from Anny Scoones, councillor, North Saanich, 2010, about Bazan Bay: We recently rezoned some public land on Bazan Bay as Park! It's full of view points, native plants, little trails and has a lovely beach. It is also the site of the historic Bazan Bay Brickworks, as you know.
One of my tasks as a Councillor is to assist in writing our District's newsletter. I would like to write a brief piece on our new park and tell a little, say in three or four sentences, a bit of its history specifically about the bricks! Remnants are still very much present there, but no bricks, only eroded pieces, but funnily enough, I found a stack of BBB bricks under our cottage on Mayne Island!
I would be most grateful for three or four interesting historical facts about the history of our new park.
From Kate Turney about Tanner Manor, etc., 2010: I lived in Kerrisdale in the late 60's and in Kits for most of the 70's. Everytime we visit Vancouver (now live in Victoria & Quadra Island) I return to Kits for a bit of a wander.Problem is nothing is where it should be! Demolished!

While reading "Vancouver Remembered" I had a laugh when I saw your painting of "Tanner Manor' and "Xanadu" as I recall my godfather complaining about the houses and their residents back in 1969. He lived behind them.

Please refresh my memory; the Arbutus Grocery stands at 6th & Arbutus and I'm positive that just south of this spot on the east side of Arbutus there stood several small cottages (green in colour?) on a large tract of land. I don't recall that any of these homes were fenced and was amazed(at the time) that they sat on such a large property.

Do I have the correct location? If so, what a pity that they were razed. Were these little homes part of the St. Augustine parish? I wandered around the immediate neighbourhood however no other street "jumped" out at me which is why I think they were on Arbutus between 8th and Broadway.

[From MK: I don't recall small cottages there. I can remember a small bungalow facing 7th on the south side which had a very good vegetable garden in its back yard, and another small gabled one on the south side of 8th adjoining the tracks that often had a large pile of firewood in its yard. Can anyone help her with what was there?]
Note from Diane Sterne, 2010, about a new book: "In Her Words" is a collection of selected works of Susan Louisa Allison (nee Moir), Mother of the Similkameen. Her poetry and stories (some of which were written under the pen name of Stratton Moir) recount Indian legends told to her in the 1800's when she ventured into the British Columbia interior with her new husband, John Fall Allison. Many of Susan Allison's works have disappeared over time. With the assistance of members of her family and the Princeton Museum, this collection of lost writings has been carefully preserved. Included are: "In-Cow-Mas-Ket" and "Quin-Is-Coe". This book has been prepared in celebration of Princeton, B.C.'s 150th birthday and the proceeds will benefit the Princeton and District Museum and Archives.

Copies can be purchased for $20 at the Princeton Museum, Princeton Chamber of Commerce or the Mozey-On-Inn.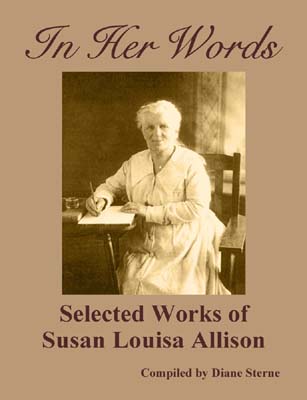 From Phil Shore, 2010, about Maiden Creek Lodge: I am looking for information on a lodge that burned down in 1950 or '51 on the west side of BC 99 between Cache Creek and Clinton. I think it was known as Maiden Creek Lodge at that time. Any information will be appreciated.
Note from Rick Maynard, 2009, about Southlands: I am now the proud owner of the Daffodil Orchard [painted on pages 146-7 of] Vanishing Vancouver. It is located at 51st and Balaclava Street. I have lived in Southlands all my life and every spring have admired the King Alfred daffodils. Drs Margaret and Lawrence Young, former owners, are in a retirement home and were very happy to have us buy the property because we guaranteed them we would preserve the orchard and flowers. We will continue farming the property as my son is graduating from UBC in Agriculture and it is his passion to put the property back into a market garden. The website for the farm is www.Southlandsfarms.com.


Note from Marie Wilson in Toronto, 2009, about "The Light House" in Kitsilano: As I was reading about the Leslie House I glanced at your footnote to find my former landlady had written an article about it for the Sun. In the mid 70s I rented a room in Lois Light's house across from Tatlow Park. Her basement rented rooms to students and artists and upstairs sometimes she would play rousing renditions of The Entertainer on her piano! We called her house - The Light House.

I'm trying to find some information on the Devonshire Hotel and wonder if you could point me to a resource. I know it was demolished in 1981 (o woe!) and have even viewed a video of that demo. But I am trying to find out when the Dev went out of business ie when it was bought and boarded up - how long from then till its demo. I'm working on a book of fiction and photographs but some of the locals are real - like the Devonshire - and so I'm seeking out this particular detail: even a ballpark figure would do!
From Floyd Gillis about the lane house behind the Sands Hotel, 2009: I was browsing through a Chapters store in Vancouver today and came across your book "Vancouver Remembered". Flipping through the pages I was surprised to see your illustration on page 131 of "The house in the alley behind the Sands Hotel". I lived in that house from the time I was born, (Dec, 1955), until I was about 7 years old.

Our family, (my parents and, at the time, 3 kids), lived on the top floor. A Mrs. O'Kane lived downstairs with her son Michael... whom I recall was the bully of our street. I believe the Henderson family owned both that little house and the larger one facing Pendrell Street. After 1756 Pendrell our family moved to a house at 1725 Pendrell, (now a concrete highrise), and later a house at 1032 Pacific, (now a low-rise apartment complex). We moved out of the West End around 1970 or 1971.

It amazes me how, with all the changes that have taken place in the West End over the years, this little house has survived and is still there. On those rare occasions when we're all in the city together, my bothers and sister and I stop by for what we always believe will be our last look at our old home. Attached is a photo from our most recent visit a few years ago.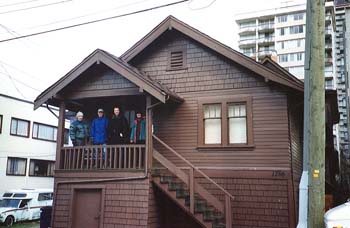 When I was a kid, the West End was an amazing place to grow up. I remember being able to wander off all day with my friends and play along the beaches and all through Stanley Park... and we were only 5 years old! When we were a little older we loved to play in the high-rise construction sites, (after the workers had gone home for the day). We would mix cement, cut wood on circular saws, climb all over tractors and other construction equipment, and of course walk the open stairwells to the top floors, (still without walls), for the wonderful view... and maybe to throw a few things off the building too.

My father worked for many years at the Bay Lumber Company saw mill on False Creek. I had a summer job there... the graveyard shift, once a week, doing "clean-up". It was the worst job of my life.

I often wish my children could experience the kind of life I had while growing up in the West End. But then again, I would be terrified if they did the things we used to do.



***


From Norm Ravvin, who wrote "Hidden Canada," including a chapter on the West End in the 1970s that I quoted from in the Preface. A list of his books is available on-line] I'm long overdue to write to tell you that last summer, on our routine Vancouver visit, I bought your Vancouver Remembered at a Book Warehouse. I was flattered to find that my work served yours a little, but most of all, as always, enjoyed the whole approach you take -- images, history, the exact note of nostalgia and wishful thinking over the way things have gone in the city over the years.
It's an odd response I get whenever I look in: a mixture of great pleasure at tracing streets and buildings I love, and then a real gut feeling of sadness over change that might have been avoided. But what a long story that is, and we're in the minority I guess, though the whole approach to preservation has shifted lately, even in Boomtown blow-it-all-up Calgary.

I gave a reading in Vancouver in early June and treated myself to a stay at the Sylvia for a few nights, which was a weird combination of pleasure and downbeat outcomes too. It's kind of Barton Fink upstairs, regardless of the perfect location for a hotel, especially for an ex-West Ender. But I enjoyed it in the end. There's still something old-fashioned about the way the servers talk in the bar, and the images up of Mr. Got to Go were a nice surprise, from a book done to great success by my one-time publisher at Red Deer. So, I did feel at home.

I'll continue to open the book and feel elated and sad at the same time. Maybe I'm the only one who relishes a particular colour of fall leaf you catch on a Shaughnessy Street. Maybe not.




From Tony Broscomb about Jones Tent & Awning, 2009: Can anyone having any information about the Jones Tent and Awning Company please contact me at johny.maple@gmail.com. Any information would be welcome, including copies of any relevant photographs. I was able to contact Edward Lipsett whose great grandfather started the company and found out that both Lipsett and Jones were sailmakers in Lunenburg and both ended up on the west coast. I have been unable to find out anything regarding their time in Lunenburg.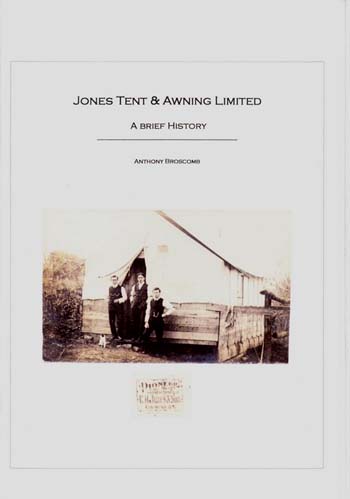 Note from Dudley Booth, 2009: My passion has been the collection of important old photographs and putting them on my website, www.historicphotos.ca. With few exceptions, something is known about all my photos, which number a few thousand at present.
I try to discover where, when, who and what of the photos. Even if I only know the where, the photo becomes of archival importance. Through my website I hope to discover other photos from around the world that would give viewers a better picture of life in times gone by.
At present I have about a thousand photos on the site and am constantly adding more as time permits.
A few of the photos in the collections have been loaned to me for scanning, with the permission to make them public. Others have been outright gifts, such as the glass photos of England and France circa 1895 that are on my site. If by chance you happen to stumble across any early photos from Australia, I would dearly love to be able to borrow them, or accept them into my collection.
So often I discover that photo collections passed down through generations ultimately find their way to a land fill. Every photo on my site was saved by accidental intervention from this fate.


From Phil Megyesi, 2009, about the Big Bar ferry: I am an avid British Columbia tourist. I have been poking around the backcountry of B. C. for 20 years and just recently discovered the area of Jesmond and beyond. Last year I spent a month across the Fraser river in the Churn Creek area and further south to China Head, Big Dog, and Blackdome. I have spent a week in the Jesmond area, on the mountain top, and poked around some towards the river. I would like to cross the river and further investigate west, but I had some questions regarding the Big Bar ferry.

I did manage to get answers to all the questions I asked, a ministry spokesperson contacted me and now I have everything I need to proceed or not with my trip.

1.The road down to ferry is very steep with switch backs on both sides, thus unsuitable for a 26' motor-home and trailer.
2.The ferry will not allow unlicensed vehicles (4-wheeler quads) on the ferry, this is due it being part of the B.C. roads system and unlicensed vehicles are therefore prohibited.
3.The ferry cooperation will not allow transportation of large amount of gasoline across on the ferry due to a safety issue.
4. The hill on the west side of the river is extremely steep and not likely passable for a motor-home pulling a quad trailer, there is no place to pull over and camp as the steepness will not allow for this.

Note from Krystal Cook, 2009, about Namu: Have you ever been up around Namu BC? I think it is a fishing resort now, but years back my grandfather took my brother and me up there (you have to boat in). It was very eerie. It was an entire town that looked like everyone had just got on a boat and left. The shelves in the store were still stocked even! There was a very big hotel (the Namu Hilton, I think was the nickname) that we went exploring in. There was also a bowling alley and a large gymnasium. Also housing for the people who worked in the cannery, and a special part of town for the Japanese and Native people. This was back when I was probably about 12 or 13 years old, so I didn't have a good camera, I wish I did tho!

Note from Linda about a vanished community, 2009: Sewell Inlet was a community of around 300 in its heyday. It was a logging camp with married quarters, bunkhouses, 2 schools and a commissary. It was moved from Moresby camp in 1969 and was in operation till 2005. I met my husband there when I moved up there with my parents in 1970. We were married there. We eventually had to move to Sandspit on Moresby Island; my husband continued to work there till the camp was completely turned back to the way the company found it in 2005. We moved to Sandspit in 1989 and have since moved right off of Haida Gwaii.

Note from Roy McBride, 2009, about Kinnaird: I am wondering if you ever saw the old Chevron gas station & cafe in Kinnaird, B.C., now part of Castlegar. It was demoed about ten years ago and I am trying to find any pictures of the building as my familly owned and lived there from 1954 - 62. I was 10 years of age when we moved there from Penticton, B.C. ,and have some great stories about growing up in a war zone as the [Sons of Freedom] were constantly blowing up something and as close to our Gas Station as 100 feet. So, if you have anything or know where I can get any pictures please let me know. [From Julian Polika, 2009: You had a gentleman by the name of Roy McBride write to you about a service station in Kinnaird. In his note he indicated he lived there until 1962. I am trying to locate a fellow student who I knew at UBC when I attended way back in 1959-62. She was from Kinnaird and we lost touch. I have been unsuccessful in locating her. Mr. McBride may have some recollection of her or her family and may be able to put me on the right trail. Her name was Patricia Lewis. She worked for a local lawyer through the summer of 1961, Mr. Maran, who is now deceased. That fall she taught school in Castlegar. If you could pass this note on to Mr. McBride or forward me his address I would be grateful.]
***
From Susan Rice about the Rice Block on East Hastings, Clarke & Stuart, etc., 2008: I'm a Vancouverite, yes - one of the (six?) born and raised here. Actually, both my parents were born here; two grandfathers were born here in 1898; and all four sets of great-grandparents lived here. (Do I set the record for the most generations in Vancouver for a non-aboriginal person?) Anyway, I've been searching for soulmates on the issue of preserving some of our historic architecture in development-crazy Vancouver. Like many Vancouverites, I frequently moan about the cost of living here. The high cost of real estate has, I think, added to some of the nostalgia I feel for the past.
I went to Churchill, but my mom went to Magee (it was a senior high school back then, so she also attended Point Grey and Crofton House). My dad, who grew up at 54th and Hudson, went to Vancouver College. Like you, I grew up in an area that has been heavily re-developed (49th and Granville area--my parents also grew up there), and I am often saddened when I revisit my childhood home. Miraculously, it is still standing, but it is really dwarfed by the newer homes around it. People often tell me I was fortunate to grow up in a neighbourhood that is now considered so "elite." And yes, I realize my good fortune having traveled to several other countries now. But having been economically privileged is not the issue. The issue is the sense of loss associated with not being able to reconnect with our childhood neighbourhoods in any kind of meaningful way. Even though Vancouver is full of people who have come here to make a new start and it seems "newness" is kind of a theme for this city, I think we all suffer unless we can make sense of our collective histories, including the history of the city itself.
Anyway, I have a couple of cool stories about reconnecting to my own family's past in Vancouver that I wanted to share with you. Firstly, I gave my mother one of your books for a Christmas present several years ago. We were surprised and proud to see it mentioned my great grandfather, Frank Wilkinson on page 65 of "Vanishing Vancouver." He had one of the businesses that used to be on Granville Island. Thanks for that, we were grateful.
Secondly, I found out that the building that housed my other great grandfather's bookstore was still standing downtown. Much to my surprise, his name was still visible on the north side of the building, despite being closed for 65 years! (If you have time, check out the building just north of A&B Sound on Seymour Street.) Clarke & Stuart Bookstore, my grandfather and great grandfather's store, was run out of that building for some 40 years. (The original location of the store was north of there, on Seymour at Hastings.) You'll see "Clarke" written on the north side of the second location near A&B Sound. And what's really cool is there is a much older sign beneath it. This building is not on the heritage registry.
Finally, my other great grandfather had a building constructed on East Hastings (back when it was safe to go there!) The building was in deplorable shape until last year when a thoughtful couple bought it and renovated it. They did so with a human touch, and many of the same tenants are in the building still. Recently, it was sold to the provincial government as part of their housing stock to help reduce homelessness. It is again in good shape even though it was built in 1912! It must have been a beautiful building back when it was built; a mural on the next corner has some of the history of the area and mentions the building. It is called "The Rice Block." I share the same last name.
***
Boys Town on the Hope-Princeton Highway (2008) [background from MK: the Mile 14 ranch, also known as Trites', was bought by the federal government at the outbreak of the Pacific War in 1942 and became an internment camp called Tashme, an abbreviation of the names of the three officials of the BC Security Commission charged with moving Japanese-Canadians away from the coast: businessman Austin TAylor, John SHirras of the BC Provincial Police, and F.J. MEad of the RCMP. See pages 99-104 of my book Vanishing British Columbia. There is some info on this website about the internment at the Wong's Market page and the Slocan Valley internment camps page.]
Notes from Marilyn Jarvis: Do you know where and what Boys Town was? Apparently it closed in 1955 according to Chilliwack Archives. I was 8 in l955 and remember passing through Boys Town on our annual drive to Nelson to visit relatives and thinking as a child how beautiful the area was - just gorgeous. I wonder if the Hope Slide wiped Boys Town out? I heard from Ron Denman of the Chilliwack Museum and he said that it was a detention centre located east of Hope on Hwy. 3 at what was called 14 mile ranch. Apparently, part of the ranch was destroyed in the Hope Slide but that there might still be one building left standing, the kitchen/dining hall.
Sunshine Valley Resort's history page mentions that when the war broke out the Canadian Government took this valley over for the interning of the Japanese people and when the war ended it was taken over again by its original owner who raised prized beef and dairy cattle until 1955 when it was sold to the Boys Town Association. It was sold again in 1962 to an American Development Company etc. In 1965 the Hope Slide happened leaving a viewpoint at the west end of this picturesque valley.

Then I received a note from Inge Wilson, Hope Visitor Centre & Museum Complex, via Ron Denman: 'According to the book "The Dewdney Trail – Hope to Rock Creek" by Frank W. Anderson … Stanley Trites sold the Trites Ranch in 1959 to "a Mr. Moore who was sponsoring the site as a Boy's Town for delinquent youth. It appears that the delinquency was adult, for after collecting huge sums of money to develop the project, Mr. Moore vanished."' So there's obviously a discrepancy between the dates here.

* * *
Note from Darroch Baillie, Victoria BC, SV Dragonfly, 2008: I've got a memory of a disappeared BC spot. Everyone I've been able to
casually ask has never heard of this site. I'm sure I'm asking the wrong people! Perhaps you can post this and see if there is a response. ?

In the early '80s I sailed my 15 foot dinghy about the southern Gulf Islands. One day I drifted into the bay formed by Galliano and Parker Islands known as Montagu Harbour, a place where bizillions of boats anchor. At the head of a bay on the Parker Island side, there was a huge beached wooden barge. Next to the barge was a kind of a marina thing built of untreated logs half submerged with a couple of old wooden boats moored near the side of the barge. As I drifted closer on the last of the tide, a fellow climbed down from the odd open post and beam style superstructure built on the barge deck. Some how the superstructure struck me as a runaway set from a late 60s Nick Nolte movie about comunes, parties now long over. We chatted, I can't remember much about our conversation. He was thirtyish,
with dark brown hair and a full beard. I remeber asking what the barge and boats were about and he told me that it was something called the "Barge Society". We chatted some more, then I sailed away to camp on an ajacent beach. I never went back. An aquaintance of the time told me the barge man advertised his Barge Society and sold memberships or shares and there wereprivileges that went with the monies sent.

The barge was abandoned soon after and sat there, hard aground, for years.The barge is now long gone and luxury homes now ring the bay. If anyone can help fill in the gaps and has pictures I would love to hear the full story.
Update 2008: Found the answer to my question about the barge(s) on Parker Island. Here's the link.
www.salishsea.ca/parkerislandbarge/parkerislandstory.htm

A colourful story with a not so colourful conclusion.
***
Note from Connie Squire about a Chinatown print shop, 2008: My husband Earl's maternal great-grandfather came to Vancouver around 1910 and he set up a print shop in the local Chinatown. The business moved a few times and has been at its E.Georgia address for at least fifty years. I had the opportunity to visit the shop with a few friends and family members on Saturday June 7th, 2008. One of the visitors is an excellent photographer and he has posted his photos of the print shop online at the following address:

http://fury.smugmug.com/gallery/5117936_b7ud8#P-1-15
***
From Sandra Buckingham about the Morrison family, 2008: I recently gave a copy of your book "Vancouver Remembered" to my mother for her 88th birthday. She was born in North Vancouver and grew up in Kitsilano. At her birthday party she started leafing through the book, and the photo of Alexander Morrison's West End manison triggered at least an hour's worth of memories, many of which I hadn't heard before.

Her father was raised by the Morrisons (his aunt and uncle) after the untimely death of his mother. My Mom remembers visiting that house every Sunday as a little girl (sitting quietly in the parlour). She recalls exactly the interior of the whole house, and described to us which room was behind which window, the foyer with its grand staircase, the stained glass windows, the murals of the Scottish highlands, the Encyclopedia Britannica in Gaelic (!). She said it was kind of spooky inside.

The Morrisons used to spend winters in the US, so the Vancouver place was really only a second home. In the winters my grandparents apparently kept an eye on it, sometimes living there for short periods. It made my Grandmother very nervous at night, when my Grandfather was at work (at the newspaper).

There's a photo of Alexander Morrison at the wheel of a steamer (car) that he built in his engineering works. I'd like to be able to say he was a grand old man, but apparently he was more like a gruff old codger rather feared by his employees, and his wife wasn't much fun either. I think my Mom was one of the few people who got along well with him.

Feel free to post my letter. It's too bad my Mom isn't computer-wise; she could rattle off a bunch of stories for you, including death-bed change of will and so-on.
***
Tom McCafferty has been researching an almost forgotten tramline that ran through his North Burnaby neighbourhood of Morton Park. (this file opens as a pdf in a separate window, 2.6 mb.)
***
Note from Chris Hay about the Stanley Park rock garden, 2007: In 2000 I discovered a historic rock garden in Stanley Park that had become lost and forgotten for over 50 years. Eventually over a period of seven years I was finally able to trace its complete layout as well as the amazing story of its development. It was created by one man John Montgomery and at its peak was almost a mile in length and one of Stanley Parks largest man-made objects by area. Begun in 1911 from the very stones excavated during the construction of the Stanley Park Pavilion, this garden has been identified as one of Stanley Parks earliest man-made feature attractions. It is the earliest surviving public garden of both Stanley Park and the City of Vancouver and as such is of extremely important heritage value to both.

The devastating windstorm of December 15, 2006 was to provide the final clues of the garden's layout. This resulted in the story receiving national media attention as well as an article in B.C. Magazine. I have also written an article on the story of the rock garden in B.C. History Magazine. I am a member of the Vancouver Historical Society and they have been very interested in my discoveries regarding the rock garden. When I first started to research the garden at the Vancouver Archives and the VPL Special Collections there was no information on the rock garden or on John Montgomery. The VPL Special Collections had two wonderful photographs of the rock garden but no reference point to determine its exact location.

It was a few years later when I found several postcards showing the location near the pavilion.
It was then that I began a detailed research. The story had simply been slowly lost in time as no one had ever heard of it yet there was much detail in the parks board records and in the local newspapers. The garden flourished until about 1950. There was no mention of it in Mike Steele's books but it is found in some earlier books.

I also found an old 1940 colour silent movie created by the Vancouver Parks Board which shows the rock garden as one of their feature attractions. I am currently working with the Vancouver Heritage Department who are just completeing a Statement of Significance for the rock garden so that hopefuly it will be recognized as an historic site of both Stanley Park and the City of Vancouver.
***
Note from Betty Yeager (née Clements), Feb. 2007, about John Oliver School/Mountain View Cemetery and the ethnicity of old Vancouver:
You have mentioned the Mountain View cemetery. We lived kitty-corner to the south eastern corner of it, at 43rd and Prince Edward. It is where I was basically raised and went through Grades 4 - 8 at Van Horne Elementary and then to John Oliver High, and I left it on my wedding day at age 19.

My dad always called it "the boneyard" which I thought was hilarious at the time. It frightened me though when I had to walk past it alone in the dark or the times boys dared the girls to go into it at night, so tried to avoid it the best I could, although I always went in on a dare, quaking in my boots. I was sure some apparition would rise from a grave and chase me down theblock ...such a vivid imagination I had in those days, and I smile to think of that now. What more peaceful neighbours could one have?

John Oliver High was tops in sports when I was there. We had great athletes, especially a black guy named Wally Alexander who was a hero to every student for his athletic abilities in track, and the annual sports day was a highlight of our year when everyone would go to cheer our athletes on, especially Wally. Good old JO usually won over all the high schools in Vancouver.

I remember carrying my heavy first child, then 8 months old, to watch that famous 4 minute mile during a British Empire Games at Empire Stadium in 1954 as the contestants came home from their long run. It was a very hot August day and we had to walk a long way from the streetcar stop to the Games, and this child was already growing so fast and was so weighty I was exhausted when we arrived just in time to see the end of that epic race. It was thrilling and well worth the effort.

In Kerrisdale where my dad was raised, he told me that the lots around them were being sold for something like $50, but who had a spare $50? Certainly not him, nor anyone of ordinary circumstances, but I can well imagine what they're worth today.

My dad was the 4th born and first son in his family of 6 children, and by all accounts he was a real devil of a kid. I have a son who was exactly the same, not bad kids but just full of mischief and a sense of adventure not to be denied, and I absolutely adore kids like this. One of my grandsons is the very same--more delight for me to cherish.

When he had finished school, dad roamed around other parts of B.C. doing various jobs such as working in a cannery in both Bella Coola and Bella Bella, where he told us about a time when the Chinese cook chased him with a big butcher knife because Dad had raided his kitchen, or his adventures with the local Indians and learning about their culture. He had a dry sense of
humour and rarely laughed, but he sure did when he told us these tales.

In my youth I only knew one Chinese, one Sikh, one Japanese plus her grandma, one Jew, one black kid, no native Indian, so they were all novelties and especially kids didn't know how to treat them, but took our cues from our parents. Mine were both pretty much rednecks, especially my father, and I soon learned all the various derogatory names of these nationalities at home, plus the disrespect shown to them. Today's ethnic thousands would have killed my dad--he'd have been sure we were giving our lovely country away to third world peoples who would one day overrun Canada...




Note from Betty Yeager (née Clements), Feb. 2007, on the Vancouver of the 50s:
I worked at B.C. Electric as a steno in the early 1950s, but had to stop working there in 1953 as I was pregnant with my first child, and women who began to show their pregnancy were not allowed to work there, or anywhere actually.

Like your father, my dad was an employee of B.C. Electric for many years--from around 1929 to the 1960s, first as a motorman on the streetcars, then as a bus and trolley bus driver. He gave it up when, as a bus driver, someone got on his bus with a monkey in a cage and let the animal out, whereupon it roamed all over the bus scaring the passengers witless. My dad, the hero as always, chased the monkey until he caught it, whereupon it bit him on the hand and caused a deep, painful wound in poor dad's hand. He was almost at retirement age by then anyhow, and no doubt tired of his boring job and dealing with the public any longer.

My dad's parents were pioneers in Vancouver (surname Clements). Coming to Vancouver from Ontario and Quebec, they married in Vancouver in 1899 and every member of our extensive family since has been born, raised, and still lives in Vancouver, down to the present 4th generation Vancouverites, my grandchildren.

I myself was born in the old Vancouver General Hospital in December 1930, and oh, the changes I've seen over those years! I can remember wooden sidewalks, the Chinese man with his horse and buggy who delivered our fresh produce and always brought around a jar of candied ginger for us kids, the iceman who brought huge squares of ice for our icebox before we had a fridge, and always gave us slivers of ice to suck on, tar spread on the roads to keep the dust down (which we kids used to chew...ugh!), Sham Singh the woodman and his load of wood for our fireplaces and stoves, the coal bin we had in our basement to fire the furnace, licking the cream that rose to the top of the glass bottles of milk our milkman delivered every day, the postman who delivered our mail twice a day and was always invited in for a drink at Christmas so that sometimes when he got to our house he was pleasantly tipsy...so many pleasant memories of days gone by never to return. I tell my grandkids about some of this, and they listen wide eyed at this very different lifestyle than their own.

Dad was finally able to buy an old Ford with leather flaps for windows and had to be cranked up to get it going. I felt pretty proud going for a ride in this wonderful car.

A sweet friend of mine in Grades 1 - 3 named June Nakamoto disappeared one day in the early 1940s--she and her family had been shipped off to Greenwood for the duration of the war, and I never saw her again. Often she and I would go to her home after school to play and her old grannie gave us slices of bread spread with ketchup. It was wartime and food was rationed, but people always shared whatever they had with others. I missed June and her family for years.

I remember my dad going off to war, saving up to buy war stamps and bonds, babysitting for 25 cents an hour, buying a record at Treacher's on Fraser Street with my earnings for $1.00, my years at John Oliver High School, skating on the frozen pond in Memorial Park on a pair of well used skates we'd found in our basement, belonging to Sunset Memorial Teen Town and being voted the prettiest girl, dances on the tennis court near JO High on summer evenings, seeing my mother weep when she heard about yet another friend of my parents' being wounded or killed overseas, hopping on the streetcar along Main Street to go to work downtown at Carrall and Hastings Street, the smell of coffee being ground in that neighbourhood when I got off the streetcar, the devil's strip between coming and going streetcars which was a dangerous place always to be avoided, but especially how laid back and serene our beautiful city was at that time. There were no highrises downtown, the west end was full of lovely old homes, many of which were rooming houses, as was the east side and Fairview. Phone numbers had 4 digits prefixed by a name--Fraser, Alma, others I forget, and phones were wooden and often placed on walls in the hallways, and had party lines where nosy neighbours could listen to conversations of others. No TV of course, but our family always settled down to listen on the radio to the war news, Jack Benny, Mary and Rochester, or the Lux Radio Theatre, Fibber McGee and Molly, Bob Hope Radio Show, This Week's Hits, great entertainment all.

I've lived in West Vancouver since 1967 and seldom have to go downtown for anything, as we have everything we could possibly need right here on the North Shore, which I have also watched grow from a sleepy little community into what it is today--vastly grown, housing prices far too high for most people to afford, many more shops and facilities of every kind, but I still love it here and it is home. Sometimes I do take one of my grandkids downtown to roam around Robson Street or visit Queen Elizabeth Park, and I marvel at how this city has grown. I always take them there by bus, it's not only crazy driving downtown but it's very expensive to park there too. Actually, I don't like the city as much the way it is now, it is far too busy and crowded, everyone rushing around in such a hurry and the rude people I encounter who are too stressed to be polite or courteous. I wonder where the manners have gone...

Nevertheless, I am very, very happy that I lived in Vancouver during those earlier years when it was a rather small city and much less frantic than it is today. I am especially proud to be a member of a pioneer Vancouver family and find that it can be a real conversation piece if I bring it up in a conversation, as most people I know came from other places so don't have the history that I do.

***
Note from Christopher M. Robinson, 2007, about Athlone School: Over the last 9 years I have been working on a massive project to bring back
the spirit, that was Athlone School, for the lads!

Having published my first book on the school last year, I have dived rightinto a second publication regarding Athlone, which I hope to release in 2008.

Here is my Athlone Website,

www.athloneschoolforboysvancouverbc.com
... and about the Delmar, also about Owl Drugs at 41st & Granville:


I am curious to know if you have any memories or information, photos or otherwise on the old
Delmar Restaurant
. As I recall it as a wonderful 1950s and possibly early 60s eatery just south of 70th and Granville. Our family often went to dine there and as I recall it was famous for its 'Flamingo Room', which was interestingly lit with green accent lights to give atmosphere. The food was always and guests were entertained with live organ music nightly. Still, best of all was a huge vertical wheel, which was spun to offer the younger guests gifts to take home. Just a wonderful memory in my life.
I think I can deduce the date that this eatery closed by just checking their ads in the vintage Vancouver phone directories (Yellow Pages), at the Vancouver Public Library. As for the eating outside as well as in the this restaurant, I do not think they had this service since outside was simply a straightforward parking lot on the north side of the building. There was the
Delnor
just across the street and it did offer both but was more of a hamburger joint like the White Spot.
[
MK:
I have the briefest note about it in
Vancouver Remembered,
page 117, as part of a page on restaurants of the 1950s-60s: "the White Spot and Delmar's fashionable Flamingo Room at 8615 Granville gave the option of car service," this based on restaurant review-listings in Western Homes & Living Magazine, May, 1956, a copy of which I had.]
What really sticks in my mind about the Delnor was the element it attracted. What you would see there on a typical drive-by were hotrods and lots of bikers. The fare was cheap hamburgers, chips and Cokes. Still, I can't remember it ever not being busy. It was located just south of 70th on the east side where the strip mall is now.
[
MK:
All I can remember of the Delnor is an afternoon with a girl I really wanted in my friend Glen Mohr's borrowed VW, which included a stop there.]
Another area that holds a great deal of good memories for me was 41st and Granville. After leaving the barbers at 57th, I moved on to the little barber's shop on the southwest side of the 41st and Granville strip mall. The move was more for the better reading material than anything else and this shop had a large stack of just great comics on a small table between the waiting chairs.
Owl Drugs
just a few doors north in the mall carried the pink cream soda that I was totally addicted to and also various Men's adventure magazines that seemed, for some strange reason, to be a great draw for us early teens. I recall one very embarrassing episode that involved both the soda and these mags when on a very warm day I tried to guzzle an entire bottle of this cherry concoction. Of course it went up my nose and all over the rather questionable page I was viewing (much to the interest and I guess disgust of everyone in the store). The clerk made me pay for the magazine and sent me home to show it to my father. Such antics were definitely not well received and cost me my allowance for that entire month! I also remember Brown Brothers Motors on the northeast corner, where we would spend hours sitting in the new cars in their show room until we were kicked out. 41st and Granville was a transfer stop for may private school kids, making their way home and a great place for Athlone boys to pick up Crofton House lovelies. Private school girls always seemed to be a wild bunch as I remember, especially those that attended the Catholic schools!!
[
MK:
the building at 41st and Granville, on the southwest corner, was a two-storey flat-roofed commercial block with Spanish-style trimmings and little bits of faux roof covered in orange tiles. The second floor, above the Owl Drugs, had doctors' offices, including that of Dr. E.S. (?) James, whom we went to for our numerous childhood complaints. The stairs up from the street -- he can't have had any handicapped patients -- were steep, hard, dark-brown linoleum, and creaked underfoot, as did the floor in the hallway. And it smelled, an unmistakable aroma of cleaning fluid, steam heat, fear and sickness. The door from the hallway opened onto a narrow space with coat racks and a small cubicle for the receptionist/nurse on the left hand side, beyond which was a large room usually full of sniffling children and harried mothers, comic books and piles of Reader's Digests, hard wooden, easy-to-clean chairs interspersed with a few worn padded chairs of a kind of scratchy upholstery that was shaved into leafy arabesques. Two big sash windows, usually semi-opaque with condensation, looked out onto the narrow parking lot and Granville Street. You were there for a long time, waiting, waiting. He was always behind. His examining room reeked of disinfectant and the steamy vapour from the sterilizer in which he kept his collection of stainless steel syringes. Childhood was all about getting shots. Ironically, the only thing I remember about Owl Drugs was buying condoms there when I was 16, believing accurately that it was far enough from home I wouldn't be recognized.]
***
Note from Bob Murray, Merritt, 2006: I knew downtown Vancouver quite well, I worked as a lad of 14 years old for Ryan's Messenger Service in the summer of 1944. That summer, I gave up delivering newspapers and found a job with Ryan's Messenger Service. This was a real experience, pedalling around downtown Vancouver on my bicycle. A really good day would return about $5.00 for my efforts, this was big money for a kid in 1944. A double or triple price run would mean the Main Street hill would have to be pedalled. A free ride could usually be had by catching a tow on one of the Chinese vegetable trucks that were going up slowly. The Chinese Gentleman behind the wheel would give me a severe tongue lashing all the way up, but I didn't understand Chinese, so was not annoyed. There were quite a few close scrapes in the traffic, but was never involved in anything of a serious nature.
Note from Connie Squire, 2006: Last night a friend and I were talking about British Columbia history and she mentioned that she saw a wonderful show at Expo 86 which was made up of folk songs about different events in the history of our province. She mentioned that she had wanted to purchase a copy of the music but nothing was ever forthcoming. As she spoke those words, I knew that I could find something about the songs on the internet. Here is a link to the concert performed at Folklife Expo 86: http://www.rainshadowgallery.com/studioF.htm A CD of the performance is now available. My friend will be tickled pink when I tell her tomorrow.:-) Here's another page on the same site devoted to other historic songs: http://www.rainshadowgallery.com/studioC.htm
Note from Jan Barkley Baldwin, Eugene, Oregon, 2006, about Rose Lake Lodge: Hi, I came across your website quite by accident while Googling to find if Rose Lake Lodge out of Williams Lake, BC, still existed and whether they had a website. Talk about vanishing British Columbia! I'm sure it probably doesn't exist now the way it lives in my memories. This was such a wonderful place for a family to visit, esp. with one horse crazy kid (that would be me) and one fishing fanatic (that was my Dad) and two total princesses who wanted pampering in the middle of wilderness (my mother and sister). I could go on for hours about how Rose Lake Lodge fit every one of us to a T.
I did find that Rose Lake Lodge still is "there" at least it is listed on the Canluki campground directory and the address seems somehow familiar. I don't find a website for it, however. By the way, I did write to them at that address about two years ago inquiring about camping there, but they never responded and the phone doesn't seem to always work either, which is probably more a problem of rural telephone companies surviving in adverse climate conditions than anything else. What an incredibly lovely place, Rose Lake.
I suppose it is overpopulated by rich Euros in McMansions now, as it wasn't such a bad commute from population centers as some guest ranches, and proximity lures population. I wonder what the moose (what's plural for moose?) and loons thought of the development?! I met my first moose while he, or she, was elbow-deep in the lake grazing on aquatic plants while dragonflies swooped around - and I've never forgotten that. For decades (I'm in my fifties now), I fantasized about winning the lottery so that I could somehow go buy Rose Lake Lodge for my very own and be able to ride a horse forever-away and then nap by the cabins or on the dock with no noise but the wind in the birches - yes, in those days and maybe still, there was a huge grove of paper white birch trees in the cabin area; I think I still have some of the peeled bark in my "treasure" chest in storage. Well, enough reminiscing, I don't wish to bore you! If in your research for Vanishing BC you came across any information for Rose Lake Lodge, I believe the mailing address is at 150 Mile House in BC, I would be very grateful for anything you can send my way.
***
Note from James Abbott,2006 re: the Maki site near Savona. I am wondering if you know anything about the Maki memorial with is in the hills above Savona. There is a geocaching site there, which is how I found it.
Note from Rose Delap, Williams Lake, 2006, about the Bonaparte Reserve: I have been painting St Joseph's at the Bonaparte. It is an especially lovely building. Someone in the Band Office put me in touch with one of the elders who told me that the church had been built in 1890. A man called Jimmy Skinner came down from Hazelton to do the work. His price for the job was 100 horses and the band got together and collected enough horses to pay him. One wonders what he did with the horses, whether he drove them up to Hazelton or if he sold them along the way. Have you ever heard of him? There is a very fine church in your book, near Hazelton. I wonder if that is his work. it would be interesting to know how many churches he built.
Note from Kristal Atkinson, Nanaimo, 2006, about Port Hkusam: I remember a place I visited in the mid 1990s on a Pathfinder hike. Just east of Sayward is Port Hkusam and I thought that if you had never been, it might still be a wonderful place to visit and paint. Located at the top of a small cove, there were several (I specifically remember three) old abandoned buildings. Just above the shore line, two buildings with the typical pioneer wooden frame front stood. The doors no longer closed and I remember one wall was covered with newspaper wallpaper. For the wet climate and proximity to the ocean, I was rather amazed how nice it looked. The third had a more recent history, with a concrete foundation and maybe a bit of squatting history. Behind it was an old orchard. Unfortunately, I didn't have a camera with me, and being only 14 or so at the time my memory is not as crisp and I would like it to be. Unfortunately, I haven't heard how history has unwound for these buildings since visiting but I'll always remember how powerful the sense of history was at the time. I will have to return one day.
From Percy Lambert, Saskatchewan, 2005, about Williams Lake: Have your travels ever included Williams Lake, or any of the surrounding area? Before going any further I will tell you my reason for the question. I was born in Saskatchewan in 1918, so grew up during the years known as the dirty thirties. Like many young men of that era, I went further afield in search of something better. I arrived in Williams Lake in the spring of 1939, and eventually found work on a ranch in the area. I went to work for a rancher by the name of Sutton (Frederick Nasseau Sutton, though to me he was always Sutton, and his wife was Mrs. Sutton). I was with the Sutton's until the fall of 1941, and being military age I did as most young men did. I enlisted. I think they liked me, as I was made ranch foreman during my second year, perhaps they saw in me the son of their own that they were unable to have. (they had no children of their own).
Had there not have been a war my life might have followed a very different path than it did. During my years in the service I kept in touch with them by mail, and on my discharge Sutton wrote with an invitation to return to to work for him. However I declined as things were improving on the prairies, and with a bit of help from the V.L.A. and my father I became a rancher in my own right. My wife and I are now retired and make our home in Moose Jaw. I am however still interested in the Cariboo, and have read a number of books that outline some of the history of the area. There was one by Irene Stangoe called Cariboo-Chicotin (she has written others, as well as being a columnist for the Wms. Lk. tribune). Through Mrs. Stangoe's publisher I was able to contact her, and have been able to exchange a bit of chatter about the district, as well as people we both knew. In one of my letters I told of a number of my experiences while working for Sutton. Some of which she used in her Tribune Column, so my name appeared in a B.C. newspaper last summer.
From Grace Darney, Vancouver, 2004, about Colony Farm: I wanted to tell you about 3 old buildings in the Colony Farm GVRD Park. There are two houses and one bunkhouse. The Colony Farm Park Association will soon be raising money to restore the buildings -- one of the houses may be beyond repair though, but we hope not. Once all is restored, the main house will be used for a park caretaker, and the bunkhouse will be used for meetings and outdoors classes -- including a meeting place for those of us who belong to the Community Gardens. The buildings are found on Colony Farm Road, which is off the Lougheed Hwy -- here's a URL with a map: http://www.greenclub.bc.ca/Regions/Fraser_Estuary/Coquitlam/Colony_Farm/colony_farm.HTM and here's the CFPA website: http://www.parkpartners.ca/partners/colony%20farm/colony-aboutus.html I thought you might be interested in painting the old buildings prior to the renovation, esp since the smaller house has had water damage and may not be restored. They had to be rescued from blackberry brambles, and there are many rather tall trees surrounding the buildings. There are two species of bats living at either end of the bunkhouse attic -- the restoration will take into account their living spaces and habits, and they will not be ousted.
From Gary Sim, Vancouver, 2004, about BC Rail: There were some things I noticed whilst working on the B.C. Rail Rock Gangs that are of historic interest. Some segments of the Cariboo cattle road remain in the woods around Seton Portage and Lillooet in excellent condition, they built (1879'ish?) some extensive rock walls which are quite amazing to come across in the forest. Also in Seton Portage are numerous early flumes and irrigation works, some are quite large and others in very tricky locations to build. An early lake freighter is clearly visible on the lake bottom at the east end of Anderson Lake at the old wharf when the wind dies down. An early pelton wheel rusts in the woods below the Seton Portage train station. It's interesting that the area has little in the way of historic buildings, but lots of historic bits of industry and early transport to the interior. The odd early locomotive and freight car lurks at the bottom of Anderson Lake, but since it's about 800 feet deep one would need to do a National Geographic to have a look at those.
I noticed recently that B.C. Rail has all the electric units, catenary lines, substations, transformers, switchgear etc. from Tumbler Ridge up for sale on their web site, and thus one can fairly safely assume that the whole Tumbler Ridge venture is now part of "Vanishing BC". A lot of work for a few thousand trainloads of coal! I took the attached photo during one of the three summers our Rock Gang worked on the Tumbler Ridge line. It shows a typical 99-car unit train heading south, just south of Tumbler Camp, and north of Wolverine Siding where our camp was. My ex super-trusty Toyota long-bed pickup gives a good sense of the scale of the head end - the electric units are massive, at least 1/3 again the size of a normal GE road unit.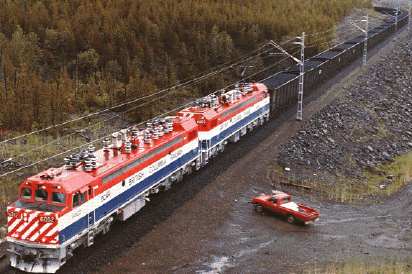 From Stephanie Gould, Chilliwack, 2004: I'm looking for recyclable moulded and/or wire-cut bricks made by my great-great-grandfather's Bazan Bay Brick and Tile Company, a flourishing factory that began operations in the early 1900s at the east end of Bazan Bay near Sidney. The bricks are recognizable from the raised BBB stamp found on the top of each one. Recently, Bazan Bay bricks were found in a small cottage that was taken down on Galiano Island. I'm looking for enough bricks to build a small structure at my mother's place on Galiano Island, but I'm also interested in knowing about buildings constructed from BB bricks. If anyone has information and/or bricks to give away, please get in touch. James Treadwell Readings made bricks and drain tiles at a time when they were in great demand for local buildings and for draining the fields of the Saanich Peninsula for local farmers. Two types of bricks were produced from clay drawn from a huge deposit at the east end of Bazan Bay, originally owned by Mr. Woise and Mr. Warner who first established Bazan Bay Brickworks and hired my great-great grandfather as a foreman. Some were made in long rectangular forms and then sliced using wires. Others were shaped in moulds, dried and fired in a kiln 400,000 at a time for a period of 10-11 days using fir cordwood for fuel. Bazan Bay bricks were shipped 300,000 at a time to Victoria and Vancouver by scow. Among the buildings made from bricks from the Readings plant are the old Hotel Vancouver, (which once stood near Georgia and Granville streets), the Empress Hotel in Victoria and the Wilkinson Road Jail near Victoria. The Company changed hands at least a couple of times, but finally closed down in 1959. (Source: The Sidney Museum)
From Julie Bartlett, North Vancouver, 2004: My own family has a fairly long history in British Columbia. In particular I have had a lot of fun tracing the travels of my great grandfather, an Anglican minister who was posted in many tiny rural parishes around BC. I once visited the museum in Ashcroft with my father. It was my great grandfather's last parish and he is buried in the cemetery there. The man who volunteered at the museum was showing my dad a book about the history of the Nicola Valley. There was a large photo of a young woman in the book, whom they called the "mystery lady" because they didn't know who she was. My dad said, oh, that's my mother's sister, Aunt Laura! I wish I had asked my grandparents to write down their memories. So much of our family history was lost with their passing. Recently, my sister and her husband purchased a small farm in Keremeos. It's part of a larger historic farm that has been subdivided into smaller parcels. Almost all of the original buildings are still in tack. On my sister's parcel of land is an unusual turn-of-the-century water tower, built in the style of a castle keep. Her home was originally the residence of the farm foreman. They are hoping to restore the buildings. Photos can be viewed at her web site (see farm history) at: www.oldtowerfarm.com
From Rosemarie Parent of the Arrow Lakes Historical Society, 2004: We live in Nakusp and have several buildings that you might be interested in and the scenery is wonderful with mountains and hot springs etc. The Leland Hotel was built in 1892 and is still standing, with many small renovations from the different owners but not enough to take away its character. Also the Court House built in 1910 and school house in 1912. If you come to the Archives - we are open Tuesdays and Thursdays from 10-3 and Milton might have some more ideas for you. In New Denver they have restored the old Bank of Montreal which is the museum and taken two of the internment houses that the Japanese used during the war into the Nikkei Centre. Also the Lardeau area offers a few buildings and abandoned sites - especially interesting of course is the Windsor Hotel which Alice Jowett owned and operated. Also the old Marlow house is still standing in bad shape. The old cemetery etc is worth looking at.
From Fred Braches in Whonnock, 2004: We have a small postoffice here in Whonnock and an old storebuilding next to it. The buildings are doing fine because of the personality of Sue, the postmaster (the only one in the Lower Mainland by the way). On the hill just behind it are two well-kept little houses. Brian Byrnes came here in 1919 as a boy and lives there since the 1920s. A visit to his house is a treat. There are flowers everywhere around the buildings. Brian is getting on. I do hope he goes on to live 100 years, but I don't know if he will want to be that old, unless he can stay where he lives now. It will not be the same in downtown Whonnock after he leaves us, that is sure.


From Helen Inglis near Vernon, 2003: No doubt you will get flooded with nominations from all corners of the province; I would like to point out that the area encompassed by the Okanagan Historical Society likely has a few hundred endangered samples; Spallumcheen Municipality has the biggest collection of turn of the last century barns still standing in B.C. - which there some very unusual ones from their structural point of view; In addition,in the Okanagan there are several examples of Robert Hobson's favorite - Queen Anne farm houses.
From Mark Forsythe, CBC Almanac, Vancouver, 2002: For your files...a couple of places flashed into my mind after talking to you. About six miles west of Grand Forks there's a bend in the road where the valley begins to open up. Down below on the right, a couple of brick homes Doukhobors settled in still stand. Just. You can almost imagine laundry blowing on the line. I think the area's called Sleepy Hollow - there are lots of examples of original Doukhobor architecture at G.F.and nearby Castlegar. If you make it to the North Coast there's the Kwinitsa Railway Station Museum in Prince Rupert. It sits all alone on the waterfront there - used to be 50 miles upriver on the Skeena River. The museum is housed in one of three original Grand Trunk Pacific Railway Stations that still remain in British Columbia. It was barged down to Rupert...has nice lines. DonÕt know if it qualifies if it's still being used. There's also a cannery or two you might consider right in town. They probably won't be around much longer. Some of the homes at the nearby historic site North Pacific Cannery in Port Edward are worth a look too. On stilts etc. And a few clicks north of Cache Creek there's the Bonaparte Reserve graveyard. A faded wooden arch with chipped gold paint is simple but striking. Everybody drives by it on Highway 97 heading to Cariboo. Won't last mugh longer either.
From Troy Hunter near Cranbrook, 2002, about DIA houses: I don't think anybody is thinking about the old DIA houses on the Indian Reservations. If you come back to Cranbrook, I would be glad to show you some old houses on St. Mary's Indian Reserve built anywhere from 1900 to 1960.
From Neil Roughley on the matter of the old Great Northern Railway roadbed east of Princeton, 2002: I recently cycled this route, and even more of it on a previous trip. Very little of the railway remains as you know. The red railway bridge just outside of Keremeos is about all that exists today, except in Princeton where the old GN station is now a Subway restaurant. My mind's eye sees the red bridge, built in 1907, as a wonderful subject for a painting. The Similkameen station, south of Keremeos, was sitting in a farmer's field for many years, moved there from its original location. It may still be there, but I just found out this information so didn't look for it while cycling through.
From Bud James, 2002: If you are going anywhere near Alert Bay on your North Island trip paint the old hospital as they just built a new one in Dec. 2001 and it may not survive.
From photographer Grace Darney, 2001: How about going to Zeballos? There's an old hotel there, and what is now a newer hotel but that was once the hospital. My brother was born in that hospital, on a night when the town was going up in flames (July 1940). I visited the village three years ago and found it a peaceful spot. The road only came through in the last few decades. When my parents went there, they travelled on the Maquinna. My dad put in the electricity lines to the mine. And how about St. Bartholemew's Hospital in Lytton? It will be replaced by a new building and likely torn down as it's now encircled by an improved highway. There are some nice houses in town as well. And, beyond New Denver there's Sandon. Oh please go there -- it's an amazing spot, with buildings being renovated, making the whole village a museum. You'll like the rubber boots filled with flowers on the steps of the museum.
When I write my own family history, it will include Zeballos. Not only was my brother born in Zeballos, but my parents were married there, at midnight, by a travelling preacher. Mom arrived on the Maquinna, 4 months pregnant, to join Dad. They'd acquired a marriage license in Vancouver 3 months earlier. Anyway, the preacher hadn't expected to perform a marriage, and Mom would not live in Dad's small shack unmarried (pregnancy notwithstanding). A man was sent on horseback to another town (Port Hardy?) for the official forms etc. He arrived back in Zeballos just before midnight. A strange start to a troubled marriage. Each August, Zeballos holds a reunion for former residents. My cousin and I travelled there and ate the pancake breakfast, talked with oldies, wandered around the village and stood at the dock, thinking of the visits of the Maquinna. It was quite pleasant and I'd like to return there, perhaps buy a cabin someday.
I stayed at the Totem Hotel in Lytton myself last year while visiting my aunt and uncle who are residents in the hospital's extended care. When they were moved into the hospital it was the first time in 25 years that they'd had a roof over their heads that didn't leak, regular meals, running water etc. You can see their abandoned shack along the Trans Canada about 15 or 20 minutes out of Boston Bar, on the right. There are a dozen or more willows, and what were once motel cabins, but they had no money to keep things up, no money to dig a well, and so let the place decay (they hauled water from a neighbour). Bill picked up scrap metal along the highway for a living, but over the years a vast amount of it stayed around the property. His tulips still come up between the pieces of metal. Last year I took a few nostalgic photos of the main cabin that they lived in for many years, with the willows drooping over it and yellow tulips in the foreground. What it needs now is ten trucks to remove the scrap, the buildings pushed down, and to be sold (see the bottom of the Siska Lodge page--MK)
***
From Steve B. Noakes President, GeoQwest Excursions Ltd., 2001: I came across your website while looking for some historical information on parts of BC. I've been scrolling through your Vanishing British Columbia pages and have enjoyed seeing so many sites I recognize. Not being an artist to any extent, I rely on a camera to take poorly exposed, badly framed pictures. But that's only when I make a conscious effort to realize that what I'm looking at is worthy of a photo and not just taken for granted as I pass by. I have an off pavement touring company, the first of it's kind in BC. No, this is not a sales pitch but just a quick note to thank you for capturing many of the sites that I pass on our routes but have not had the where-with-all to appreciate their artistic merit. From the little house at the side of the connector just outside of Merritt to the Yahk Police Station, I wish I had your eye for remembering to at least photograph these little gems rather than taking for granted that they will be there next time. Often they aren't.
We specialize in mining heritage sites. As your title states, this is a sector of BC history that is fading faster than most as the well intentioned but often misguided efforts of government and associations obliterate evidence of what was once the cornerstone of the province. Only now that mining as an industry is on it's final breaths are people realizing that what's left out there may have some sort of significance and may be worth keeping.
One structure that I have always appreciated but fear will likely be burned to the ground by hoodlums on a drunking spree as it is so close to a major highway is the old KVR locomotive watering tower at Brookmere. You may have already captured it in a painting but if not you might want to take the 10 minute detour south off the Coquihalla at the Coldwater interchange (the bridge at the bottom of the valley at the only crossing of the Coldwater River) I've always breathed a little easier when I round the corner to see it still standing.