Another book that captured the romance and adventure of the Peace River country for an English audience was John Onslow's Bowler-Hatted Cowboy (William Blackwood and Sons, Edinburgh & London, 1962). Onslow was a British army officer in the Second World War; badly wounded, he eventually joined his brother-in-law R.D. Symons on a ranch in the Upper Cache Creek near Fort St. John.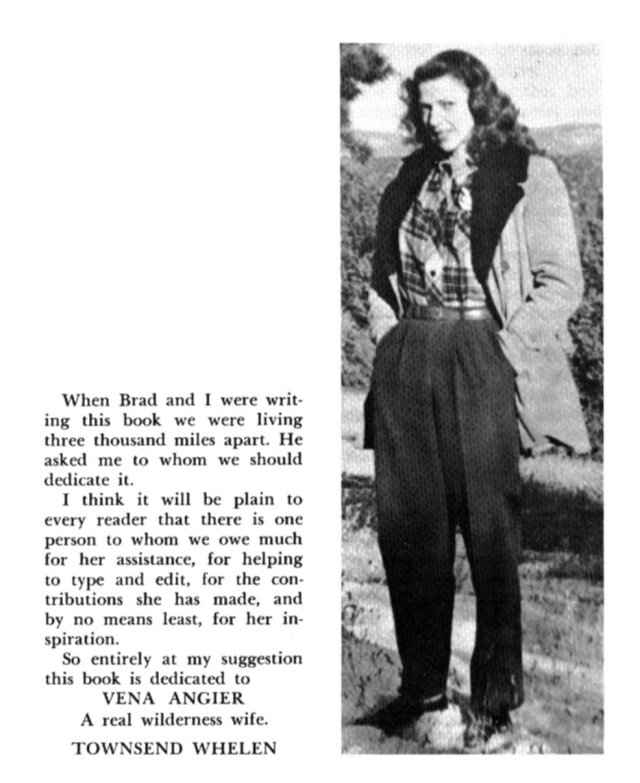 From William Walker, 2012: I discovered last night that Elvena Ruth Angier died November 22, 2011. She is buried in Tucson, Arizona. RIP Vera.

"Elvena Angier
27th November 2011
"Elvena Vena Ruth Angier, 97 years of age, entered Life Eternal at the South Shore Hospital on Tuesday, November 22, 2011. She resided at the Allerton House in Weymouth. She was born in Boston and was formerly of Hyde Park, Tucson, Arizona and Rockland. In earlier years she was an entertainer and dancer. She was associated with the USO. She was the widow of Bradford Angier who was an author of books on wilderness subjects and was the author of Edible Wild Plants which is used by the military. Elvena provided the art work for the books. She had also been a guide at the Randolph Hearst estate at San Simeone, CA. She was a member of Trinity Episcopal Church in Rockland. She is survived by a niece, Janice M. Wallace of Weymouth and a nephew, John Watt of Easton and by great nieces and great nephews. A Memorial Service will be held at Trinity Church, Goddard Avenue, Rockland at a later date. Burial will be in the Memorial Garden of the Episcopal Church of Saint Matthew, Tucson, Arizona."

From Alison Otis Hueber, 2011: I am a close personal friend of the Angiers. Brad rented a room in my father's home when he was a child and they remained clost all of Brad's life. In fact, Brad and Vena are like grandparents to me.

I am curious if you came across any confirmation of the plagiarism claims. I had never heard that before but have seen two references online. In any case I am glad to see from your site that he had such a large influence on people. I will say their largest influence on me was showing us what true love is. you will never meet two people more devoted to each other.

Brad and Vena were an amazing couple I will say. Vena is still alive – she will be 98 this December. She has lost some sight and hearing but she is still sharp as a tack and can bed over and touch her hands flat to the ground. She is in great shape. She also continues to be an incredible story teller. I wish that I had been old enough to visit them in Hudson's Hope when they lived there. She has such funny stories. One I love – Vena got up one night to go to the bathroom – the outhouse. Brad had tied a rope from the house to a tree to serve as a "railing" of sorts. Being a city girl (Vena had never even gone camping before they moved there), she was wearing nighty and just pulled on some winter boots. As she was walking back to the house, she slipped, fell on her bum, pulling the rope as she fell, and with it shaking an enormous pile of snow off the tree on to herself. From the darkness she heard Brad's bellowing laughter and just started laughing herself. You have to laugh as you hear her tell it. She is an amazing women and has some great stories to tell. I will try to come up with some more to share with you.

From Thomas Cheney, Jackson, Michigan, 2011: At an age of 16, I read a story called Peace River Days by Bradford Angier which was published in Sports Afield magazine in May 1958 and as tattered and well read as it is, it is still a treasured part of my memorabilia. Your painting of Uncle Dudley's Cabin is my Desktop. Such good information about an icon of the past. Thanks for maintaining such a tribute to a true outdoors man as well as wife Vena.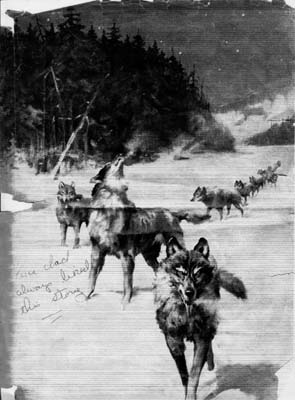 the title page artwork, and ...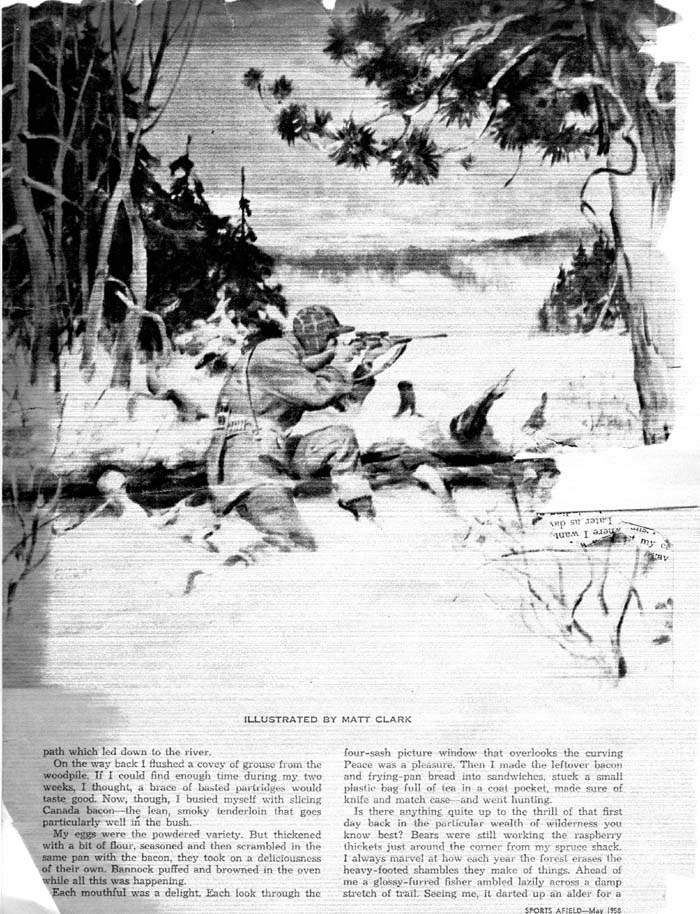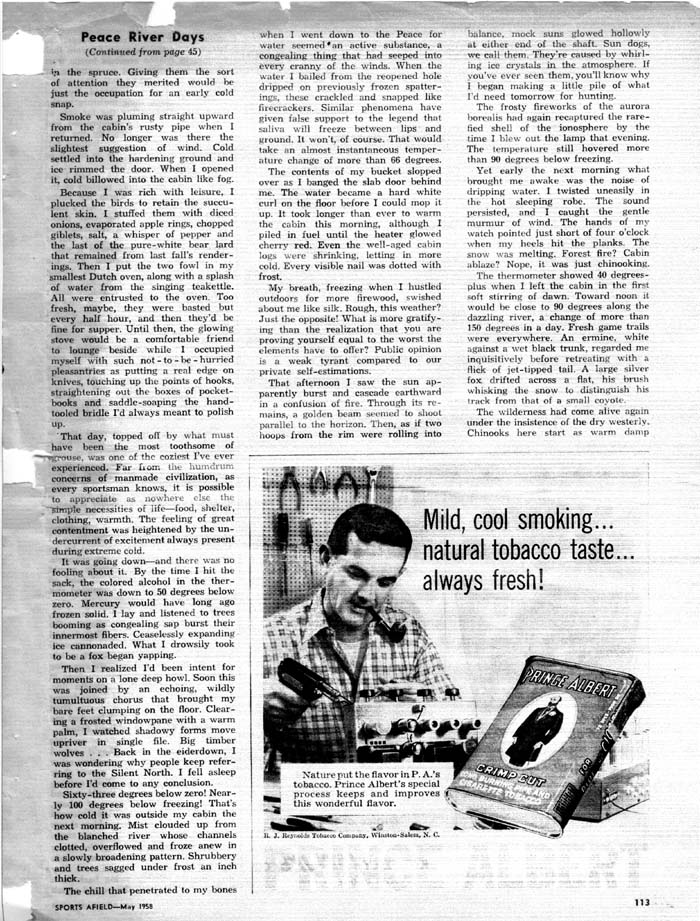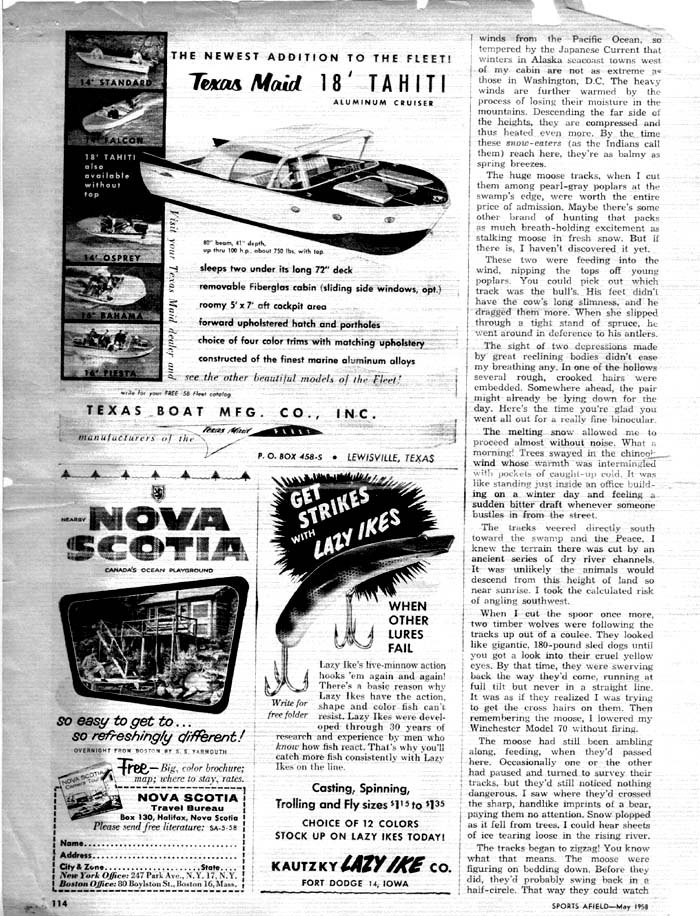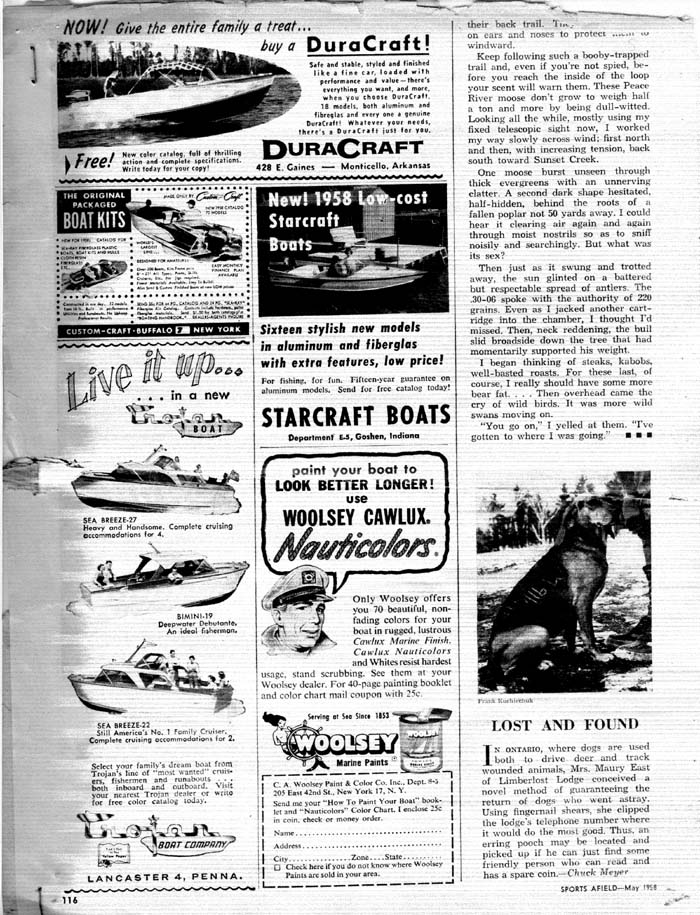 Note from Larry Steinkraus, 2010: In the summer of 1974, my wife, Sue and I drove the Alaska Highway from Indiana to Fairbanks. Having read one of Bradford Angier's books, we stopped at Hope, British Columbia and asked at the post office for directions to his cabin. They obliged with directions and Sue and I found the cabin in the woods. We parked our vehicle and walked a short distance to the cabin. Although we were unannounced and uninvited guests, Bradford and his wife Vena invited us in and were friendly and hospitable. There was one other gentleman there, also. I do not recall his name, but he appeared to be about the same age as our hosts. We had a brief and friendly conversation, and were on our way. Before leaving, we did take a drink from the waters of the Peace River. In his book, Mr. Angier mentions a legend that says that anyone who drinks of the Peace River will return there someday. So far, we have not, but actually are considering a trip back there from here in Indiana, when we retire. Maybe there is something to the legend, after all. We'll see.

I must give him an A for effort and a sense of adventure and wanderlust. Maybe we can lobby for a small plaque to be placed there commemorating his brief time as a resident at the Dudley cabin. If such a thing is feasible, and you would know how to proceed, I would be willing to make a donation for such an item. It was an interesting time of my life, and he helped ignite a desire to explore some paths less taken. For that I thank him.

His book, "How to Live in the Woods on Pennies A Day" was given to me by a friend back in the 1960's. I probably still have it in a box here somewhere. It did inspire me.

I do remember very clearly asking at the post office there in Hudson's Hope for directions to Bradford Angier's cabin. I also remember very clearly a hesitant and unenthusiastic response, although the clerk did give us directions. I assumed that the response would be exactly the opposite, which is why it probably stands out so clearly in my mind. Perhaps some of the residents feared that a 'celebrity' in their midst would draw crowds and upset their small town way of life.

The Cassiar-Stewart Highway was my way out of the Yukon in the summer of 1974. My wife and I had driven the Alaska Highway from Indiana to Fairbanks. We drove to the Kenai Peninsula and Homer, among other places, also. We got back on the Alaska Highway and started south, but could only get as far south as Watson Lake, Yukon. There had been heavy rains and a bridge on the Alaska Highway on the Hyland River in British Columbia had been washed out. All vehicle traffic from Watson Lake south was rerouted down the Cassiar- Stewart Highway. My wife had to be back home sooner than me and could not be delayed, so she was able to get a flight out of Watson Lake back home ( with stopovers in Prince George and Vancover). I was told to take enough food and purchase and fill a 5 gallon gas can to take for the trip, as there were no fuel stations or places to buy food on the trip. I believe it was about 400 miles. It was good advice, as I would have been stranded along the highway with no gas, otherwise. I forgot the food, but a kind soul along the way gave me a loaf of bread. The road was used for logging, and I was only allowed to travel between late afternoon and early morning to avoid the trucks. The road was dirt and pot-holed and winding in most places, through some of the most beautiful country I had ever seen. I was able to pitch a pup tent in a primitive campground for some sleep. When I reached Prince George, it looked like a giant metropolis.


Note from Rhonda Rosie, 2009: In 1968 we moved to Dawson Creek, B.C., with the intention of "living off the land". I had been reading [the Angiers'] books for several years previously while living in Boston, Montreal, and Toronto. (I'd always wanted to live either on a farm or in the wilderness.) We were looking for a place to settle, and went to Hudson Hope to see if they were there and had any advice for us. They were staying in town with a fellow called Joe (Barkley?? can't remember after all these years), and Bradford came out to talk to us for awhile, and was very gracious considering our imposition on his time. As it turned out, we did build a cabin out near Puggins Mountain southwest of Dawson Creek, but ran out of money, and while working in town to get more, we decided to move farther north to "real" wilderness. We wound up in the Yukon, near Frances Lake, accessible only by foot or airplane, and have been here since 1970. We followed Angier's instructions for cabin-building, among other things, when we built our first few cabins. We still have a few of his books here.

I'm sure they have had an influence on hundreds, probably thousands of young people, and I think even more young folks will discover their books as we head into another era of self-sufficiency skills and living off the land. So, just thought I'd throw my two cents in. They were a big influence for us, and we are grateful. Times change: now we have internet out here in the middle of nowhere, running off a battery bank. Never would have conceived of anything remotely like that in 1970!
Note from Tom Anderson, Summerland, BC [2006]: I was already "living off the land" when I came across one of Bradford Angier's books in Berkeley and took it back with me into the mountains. I read it whenever a High-Sierra rainstorm kept me in my tent. I wrote to Angier while still camped in the Sierras and received a surprisingly prompt reply :

http://www.members.shaw.ca/fotofiles/angier.jpg

Exactly one year later I was in Hudson Hope asking the postmaster where the Angiers lived. She said they'd moved to California "years ago." I found their unoccupied cabin above the river not far from a new bridge. Construction of the dam was going full blast and Hudson Hope was turned upside down. I stayed in the area until the weather got just a bit too nippy, then fled to the warmth and slow pace of the south Okanagan -- where I eventually settled down. I'll take peaches over moose any day.

I read most of Angier's other books, including the very first one which was written under Vena's name. Many of his later books were just minor revisions of earlier ones, but still written as though he and his wife were "roughing it" in the bush.

I wonder how many times successive Hudson Hope postmasters have been asked that question?


Note from Bill Hunt: I read several books written by the Angiers about 30 years ago and recently got interested in them again. I've become curious about what happened to the Angiers. If you have any information about them or any leads, I would appreciate receiving them.
Note from David Belanger , Lincoln, Vermont: I, too, have been very curious about what ever happened to the Angiers. With the quantity of books that he wrote I find it amazing that there is no real biography, at least not beyond their days in Hudson Hope. I did hear years back that they had moved back to Boston. While doing a web search I found your page. Have you heard anything about them? ... [a couple of days later, David sent this]
Newspaper article from Weymouth, Massachusetts, apparently, on Vena Angier turning 90.

By Leeanne T. Stronach / Correspondent
Wednesday, December 17, 2003

To help her mark this occasion, some of her fellow members at the Weymouth Club celebrated with her after she completed a group exercise class. Angier who goes by the name Vena is a regular participant of the Young At Heart classes held at the gym three mornings a week. The classes consist of low impact aerobics, STEP aerobics, and muscle conditioning. ...

"The most inspirational woman I have met in my lifetime. I love her," said Marie Thompson of Braintree.

Vena was the youngest child of seven and was born in Hyde Park. She graduated from Hyde Park High School in 1932. She then attended Straton Business College and went to school for theater and voice in Boston.

Although she studied ballet, she enjoyed modern dance more.

As a young woman, Vena went on the road with a tap show, a musical comedy show that played in towns on the East Coast. She made about $22 a week, spending part of her earnings on hotel rooms .

During the summer of 1939, she meet Bradford Angier. She was a choreographer for a summer theater in Milton. Bradford was helping to finance the group but it wasn't until the following season when Vena was called back to be the choreographer again that Bradford expressed his interest in her.

At that time Bradford was a reporter for a Boston newspaper.

After they were married, the couple moved to British Columbia, Canada on the Peace River to "live off the land," Vena said.

Once there, Bradford began writing survival books. Vena who is artistic was asked by her husband to illustrate his first two books. At first she resisted saying "you're out of your mind," to her husband. She ended up submitting 200 pencil illustrations to the publisher for the books "A Personal Experience" and "How to Build a Home in the Woods" and 138 were used.

For the rest of his 35 books, photographs were used.

The couple stayed in Canada until a dam was to be built on the river. They moved to California where they built a house that was not quite 1,000 square feet. For ten years, Vena was a tour guide at the Hearst Castle.

In the early seventies, Vena and Bradford returned to Canada. At that time his books took hold with the back-to-the-earth movement. People tracked down Bradford "like he was their guru or something," Vena said.

The couple would talk to the visitors and when they would leave Vena and Bradford would discuss whether or not the visitors would make it living off the land or if they were dreamers.

Bradford died in 1997, a few months sort of their 50th anniversary. "We had a wonderful marriage," Vena said.

Vena stays busy doing crafts, drawing, using her computer and seeing relatives and friends. She lives in a condominium in Rockland.

"I think back and think how did I manage to do so many things. It's been wonderful."
***


Note from Jack Jordan: I read on the website that someone was wondering what happened to Bradford. I provided some services for him prior to his death while they lived on the eastern edge of Tucson, Arizona, he autographed several of his books (that I had already owned) during one of my visits to their home. This was 1987. I recognized his name because I had grown up on his books. When I inquired if he was "THE Brad Angier", the Angiers were very gracious and always welcomed me warmly. He was still very engaging and vibrant and eager to show a young confused kid (me) things from his life, a compass collection, some knives, etc.
I did not want to impose on their life so didn't make myself a nuisance, I remember his wife saying how much he appreciated my visits and interest. A truly Great Man, I owe part of what I am now to his teachings. A weird coincidence, I was back in Arizona, drove near their house from that era, when I got back home, I pulled out my tattered copy of "How to Stay Alive in the Woods" and re-read it. And most of his advice still holds true, for those of us interested in the wilds. He references Peace River frequently. I felt compelled to find out if anyone out there still thought about him, this is nice to know that you folks are out there.
Note from Alann B. Steen: A dear friend of mine sent your article that included Bradford and Vena Angier in "Vanishing British Columbia." My name is Alann Bradford Steen, named after Bradford when he and my parents were very close in New York in the late '30's. When I lived in California in the mid-60's I was able to meet him when he lived in Cambria. After that I moved all about, and we lost contact. I was sorry to read of his passing, but was happy to learn that Vena was living in Massachusetts--in Rockport, just a few miles from where I graduated from high school.
Note from Martin in Dorset, England: Hi there I read the note on your website about the Angiers. I only discovered them a few months ago though the books that they wrote. I got my first book, How to build your home in the woods, from a search on Ebay. I was instanstly hooked and have now collected most of the writings that I have found.
Note from Laura Janes: Ran across your article while looking up info on Vena and Brad Angier., and wanted to share a little of my story with you. My mom, Ada Guarisco was a avid fan of Brad and Vena, so in 1960, she resolved that we would take a trip to Hudson's Hope to see for herself this pioneer land that she had dreamed of. Needless to say, she was also a great Thoreau reader. We got to meet so many of the townspeople described in the book and many more. We camped at Lynx Creek for several weeks, and became friends with the Neils, Mel and Bina and their daughters . For several more weeks we camped in the Glen where we were befriended by Bob and Harriet Birosh. Yes, we also knew Uncle Dudley. After we came back to California where my mom was an aerospace engineer, we started making plans to move to Hudson's Hope. We left California in 1964, and settled in Lynx Creek at the bottom of the big hill and next to the Peace River. After settling in, Mom starting negotiations on the parcel of land she wanted very much, the property out at Chinaman Lake.
After many years of problems and anxiety, she finally got the deed, and we still have the property. We were living near the Hope during the time of the Dam project, but we moved back to California in 1968 due to my aunt's health problems. Mom and I continued to go up every summer until I married, then she continued going either alone or later on with my son. Mom passed away in 2001, and now my family makes the yearly pilgrimage to our place in the woods. Growing up there, even though it was four short years and a month every summer, was the most defining time of my life. Mom tried to duplicate as much as she could of the Angiers ' experience, so we hunted for deer/moose, grew our garden, chopped wood, learned to cook on a wood stove, snowshoe and so on. It was an amazing feat for two women and a little girl. My mom and Aunt Pat, were city girls originally from Tampa , Florida. The locals knew us as "the crazy gals at Lynx Creek " .
I don't know if my mom ever met Brad and Vena or tried to contact them , but I wanted to let Vena know what a profound effect her books had on our lives and how we are forever grateful. If you have access to her mailing address I would like to drop her a note and tell her about us and let her know that all is well in Hudson's Hope.

Note from Wes Harden: I was glad to see the update on the Angiers. My mom, who died in 1995, purchased "Wilderness Wife" in 1977 and read it the last time again in 1992. She loaned the book to me after she read it the first time. I then found "At Home in the Woods" and read that a couple times. This week I am sitting in my cabin (Minnesota) with night temperatures getting down only to -15 and have been reading "Wilderness Wife" again. I have a nice warm fire in the fireplace as well as "off peck electric" heat and a backup propane furnace, not as primitive as the other people who wrote, but I am in the woods.

I read "At home in the Woods" a second time a few years ago on a business trip to New Mexico. They are both great reading. I have shared them both with my daughter and friends. I am going to order one of the other books I see listed by Angier.