Return to main Vanishing B.C. page Return to home page
Contact me
This page last updated January 24, 2021

© Michael Kluckner
The Boston Bar - North Bend Aerial Ferry
Note to readers: there are 5 North Bend pages and one small Boston Bar page indexed here. Much of the information on North Bend came from the Abray family via Aida Abray Snowden's granddaughter Arlana.

The aerial ferry was in operation from 1940 - 1986, when it was replaced by a bridge.

From Arlana Nickel, Kamloops, 2021: Here is my grandmother Aida Abray Snowden's hand written account on thin typewriter paper as told to her by Annie Richmond. The original in pencil grandma has even gone over some of it in pen to try to make it more legible.

Dated Nov 1969: I will try to tell this as it was told to me this summer by Mrs. Richmond. They were living in our house when this took place. The men that were working on the ferry roomed and boarded there so one day she said to the head man that she would like to be the first woman to ride across the river on it. So one day he came running in and said they were making the trial trip and for her to hurry and come. So she looked at the clock and said, " I can't come now, your dinner is almost ready." He said, "Chicken a." " No one ever called me chicken", she said, so off came her apron and away they went down to the river. When she got there she didn't feel so funny. She had to climb a ladder, then sit on the floor with nothing to hang onto as the cage hadn't been put on. Well, they got across alright. Then she thought to herself, well they have to take me back again. I think she was very happy to get on dry land once more. On the day of the official opening it was pouring raining. The crowd waited and waited for the brass hat to arrive, so at last a man said, " You are the oldest person here, so you cut the ribbon & handed her the scissors. Just then the man arrived and said, "I see the people want you to do the honours, so you cut the ribbon & I will give the speech." Your grandfather Abray was sent an invitation to be there. A. Snowden.

Arlana's notes:

This account was written out by my grandma to her family, my aunts and uncle. The house she mentions was the home she and her husband William "Bill" Snowden lived in from 1913 to 1923. On Oct. 2, 1923 Aida and Bill Snowden with 4 children in tow moved to 673 Battle Street in Kamloops. Aida lost her husband in 1955 but lived at 673 until her death in January 1982 at age 91.

The last line of the ferry account mentions "your grandfather Abray". That would have been Jackson T. Abray, Aida's father, who was the first police constable after the great Vancouver fire of June 13, 1886. He is pictured in the "City Hall" tent picture from that era. Jackson Abray would have been living in North Vancouver when the invitation was given to attend the ferry celebration but not likely was present that day.

I am not sure how long the Richmonds lived in North Bend before also moving to Kamloops. But more than likely at least by the early 1950's. Annie "Ma" Richmond was my grandma Aida Snowden's midwife in North Bend, delivering 3 of her babies. She and grandma became very close friends. I have a photo of the two of them taken here in Kamloops in their old age. I will try to find it for you. Her son Joe Richmond is pictured in the photo of George Abray's birthday on your Vanishing BC site. Of interest too, is the fact that Annie was former MLA Claude Richmond's grandmother.

Manny Rowse was the purser; Bill Hogan was the donkey engineer sitting on the Boston Bar side; Steve Springenatic was the "ferry operator" at the time of the undated "Aerial Ferry" clip below.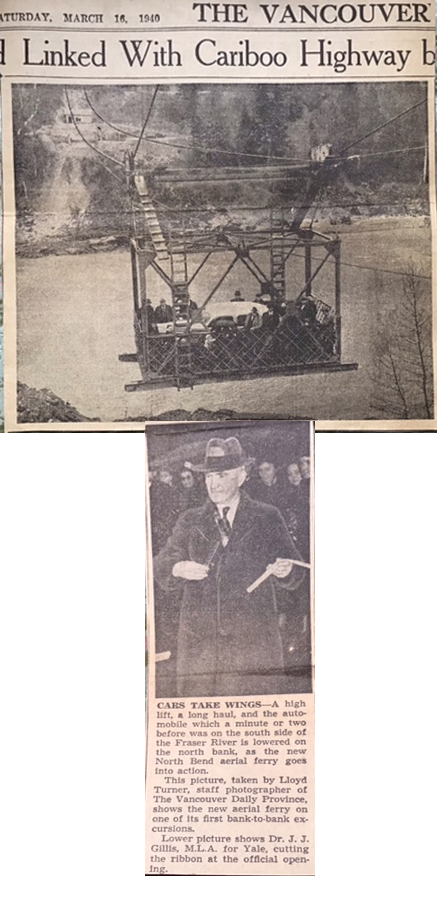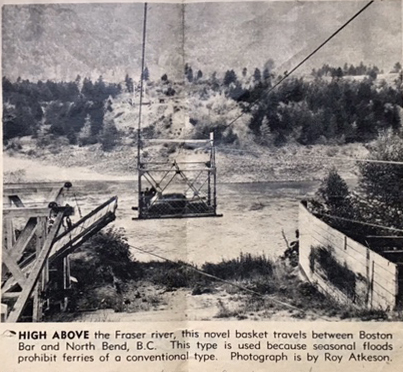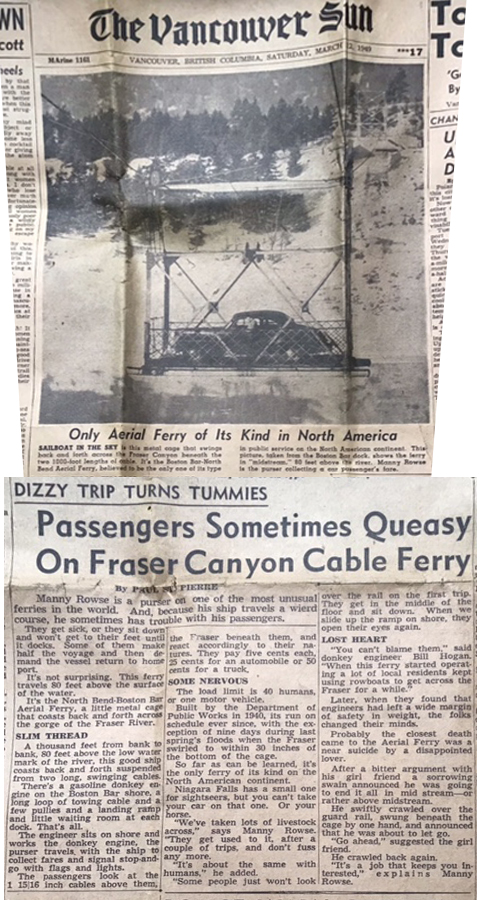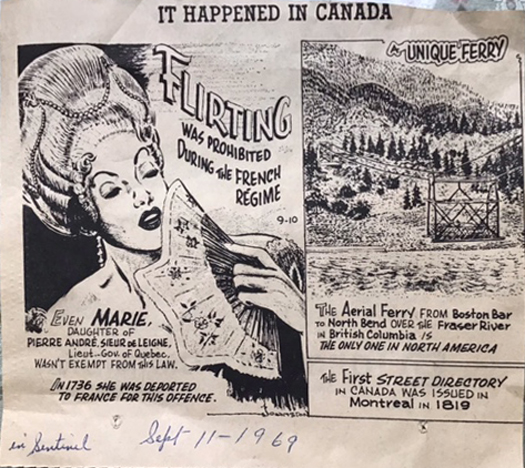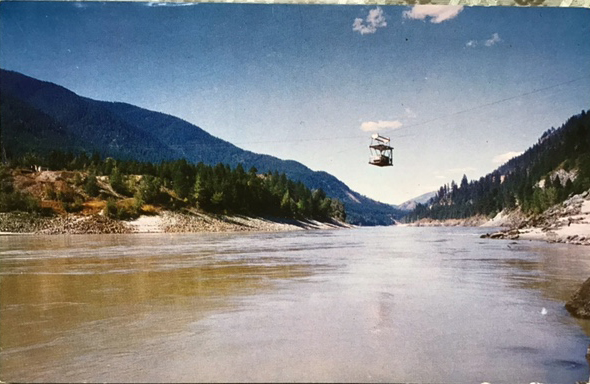 Return to Vanishing B.C. main page

Artwork and text ©Michael Kluckner, 2001