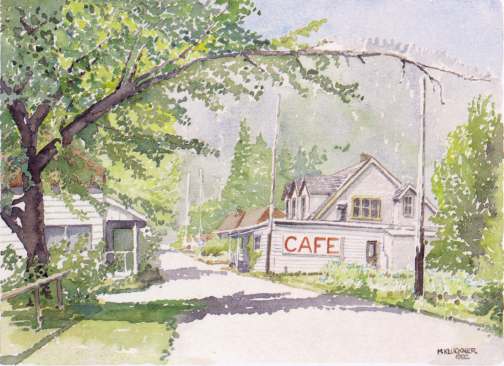 A 1992 painting from British Columbia in Watercolour of one of the last old commercial buildings in North Bend. It had been the town's cafe in recent years, but in 1992 it was used only for storage for a river-rafting outfit. It burned down some time in the mid 1990s.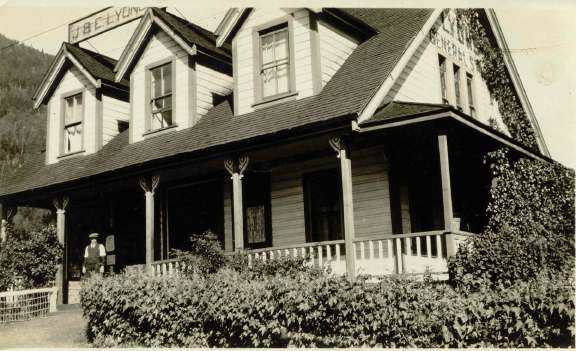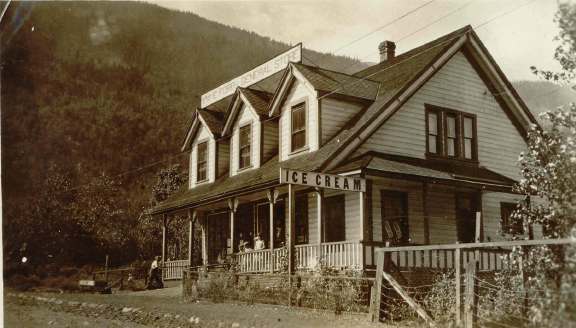 Note and photos from Linda Reid, 2004: The WE Ford is William Edward - he was my mother in law's father and had the store from 1921 to 1928, I believe. The other one says J&E Lyons - one of William Edward's siblings, Louisa, married a Lyons - I'm not sure if they owned the store before or after the Fords.
Note from James Robert Wilson, Montreal, 2010: I lived in North Bend for about 4 years as a young man with the Foreman family. Lloyd Foreman, who ran the logging operations in North Bend with his family, lived upstairs in the cafe with his wife and daughter for a time before buying the property and home on Blue Lake. At that point his brother, Dave Foreman, took over the building and started running a cafe to compete with the trailer cafe down at the tracks that served the train crews. Dave Foreman and his wife and his son, Richard, were the ones who ran the group home for boys.

This was in the early eighties when I lived there.
I've been back a couple of times to visit the town. Things have changed, to say the least. There was the cable car in service when I lived there. I lived with the Foreman's in the big white house just adjacent and across the street to the cafe. The house had a nice amount of property and a barn and an old willow tree.

And there were characters in that town! Do the names Bill Calhoun or Ol' Ray Martin ring a bell? Bill was a hobo living in the hobo village down the tracks and Ray was a grumpy, cantankerous old coot who lived in the woods all alone. He'd walk into town a few times a week to have something to eat in the cafe and to grump. His reputation was that he'd gotten away with murder. He'd shot someone at some point but got away with it. He had a long, unruly, dirty yellow beard and smelled worse than a wet dog.
Those were some of my best memories. Maybe the best years of my life as a young boy.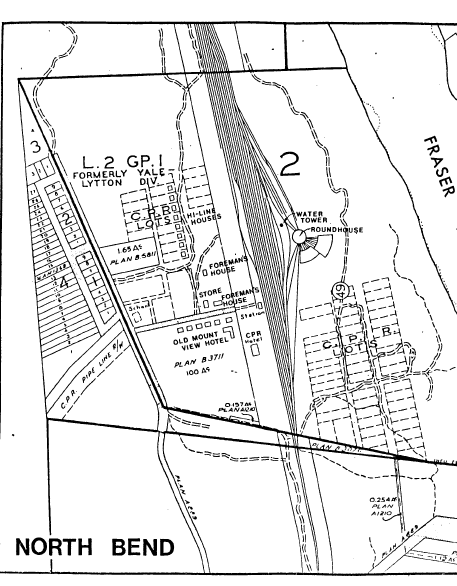 The essential North Bend, as it was in 1980 (map from Lillooet-Fraser Heritage Resource Study, Heritage Conservation Branch, Victoria). The old Mount View (originally the Mountain) Hotel building still exists but is abandoned. The Harry Lee house stands on the first set of lots across from the "CPR hotel," which has been demolished. Neither of the old foreman's houses still exists, unless they've been altered substantially.