Two of the last surviving "original" cabins on Shuswap Lake, at Pierre's Point, about 10 km west of Salmon Arm (between Sandy Point and Tappen) on the Trans Canada highway, painted in 2000.
Once upon a lifetime ago, in the 1950s and 1960s, there was a long row of cabins including these, nearly all of them on stilts, along the shoreline. In June, at the height of the spring melt, these cabins were often standing in a metre or more of water, but by the end of summer they stood on the edge of 100 metres of beach. No electricity, no running water, no worries – this was "cottaging" in an era when people had more leisure than money (for the BC interior, the 1940s and 1950s).
I write about Shuswap Lake with some feeling and considerable knowledge as I spent the summers from about age 7 through age 16 in a cabin like one of these. I wrote about Shuswap Lake as part of a series of articles in Cottage Magazine – the major article, positively dripping with nostalgia, begins below. When I went back there in the fall of 2000 I found very few of the old places still standing and, to be honest, found it difficult to orient myself. In the 35 years since we sold the cabin, trees had grown old and died, places had been demolished and replaced by new, plush ones and, most significantly, a couple of years of freakishly high water had destroyed a number of cabins and altered the shoreline.
These cabins qualify as "Vanishing BC" because, in the 1950s, a couple with not much money and two children (like my parents) could buy a cabin on a piece of beautiful beach for $425 and retain it year after year for a leasing fee of $50, made possible by the compliance (oppression) of the local Indian band, on whose land it stood. It is an interesting comparison with the cottages on the Gulf Islands and the Sunshine Coast, which are handed down from generation to generation and for the families that own them more like "home" than their year-round residences.
Please send in stories if you had a cabin (never a cottage) on a lake such as these ones.
----------------------------
Shuswap Summers
Michael Kluckner
(first published in Cottage Magazine, July/August 2000)
By comparison with people whose families own Gulf Island retreats or cabins on prairie lakes, I have no cottage to inherit, no family tradition to maintain. All I've got is the memory of ten childhood summers on Shuswap Lake in the B.C. interior.

My family has tended to go its separate ways, only coming together for the occasional Christmas dinner. But a generation ago, in the decade culminating in my sixteenth birthday, we made an annual pilgrimage to "the lake." There, from Dominion Day to Labour Day, my mother, brother Paul, and I (joined by my father for his annual vacation and sporadically by other relatives) lived a carefree, shoeless--or at least sockless--existence.

I have often wondered since how much of the magic was due to physical circumstances--the lake, the forest and the cabin--and how much was due to timing. Although it was the 50s and 60s, which today's conventional wisdom brands as materialistic and obsessed with newness, my parents were content with the rustic cabin and the utter relaxation it offered. We children were simple creatures, used to making our own fun. There was little to do beyond imagine and play, and few of the other people on the lake had enough money to spoil it.

Earlier, we had spent my father's summer holidays on car trips, usually tenting in provincial park campgrounds. We ranged across the country to visit relatives in Quebec, and travelled through the American west to Yellowstone National Park and down the coast to California. The summer I was seven, after spending a week at a dude ranch called Rose Lake Lodge near 100 Mile House, we detoured to Salmon Arm rather than returning directly to the coast via the Fraser Canyon. "Your father has an old army friend he'd like to visit," mother explained.

Arriving late on the sultry evening before the planned rendezvous, we stopped at a resort called Glen Echo, near Tappen on the west side of Shuswap Lake not far from Salmon Arm, just as a thunderstorm was massing in the sky above Bastion Mountain. As the wind picked up, Dad wrestled with the flapping canvas while Mum spread out our prospective dinner, which looked a lot like lunch, on the front seat of the '54 Chev sedan. In the middle of the night, with the downpour drumming on the tent roof and our parents trying to keep us from rolling against its canvas sides, a wild roar shook us awake and a shockingly bright, white light flooded the tent. I saw trees starkly silhouetted, panicked, and, clawing my way out of my sleeping bag, was restrained by my father's arm as the train screamed past. We were sleeping no more than 50 feet from the CPR mainline!

The following day, at the suggestion of the army buddy, we moved into his cabin at Pierre's Point, a cottage community a half mile south of Glen Echo and a few hundred yards (at least) from the tracks. At the end of an idyllic week there, it turned out he was considering selling it. Perhaps my parents were tired of the road trips, or were irritated by the public campgrounds, or found my brother and me too unruly to camp with. Perhaps they'd planned it all along? I was told later they paid $425; our house in Vancouver was worth perhaps $15,000.

After so many hours in the hot car gazing at scenery or rereading memorized comic books in the back seat, Paul and I thought the lakefront cabin was heaven. At the end of a rutted, single-lane dirt track, this simple frame box with a low-pitched moss-covered roof and an uncovered front deck stood on stilts in a cottonwood grove on the edge of the beach, midway between the lake's high- and low-water marks. By August, 50 yards of white sand separated it from the shoreline. A few floats and docks extended into the water and a few rowboats were pulled up onto the sand. Behind the cabin stretched mysterious, explorable forest. I remember card houses built by the light of the hissing Coleman lamps, hinged windows that latched under the eaves to let in the afternoon breeze, pancakes cooked on the woodstove's griddle, and the icebox chilled by ice dug from the sawdust in an old icehouse that the local people filled with blocks cut from the lake each winter. We got our water in bottles each week in Salmon Arm, and bought fruit and vegetables from local farmers.

There were no urban diversions, nothing to keep us indoors except heavy rain. A powerful, battery-operated radio provided the only link to the outside world: newscasts on the local station at dinner time, a Top-40 radio show for an hour in the evening and, on clear nights, B.C. Lions football games broadcast from Vancouver on CKWX, or was it CKNW?

We bought a rowboat and a few airmattresses and spent endless hours rowing and swimming. I was the sort of child who identified with the Indians in western movies, and stealthily explored the woods, dressed in a breechcloth and moccasins with a feather stuck in my headband. Mosquito bait. In the evenings, I carved and painted bear claws and other regalia with my pocketknife and paintbrushes.

One reason the place was so affordable for my parents was that we, along with the other cottagers, were exploiting the real Indians, members of the Shuswap band whose land we were leasing for an annual fee of $50 per lot. Slowly, in heavily-laden station wagons and sedans, we cottagers trundled down the potholed road from the highway to the lake, lumbering through the real Pierre's Point – small, government-built bungalows with low-pitched roofs, pink siding on the lower half of the walls and stucco above, a hayfield bisected by the CPR mainline, a pole and plywood barn sheltering a couple of horses, old bicycles and broken-down cars strewn about, children playing in the dust. When my parents replaced the '54 with a powder-blue, 1959 Impala convertible with huge tail fins, our arrival must have shouted "city slickers."

The other cottagers were, in the main, folks from Salmon Arm. The Glens next door owned the sporting goods store, and had a 14-foot fibreglass speedboat with an 18-horsepower Johnson outboard motor. As difficult as it is to imagine now, when 200 horsepower skiboats are de rigueur, a boat that size was adequate for pulling everybody but one fat relative, who nearly dragged it over backwards. Their well-endowed daughter wore a bikini, a matter of some comment among adults and binocular-toting boys.

In the next cabin lived the Magees. He was a contract logger, with a portable sawmill, a logging truck and a V8-powered work boat used for towing log booms from the far reaches of the lake. Beyond a thicket stood the cabin of the Gorses, who had a coal business in Salmon Arm; in the 60s, they were among the first to rent the sort of houseboats for which Shuswap Lake is now well-known. The town's electrician and family occupied the next cabin. We came to know a handful of other children further along the beach due to the elaborate games, usually variations on "hide and seek," that occupied us many afternoons and, following the banged frypan summoning us to dinner, through until twilight. If rain ever persisted, the jigsaw puzzles were put away and a game of Monopoly would begin, sometimes continuing for days.

The Magees' two children, Susan and Nigel, became our steady companions, joined occasionally by the Glens' boy, Randy. Nigel was my age while Susan, a slender, dark-haired, pretty girl, was a year or so older--almost my brother's age. As we grew up, I developed a heartrending crush on her, reinforced by Nigel's absence much of the time, working with his father, and Paul's trips each summer to a YMCA camp. Susan and I spent endless hours swimming, rowing, talking about pop music, movie stars and the mindless fashions of the time, or playing cards – "Snap" and "Fish" in the early years, gin rummy and cribbage later – on the covered porch of her cabin. Meanwhile, my mother puttered happily along, sunbathing and reading Perry Mason novels, never obviously lonely or bored. When Dad came up from the city, he would manage a morning's relaxation before the leisurely lakeside pace got to him and he sought something to fix--in slow years, he was reduced to raking leaves from the sandy trails that ran around the cabin and out back to the biffy. We thought he was crazy.

Although they steadfastly refused our reasoned yet passionate arguments on why we needed a waterski boat, my parents eventually bought a very used five-horsepower outboard, perhaps to help get Aunt Ruby out to better trolling grounds. Meanwhile, however, a more up-to-date, affluent group of vacationers had discovered Shuswap. Even by the mid-60s the air was alive with the buzzing of outboards and the shrieks of waterskiers as they zipped along the beachfront. Many were from the commercial resort, Sandy Point, a mile closer to Salmon Arm.

Sandy Point had a convenience store and a steady parade of campers, notably girls, who passed through during the summer. As we shuffled into teenagehood, its comparatively bright lights beckoned. For the first time, a note of disapproval crept into mother's voice. She had always been tolerant of our exploring, our swimming, our trips in the rowboat way out into the lake, somehow certain that the combination of our common sense and the benign world would keep us from harm.

The electrician neighbour came by one summer, trying to sign my parents up for a scheme to bring in a power line from the highway. They couldn't see the point in it, but enough others did. The electrician had his cabin wired, like a display suite, and installed a television that attracted the small-town children like wasps to a cherry pie. Soon, there were no evening games and fewer family campfires and sing-alongs. I began to hear amplified music as I walked along the beach.

As quickly as it began, our cabin idyll ended. Concurrently, my mother became ill and could only spend a couple of weeks away from home. We no longer got into the lakeside pace, and the 1966 Lovin' Spoonful song, "Summer in the City," took on a real meaning. Late that summer, Susan's boyfriend came out from town; the following year, immediately after high-school graduation, they married. Her parents announced they were moving to Salt Spring Island, where there were good logging opportunities and a better climate for retirement. Nigel went to Alberta to look for work. Randy grew his hair past his shoulders and joined a rock band. Paul had a summer job at the dam site near Castlegar and was returning to university in the fall. Left behind that hot August, I just drifted, hanging out at the beach parties at Sandy Point, with the harvest moon glowing orange in the forest-fire smoke. This, I recall thinking, will be my last summer at this dull place--next year I'll get a job in the city.

Dad sold the cabin the following year, ostensibly because the lease rates were about to triple. But, in reality, everything had changed and there was no going back.
----------------------------
From Marion Rodway Veer, Kent Washington, 2022: My grandfather worked at Silvery Beach where he maintained the boats and small motors for fishing. His name was Jack Spalding. He lived in one of the cabins in trade for work during the 1950's. We always called the lake Little Shuswap Lake. I have fond memories of our visits to see him there. The store had a counter where we could eat or get snacks. Coffee was always on. This is Silverly Beach resort in the early 1950's. There were cabins at the resort and the little store had an eating area. My grandpa was Jack Spalding (John).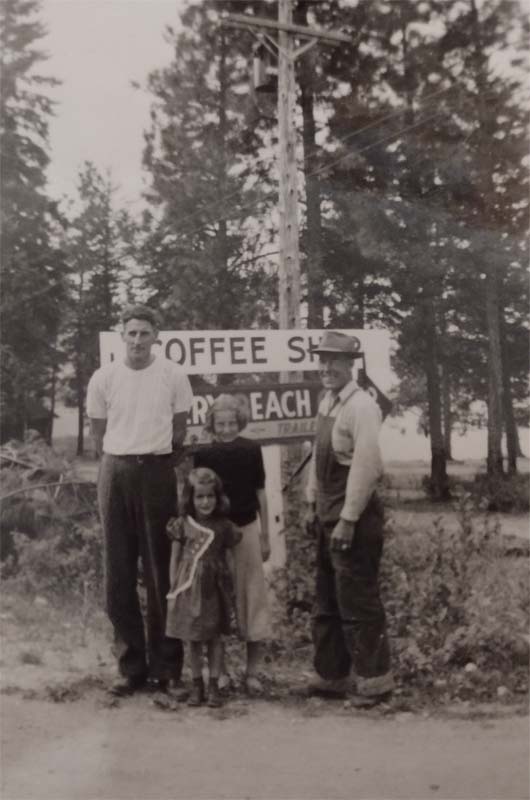 From Al Parker, 2020: Here are a couple of pictures of our "vanishing cabins," near Eagle Bay towards the Narrows. Both cabins were completed around 1961. Other than the metal roof, the cabins have been preserved in their original condition. We usually visit each yare and paint/maintain them in their current condition.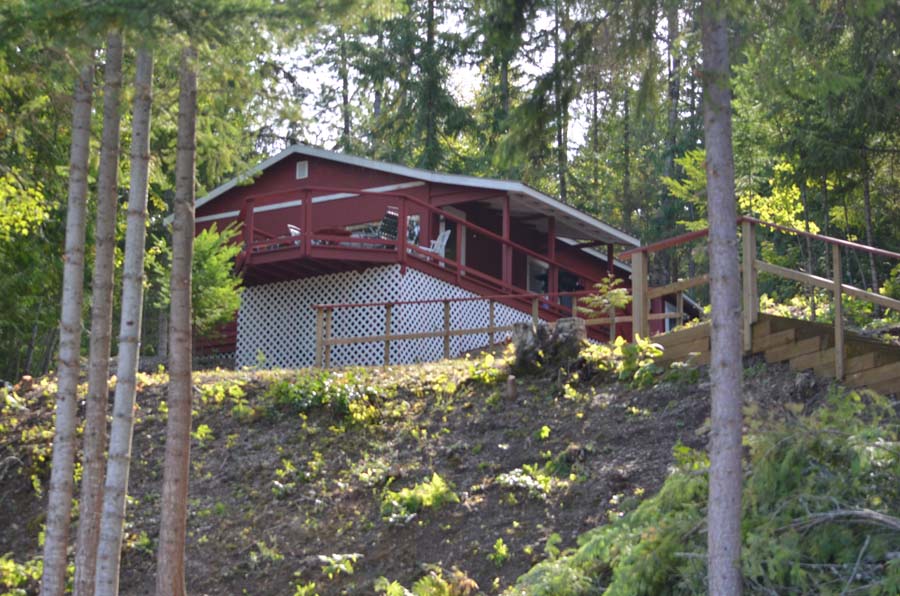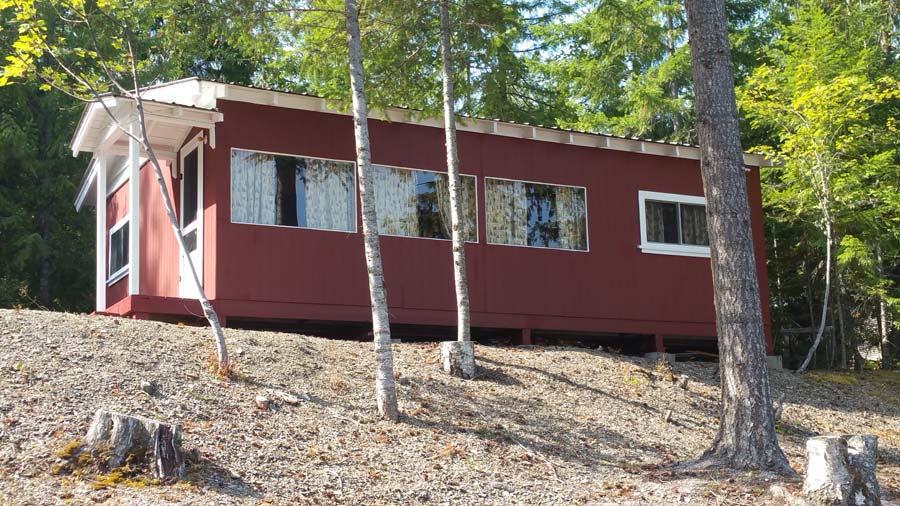 From Shelley Bouska, 2020: My father, Jim Stone, came to Salmon Arm after World War Two and with his friend, Sid Thompson, built a summer "resort" at Sandy Point. It consisted of a cluster of cabins that stood until at least the 1990s. I was born at the old Salmon Arm General Hospital in 1948 and lived at Sandy Point until 1951. I'm including some pictures which were turned into promotional post cards and a couple of my father with the cabins. The last time I saw the cabins they were painted turquoise and slated for demolition. Most of the property had been turned into RV parking. More vanishing cabins...