The most famous orchards in Spences Bridge belonged to Jessie Ann Smith. John and Jessie Ann Smith bought the estate of James Teit's uncle, John Murray, in 1896, following the latter's death. John Smith himself died in 1905 from overwork, leaving "Widow Smith" in charge of the extensive orchards. The site today is bisected by the Trans Canada highway in the heart of Spences Bridge, a couple of kilometres from the scene above.
From JC Lemon, 2016: I'm a big fan of local history. I have read the Widow Smith of Spence's Bridge several times. I was wondering where the Vogh's Valley ranch is located. Looked up on Google Maps:
From what I can gather, there are a couple of ways to access Voght Valley:
1. either drive south from Merritt on (a) Coldwater Road and turn off onto (b) Kane Valley road which eventually joins up with (c) Voght Valley road
2. OR drive towards Princeton from Merritt on (a) highway 5A and take the (b) Coalmont Road exit which eventually intersects with (c) Voght Valley Road
Must be rather remote, gravel roads for at least part of the way - not sure where the Smith Ranch was. Voght Valley Road runs right past "Davis Lake" where fishermen can camp at quite rather rustic campsites.


From Evelyn Young, 2012: I believe that my Great Grandfather was Gilbert Watt who married a Smith and eventually became the owner of "The Riggin at Gartly. The orchard was his pride and joy. When I was about three years old I was sent with my sister to stay with my grandmother while my mother was having another baby. While there we were forbidden to go near the orchard, where my great grandfather had all sorts of fruit trees and bushes including apple trees. My great grandfather was very ill and very old at this time. I do not know how old he really was because as a child one looks on someone over forty as very old.
My grandmother was a Watt who married a William Cruickshank who I believe was a lazy man but did look after the orchard. Gilbert Watt left the Riggin to my Father who was the eldest son[. He was one of about seven sons and one daughter] with the proviso that his daughter my grandmother could live there for her lifetime.
On her demise the Riggin passed to my father but was not equipped with running water nor electricity so it was neglected until my father then sold it to his youngest brother who pulled down the school [for which he was reprimanded] and wanted to pull down the house to make way for a caravan park. Permission for this was not granted and the building was further deteriorating. Uncle Henry died and the property passed to his wife Liela who was instructed that she had to preserve the building, this she could not afford to do , so I believe she sold it only last year and to my knowledge it is being restored as a building at risk in the register for Scotland.
The Riggin was perhaps a Manse before becoming a school. It possibly dates back to 1756.
My father was the cause of the start of the deterioration as he neglected the building but with the second world war then he became an alcoholic he could not afford to do repairs and it was too small for an ever increasing family. I am one of a family of thirteen. I have not kept in touch with his side of the family although I know one of my brothers has, but I keep in touch with my brothers and sisters and go back to Scotland at least once a year. I have lived in England for almost 58 years.
Hope this gives you some insight into the building where Jessie Ann Smith was born.My father also having been born there and educated at the school.

Note from Bob Murray, Merritt, 2006: re Smith Family history, related to Jessie Anne Smith Spences Bridge. Further visits to Vanishing B. C. brought to light the fact that Jessie Anne Smith was married to my wife's grandfather, James Smith. Following the original failed start at Spences Bridge in 1886, the three Smith brothers John, Willie and James filed on land in Voght Valley south of Merritt. John and Jessie Anne Smith and family lived here for ten years and then returned to Spences Bridge to take up the fruit growing business purchased from the John Murray estate (no relation to the writer) as described in the book – Widow Smith of Spences Bridge.
Prior to this time, James Smith and Willie Smith took up land in the Lower Nicola area west of Merritt, they farmed and prospered there and built a large barn that is still standing and has a new aluminium roof that I put on in the 1950s.
-----------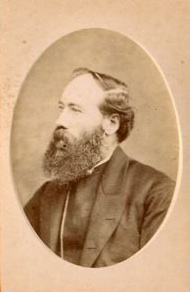 From Sylvia, 2011: I found your BC history website and the note about Rev Murray
The note was written by Bob Murray.
My grandmother was a Murray from Aberdeen and this picture was among her belongings
when she passed away. There was no name on the photo.
This picture was taken in Aberdeenshire circa 1890.
I know he was a Murray and he appears to be wearing a clerical collar.
There is a long line of George Murrays in the family.
Could this be the man who began the Protestant Church in the interior?
A long shot but I thought I would try.
------------------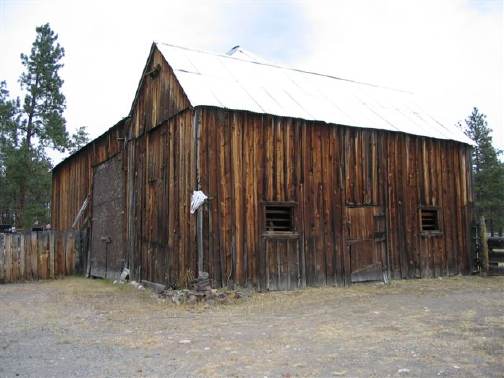 SMITH RANCH BARN – LOWER NICOLA B.C. James and Willie Smith proved up on their pre-emptions in Lower Nicola B.C. and built one of the finest barns in the area in 1890 - 1895. The building is still standing to day in the Lower Nicola Subdivision just above the Community Hall and West of the Aberdeen Road. The East side of the Aberdeen Road was the site of the orchard and vegetable garden grown mainly by Willie Smith.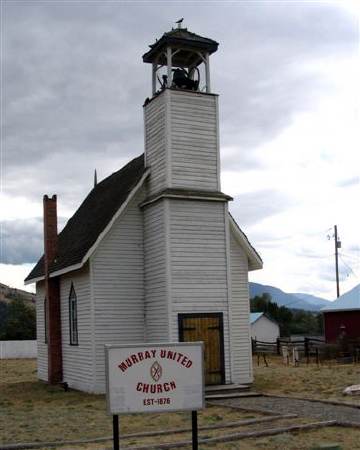 MURRAY UNITED CHURCH – UPPER NICOLA B.C. In 1875 the Church of Scotland sent Reverend George Murray of Glasgow Scotland to 'Minister East of the Cascades'. He landed in the Nicola Valley and in1876 was instrumental in building the first Protestant church in the interior. Murray's parish extended from Nicola to Yale and as far North as Quesnel. This gruelling 600-mile circuit took its toll and he returned to Scotland for nine years. British Columbia seemed to be calling him and he returned to Nicola in 1889 and served his parishioners until his retirement in 1901 but the Murray United Church still stands in his memory.
Photos by Bob Murray
SMITH FAMILY: LOWER NICOLA PIONEERS
June /2001 (Research done and text prepared by Morva and Bob Muuray.)
Eight years before the 19th century came to a close, 1892, saw James Smith's bride -to-be Alexina Geddes arrive from Gartly, Aberdeenshire, Scotland via C. P. Railway passenger train in Kamloops B.C. James drove her to their temporary home in Lower Nicola, an arduous trip by horse and wagon, with little comfort on the long journey. James Smith and his brother William were both blacksmiths who had learned their trade under their father's tuition in Blackburn, Aberdeenshire, Scotland. Their home at this time was a two storey building close to present day Highway 8 and across from the Lower Nicola cemetery. They were operating a blacksmith shop at Coutlee and waiting for Nat Barwick to finish building their ranch house on the land they were acquiring.
The land, known as the Smith Ranch, comprised 395 acres on both sides of the present Aberdeen Road. The ranch yard and original barn are still in evidence and located to the West of Aberdeen Road and just North of the Lower Nicola community hall. When this ranch house was completed Alexina and James Smith took up residence. With the arrival of the railway in 1905, Willie and James built a new " Smitty " across from Bevan's Store and moved their operation from Coutlee to Lower Nicola.
The discovery of gold on Granite Creek and the subsequent rush, resulted in increased business for the blacksmiths along with a welcome mail contract from Spences Bridge to Princeton and Granite City. There are family accounts of Willie and James working well into the wee hours, and by the light of coal oil lanterns, shoeing entire teams of mules and horses. This was so the flow of large amounts of freight into the gold fields would be uninterrupted. There was also a fanciful tale of a stagecoach hold - up and robbery in the canyon North of Mannions Siding. True facts or good story ? who knows?
The Granite Creek gold rush had a further effect on the fortunes of the Smith family as will soon be evident. Readers who are familiar with the autobiography of the "Widow Smith of Spences Bridge ", know that in 1886, one year after James and Willie joined their brother John at Spences Bridge, John and Jessie Ann Smith moved to a cabin at Nicola Lake ( Upper Nicola) for the winter James and Willie had arrived in the Nicola Valley by plying their trade in the construction of the C. P. Railway mainline. After leaving the employ of J. Murray at his Spences Bridge orchard, John and Jessie Ann filed on 325 acres in Voghts Valley in 1887. Brothers James and Willie filed on adjacent properties and helped John build a log cabin home. They then diverted their energies to acquiring properties in the Lower Nicola area.
About this time John joined a group of prospectors heading to the gold fields at Granite City where he was buried in a tunnel cave - in. Injuries suffered in this accident were a determining factor in his early death at Spences Bridge in 1905. The Smith Ranch and Smitty in Lower Nicola were prospering apace with the times. The accounts book of 1900 has many names familiar to old timers and Nicola Valley history buffs.--Jesus Garcia, Archibald Clemes, H. Lindley, many Woodward family names, Thomas Curnow, John Corbett, Wm. Dodd, G.B. Armstrong, Charley Stirling, A. R. Carrington, Joe Cleasby, Fred Page, James Pooley, Dan McInnes, H.H. Schulyer, Harry Stumbles, A. J. Coutlee, to name a few of the many that appear here. Between the blacksmith business, stagecoach trips and clearing land, James and Willie were fairly busy.
Despite these duties Willie managed to grow a bountiful vegetable garden and an exceptional orchard, the produce from this venture won many prizes in fairs. The garden and orchard were located across Aberdeen Road from the ranch house and East of Smith Pioneer Park. Being a single man with no ties Willie travelled to Seattle and up the coast to the Klondike. He did not come back with a fortune but was rich in the store of interesting stories of his experiences. Willie would often remark , as the Smith children were growing, that at Klondike prices he wouldn't like to keep them in beef. Willie filed on a pre-emption on Marquette Creek near the old Aberdeen Mine, this was used mainly to run sheep on but proved to be too hard on old legs without the help of a sheep dog.
The marriage of Alexina and James Smith resulted in the birth of five children :- Alfred Smith in 1893, Margaret Olive Paterson Smith in 1895, (known as Olive all her life.) James Alexander Smith in 1898, Constance Gordon Smith in 1900, and Winnifred Smith in 1902. Olive McCreight ( Smith ) told us the story that she was registered for school and attended at the tender age of four years old. Her childhood thinking led her to believe it was to keep the " lumber " up. She, of course realised later that they had to have a minimum number of pupils to keep the school open. Mr. H. H. Schulyer the teacher at Lower Nicola school seemed a bit of a character as he also had " Queenie Woodward " the family dog registered as a pupil. This was no doubt done, as Olive surmised, to keep the " lumber " up.
Olive was a young, musically inclined , free spirit of a girl. She somehow made a deal with the preacher at Murray Church at Upper Nicola. The church had acquired a new larger organ and had the old original organ to spare. Olive arranged to trade the reverend a cow for the organ that had arrived years earlier strapped to a packhorse. James and Olive set out from Lower Nicola by horse and buggy with cow in tow. Arriving at Murray Church the trade was made and Olive played the organ while ensconced in the back of the buggy most of the way home. Bertha Woodward Corkle of the Lower Nicola stage stopping house was responsible for teaching Olive her wonderful musical touch. Credit should be expressed here to Olive's efforts in preserving for future generations the photos and family accounts that have given us most of the material in this narrative. The original organ mentioned in the preceding paragraph passed to Morva and Bob Murray, it was unplayable. Morva and Bob replaced the moth eaten felts, rebuilt the torn bellows with liquid rubber and it again makes music although it is far from perfect condition. During this rebuild an inscription dated 1895 indicated when it was last tuned. Olive continued her education and lived in New Westminster for three years, coming home to take her final high school year in Merritt in Mr. Morrisey's first high school class. Olive's mother died in 1918 from the flu she was exposed to while nursing flu victims at Shulus Hospital. When Olive completed her schooling in 1914 she stayed on at home to help keep house for father James, Uncle Willie and brother Alf. She managed to become one of the earliest automobile drivers of the fair sex. Her driving skill enabled her to take a job at the Canford Sawmill as probably the first tally girl in the province.
James Alexander Smith died of sunstroke in 1914 at the age of 16. Connie Smith went to Vancouver B.C. and attended normal school where she achieved her teaching credentials. Her first teaching job was in Hope B. C. where she lived with the Beesom family who were employed by the C. P. Railway. Nelson B. C. was her next and final teaching post , she taught there until retirement in the early 1960s. Connie never married and died in Nelson in 1965. Pre-deceasing her were Uncle Willie Smith in 1929 and her father James Smith in 1930. Winnifred moved to Vancouver where she worked for the B. C. Telephone Company. She met and married fellow employee Earl Wintemute. They never had children. Olive married Jim McCreight of Merritt in 1928, they lived several years on the Smith Ranch. Their daughter Morva Patricia was born in 1929 and also their son William James in 1932. Jim McCreight at this time was a butcher working for Dave Belshaw in Merritt. He would often tell us of the wonderful 1928 Chevrolet Sedan that he drove between Lower Nicola and Merritt. He claimed he could drive an unplowed winter road while pushing snow half way up the radiator. Jim and Olive moved their family to Merritt about 1933 and lived in a house at the corner of Quilchena Ave. and Chapman Street .Recent location of City Furniture and presently occupied by Planet Fitness Centre.
There have been five generations of both the Smith and McCreight families who have lived in the Nicola Valley .The McCreights bought a house from Dave Belshaw in 1945. It was located on Voght Street on the same lots presently owned by Eleanor McCreight, William James' widow. Jim and Olive lived there until Olive's sudden death in 1960, which was a great shock to all who knew and loved her. Alfred Smith also died in 1960.
Morva McCreight married Robert David Stewart Murray in 1950, they have two Sons: - Randy the older and Kevin James born in 1957. Randy married Linda and have no children. Kevin James Murray married Melanie Marie Yurkowski in 1980, they have two sons: - Tanner Robert born in 1981 and Garret James born in 1984. This family lives in Merritt RC.
William James McCreight married Eleanor Marie Kobel in 1956. They had two daughters:- Shirley Diane born in1958, and Moira Olive born in 1960. One son Duane Stuart born in 1961. Shirley Diane McCreight married Stanley Robert Jacobs in 1983. they have two children:- Megan Leona born in 1985 and Cameron Robert born in 1987. This family is doing well in Douglas Lake B. C. Moira Olive McCreight married Richard Caruk in 1989. They have two sons :- Richard William Harry born in 1990 and Kyle James Stuart born in 1992. All presently living in Merritt B. C. Duane Stuart McCreight married Therese Marie Blais in 1992. They have one step son Michael Andrew born in 1982 and one son William James born in1993.This family lives in Merritt B. C.
Dear old grandpa Jim McCreight , who taught most of his grand children how to drive, how to be generous and kind and how to live a good life, left us for his maker in 1997. He was pre-deceased by his son William James McCreight in 1992.