Orkney Farm evokes the pastoral west coast – a paradise of mild bright winters and dry summers--as well as any surviving landscape elsewhere on Denman Island or on southern Gulf Islands such as Salt Spring or Mayne. As well as the barn, outbuildings, hedgerows, old shade trees, and hay meadows, there is is an orchard of old-fashioned fruit trees including Bosc pears and apples such as Cox's Orange Pippin and Gravenstein. Today it is a working farm of 76 acres, operated by stewards Marlena and Dale Merrick, still bearing an air of self-sufficiency typical of early British Columbia homesteads.
Tom Chalmers came from the Orkney Islands in 1897 to homestead the land and spent the next three years building the house, completing it in time for arrival of his sweetheart, whom he married. His brother Jack bought the property to the south and built a similar house and barn--still there but modernized.
The Isbister brothers bought the two houses in 1927; Jack bought ought Tom Chalmers and added the kitchen addition, while Tom Isbister bought out Jack Chalmers. For the past thirty years, the properties have been owned by three families: the Clarks, the Boothroyds and the Elliots. Keith Clark writes:
"The three families that own the Farm continue to support the farming operations in every respect (including of course financially), [and] I can assure you that there is no foreseeable danger of Orkney Farm becoming a profit-earning property. My mother Zella Clark has lived on Orkney Farm for about 20 years, and my father died there a few years ago and his ashes are spread about the Farm. The other two owner families both spend a considerable amount of time on the Farm and both have lived on the Farm off and on since 1972."
Thanks to the Merricks for the access to their home.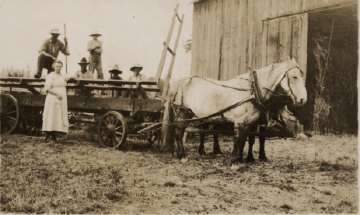 Maggie (Mrs. Tom Chalmers), with crew and Lynn the horse, at the barn. Thanks to Bob and Carolle Lynn Price (granddaughter) for this and the photos below, and to Keith Clark for acting as intermediary.