Return to main Vanishing B.C. page Return to home page
Page last updated September 7, 2003
© Michael Kluckner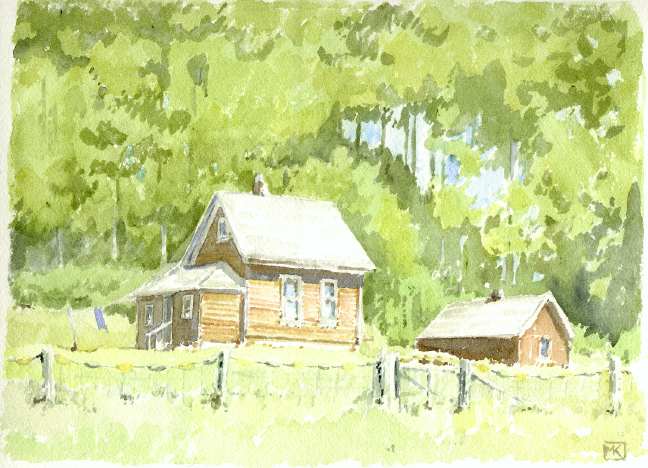 One of the last authentic, unaltered Finnish settlers' cottages on Malcolm Island, at 175 Kaleva Road not far from the community of Sointula. The swag of fishing floats between the fenceposts attests to owner Victor Wirkki's life-long occupation. He spent about 45 years on the boats, mostly in small gillnetters, later on seiners. Just across the road is a pathway through some low bushes onto the beach--unlike many of the Gulf Islands, the land on Malcolm Island usually rises gently from the shore. It was splendid warm summer weather for painting in August, and it truly seemed like a paradise, belied only by the area's reputation for winter storms and annual precipitation of about 100 inches.
Sointula has a good website.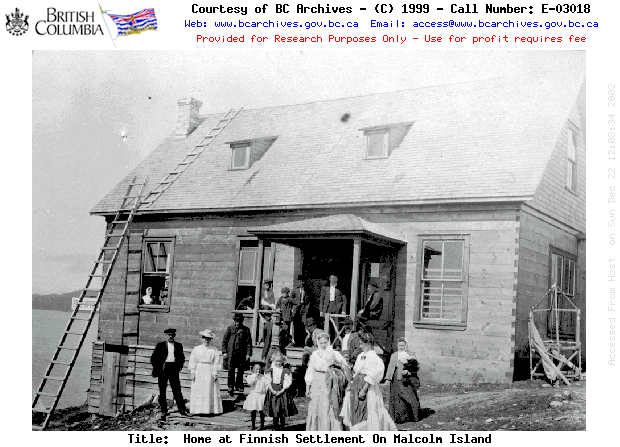 Photograph by Anderson, 1909. Note the square logs with dovetail joints at the corner--this a more traditional and substantial method of housebuilding compared with the Aho cabin's studs and drop siding.
Contact me
Return to Vanishing B.C. main page

Artwork and text ©Michael Kluckner, 2001, 2002