Sketched in 2002: The Anderson Boat House, still used for ship repair and originally used for shipbuilding. (Source: North Island Heritage Inventory and Evaluation (Insight Consultants, 1984), BC Heritage Branch Library, Victoria.) The Anderson family still operates it.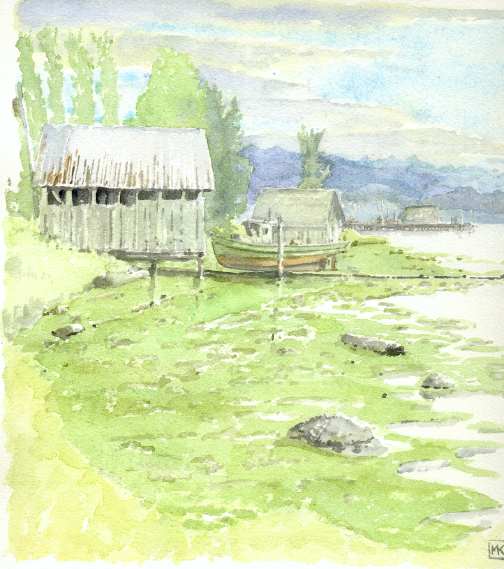 Boat sheds along Rough Bay, Sointula, with the tide going out on a summer evening. Nothing like low tide and some old boats to bring out the watercolourist in me.
Sointula, home to about 670 people, was rated in the DFO Report 'Fishing for Direction' as the 4th most impacted coastal community by the fishing collapse, and is trying to reinvent itself through low-key, resource-based initiatives such as the Malcolm Island Shellfish Cooperative, an initiative including organic abalone farming, and the Wild Island Food Cooperative. It's an interesting contrast with Alert Bay, where economic development initiatives are based upon history and aboriginal culture.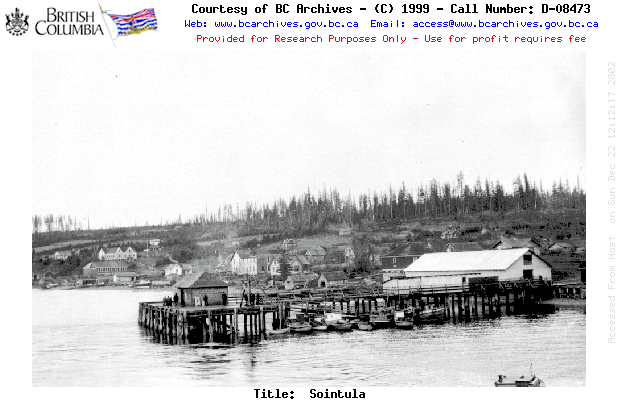 The old community hall (the white one) is visible on the hillside on the left. Unknown photographer c. 191- according to the BC Archives. Note from Tom Roper: The photo of the dock with no date must have been about 1930 (the Superior School, 1928 is there; the Athletic Hall. 1931 is not).