From Mike Street, a member of the Canadian Aerophilatelic Society, 2022:

I'm interested in different aspects of our postal history. My question concerns the text on the handstamp on the cover, "Courtesy of Ginger Coote Airways." While I know that Zeballos had a post office in the 1930s and after, I believe that in those days mail was normally transported to and from Zeballos by the coastal steamer, SS Maquinna. I believe that Ginger Coote Airways would carry mail to Vancouver, as a courtesy, between visits of the steamer. Can you confirm this? Would there be any documentation of it? (I worked at the pulp mill Port Mellon, on Howe Sound, for two summers while in university. I have a good sense of how remote such communities were before the advent of roads.)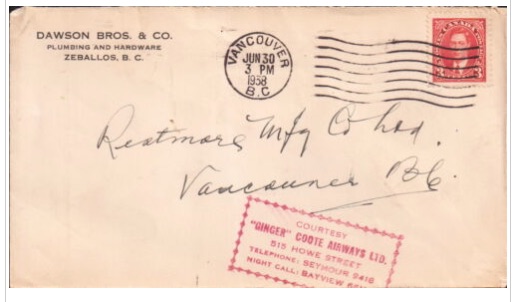 From Rod Mickelburgh, 2018:
as a 19-year old in 1940, my father taught in Zeballos. I don't suppose there's much hope, but it would be fun if I could find someone who was taught by him way back then (most if not all might well be dead….born around 1930 or so, I reckon…).
From Cheri D, 2015:
My father was the base pilot for BC Airlines that was stationed at Zeballos from 1964 until 1967. Warren Betsworth was his name. He very likely flew the Beaver featured in one of the photos. Although I was quite young at the time, I have great memories of my time there. Some of which are Dolly the horse (who used to pull the cart in one of the mines and was left to fend for herself on the islands in the mouth of the river), climbing the bluff across from our house, fishing off the government dock, movies on Sunday afternoons at the iron mine, bringing home hot bread from the bakery during our lunch time from school and beach combing with my family (dad would take us to remote beaches with the airplanes). The more I type, the more I remember. Sigh! Some of the family names I remember are Darville, Forth, Prest. I would love to chat with anyone who lived there in the mid 60's.
[Contact Cheri Delainey through the contact link at the top of the page, please]
From Darcy Roberts in Grand Forks, 2013: Hello I was wondering if you might be able to help me? I would like to get ahold of the Zeballos Hotel owner that owned it when the fire happen. The owner's name is Mark Whyte who I hung around with in my teens on the Sunshine Coast. If you or someone that has any contact info on him could you send it to me or get him to get ahold of me.
From Jacquie Jones, 2012:
My parents David (Jack) Jones and Irene lived in Zeballos 1939/1940. My dad helped start the Zeballos Legion, Branch 156. He was a charter member dated May 5th, 1939.
I have attached a picture of the harbor that was given to him in 1940. My dad worked at the Riverside Club that burnt down around 1940. Do you have any information pertaining to this fire?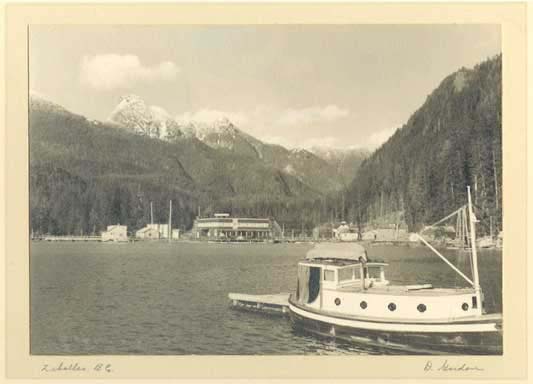 From Charles Ford, 2012:
a collection of vintage photographs of Zeballos and other coastal communities; black and whites credited to Elwood White, author of Wings Across the Water; coloured shots are his. As there are so many, I've put them at the
bottom of this page
.


Note from
Deanna Armstrong, California, 2009:
My Grandparents, George and Anne Tater were previous owners of the Pioneer Hotel in Zeballos. I would love to hear from anyone,
by email
, who knew them.



Note from
Al Jones, Almonte, Ontario, 2009:
I just came across you website on Zeballos and thought I would drop a line. My family moved to Zeballos in 1948, when I was four years of age, and we lived there until 1969. It was a great place to live and grow up, although I spent the school years of 1959-63 in Victoria so I could attend high school.
I certainly remember the hospital. In 1951 all the children had to attend and sit under the ultraviolet lamp because of the constant rain and lack of sunshine and I guess, vitamin D. In that same time frame Kenny Bowen, son of the Privateer mine caretaker, was in the hospital with a broken leg,over the Christmas holidays. Having received a BB gun for Christmas he managed to shoot several Christmas tree ornaments on the large hospital Christmas tree before the staff confiscated he gun.
A great place to live as a young boy. Not too many children lived in places where bears were a common sight and cougars were not unheard of in town. I know because I had just entered our home when a cougar walked down the same board walk I was just on. George Robinson the school caretaker who lived behind us shot it as it went up the mountain behind his home.
Drop a line,
PS: A coincidence. I grew up in a West coast town named after a Spanish Navy Lieutenant and retired in an Ontario town named after a Spanish Army General.



Note from Bobbi Sidsworth, 2009:
I recently had the opportunity to peruse your website pertaining to Zeballos. It was delightful and brought back many memories, both wonderful and some not so wonderful:-)) My whole family, at one time or another, has lived in the "Z" Zone. A moniker given many years ago because...well our family is OCD about nicknames!!
At one point, the hotel was owned by my brother and brother-in-law. Their wives joined them in the kitchen and cleaning the rooms. Hehehe, I suppose you could call them that. I never would have slept in one of them myself.
I could go on forever, however, there was a particular reason for writing to you. In reading your article on the very sad news about the hotel. In your article, you show 3 pics of Zeballos, one of them is a home that is near the waterfront. I would like you to know that the cottage is not owned by Adolf, although he was there for many many years....the house belongs to my sister and brother-in-law. All of their children and most of ours as well spent hundreds of hours in that little house. It is absolutely a piece of our history... Two generations of Kirks had the most memorable times of their lives there. [Adolf lived there for a long time, but the owners now are] Brent Gushowaty, Peggie-Ann Kirk, Ariel Kirk-Gushowaty, Myles Kirk-Gushowaty and Zoe Kirk-Gushowaty
Note from Jan Morrison, 2009: I was reading your site while doing research for a piece of fiction that I am doing. I lived in Zed for a few years between 79 and 81. I can't say that I relate to much of what I've read in terms of loyalty or delight towards the place - however it does have a compelling presence in my memories. I think I did everything an overly active person could do in the place. I worked at Tido's restaurant on the wharf, as the cook and serving person at the hotel, as a 'lackey' in the mess hall of the logging camp and finally as a choker-bunny - one of the first women I believe to get that special employment. On the side - a friend and I published the Zeballos Miner for fun only and clowned and tried to keep our kids out of the mouths of cougars and bears.

There are a couple of stories I'm trying to find without much luck and thought you might know - one is of a young man who drove off the government wharf with two or three passengers. The driver lived but his pals were not so fortunate. I think it happened in 78 but am not sure.

The other is what folks know about the presence of what was called 'celestials' back in the day - Oriental folks that moved to town during the gold rush of 38. If you have any info on that I would love to hear it or connections to those that do.