In this 1901 BC Census, Lucian is about 43 years old and Widowed. All of them, him and the children, were listed as Canadian Citizens and his brother George is living with him

We wonder if the children were sent to an orphanage after Lucian died in 1902.

We have heard rumors that at least one of the children left the orphanage and moved to Kansas; but the family was not from Kansas; however, Sadie, Lucian's wife was from Kansas. J.W. and Rachel were both born in Ohio, married in Illinois and followed the Oregon Trail. Then they moved to the Palouse country, I believe, after J.W. died.

Among the things we do not know are when his brother, George H Tedrow died. George was born 01 Nov 1846 and is buried in this Sidney-Lawless Cemetery; George was reported blind in later years' censuses. We find the Sidley-Lawless Cemetery on line and wonder if the cemetery is on the Lawless Farm. It appears to be a small cemetery.



Sidley- Lawless Cemetery




COSS Charles Willard 1940
COSS Francis Johnston 1919
COSS Roy E. 1910
HORROCKS Albert W. 1992
HORROCKS Bernadine Cecilia 2003
JOHNSTON Ernest Stephen 1948
JOHNSTON Georgina Olive 1983
LAWLESS Elmer
LAWLESS John 1999
LAWLESS Joseph 1922
LAWLESS Josephine 1930
LAWLESS Linda Mae 1953
LAWLESS Minnie May 1970
LAWLESS Patricia Ann 1954
LAWLESS William 1941
LETTS Mrs William 1912
TEDROW George
TEDROW LUCIEN 1902
TEDROW Sarah E. 1900

Note that the earliest burials in the Sidley-Lawless Cemetery are the Tedrow clan. The Minnie May Lawless is most likely Minnie May Tedrow b 5 Nov 1885 in Washington Territory or in Oregon.

I wish I had been looking for these people in 1965. Minnie should have had a lot of stories to tell. We have particularly been looking for the connection to J.W Tedrow and his father, David Tedrow. In this search we are trying to uncover locations for all known relatives with the hope that something will lead to the proof. One missing data point is the death and burial place of Minnie May Tedrow (Lawless?) grandmother, Rachel (Chapman) Tedrow. Rachel was born about 1824 in Ohio. She and her husband J. W. and either 5 or 6 children came across on the Oregon Trail in 1852. They homesteaded (by Donation Land Claim) in Polk County, Oregon. They later (1860 & 1870 Oregon Census) moved to Douglas County, Oregon. About this time J W died and the family moved to Umatilla County, Oregon. J W does not appear with the remainder of his family in the 1875 Umatilla County Census or in later Washington Census. The family homesteaded again in Whitman County, Washington Territory before they moved up to Okanogan County, Washington.

My wife, Bette Ann Tedrow McFall is the great granddaughter of another of Rachel's sons, John Wilson Tedrow. John Wilson Tedrow was a cowboy in Tombstone, Arizona Territory and Cochise County, Arizona Territory. He was a stage coach driver and died in Prescott, Arizona in 1899. Do you know of anyone who would have any photographs of the Tedrow gravesites or of the Tedrows (including Minnie Lawless)?

***
Postscript: in 2008, Josephine Lawless contacted Bill McFall. She wrote to me: "It turns out that his wife is a Tedrow, her great grandfather was my great grandfather, Lucien Tedrow's brother." So some parts of this history have been sorted out.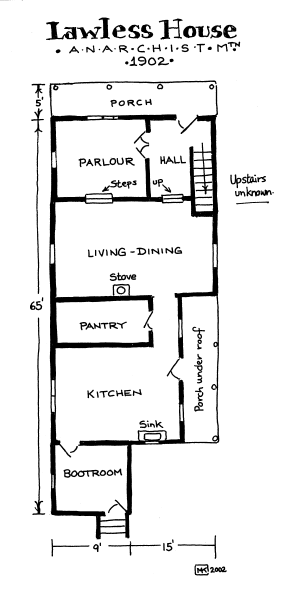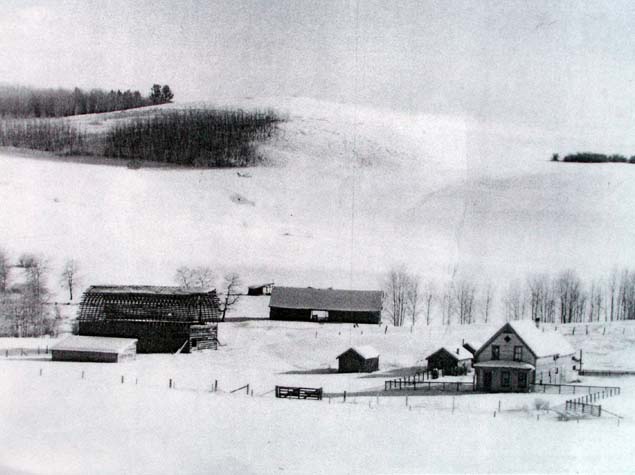 A photograph marked "Larry Lehman Ranch," showing the property as it was in the 1960s or 1970s. It was submitted by Kathy Horrocks.
***
Note from Connie Kempter, 2006: I am originally from Berlin and bred Trakehner horses first in Hesse and Bavaria States, then in Echunga in the Adelaide Hills, South Australia (1980 - 1984) and since 1986 on the western outskirts of Montreal at Rappenhof, a 40-acre breeding farm and boarding barn/equestrian centre.

This September my boyfriend Steven Watson and I went on a roundtrip by rental car through Alberta, BC and Washington. Unexpectedly we fell madly in love with a loghome on 6 acres, right on the corner of Crowsnest Hwy (# 3) and Sidley Mountain Rd., a few hundred meters from Anarchist Mountain and purchased it to be our home as soon as we can sell here. We will still keep a stallion and three of our mares there, but run it a private stable. Apart from the 360-degree view of Mt. Baldy/Mt.McKinney, the Cascade Range and the Bridesville valley, the main attraction for me was that it reminded me so much of Australia! And I was always somewhat homesick for Australia ever since I left that beloved continent after a divorce....

With this new home comes the Bridesville Cemetery. It is a roughly half-acre-sized 'enclave' of land between the house and Hwy 3 with 'right of way' through our driveway. We have jurisdiction over it, but cannot use it. We found about 10 flat tombstones with the names of the original Bridesville settlers. Over the internet I also located a book by Susan Dahlo about this cemetery. There is one copy in the Canadian National Library in Ottawa. I don't know, if they would let me copy it, though.

I studied History at Freie Universitaet Berlin, but I was always more interested in the individual fate of the 'little' people, especially in the hardships endured by the early settlers of the North American West. (Karl May influence?)

I will try to learn as much as possible about the local history of the Osoyoos to Rock Creek area and the lives of the people buried at our place. We will for sure look well after our little burial ground in honor of the pioneers. There is a Bridesville Society and I met already the Harfmans, our direct neighbours. I would really love to contribute in the effort to keep the past of the area alive. I do hope there is a way to keep the Lawless homestead around and maybe restored and used one day, ideally for a local museum. But that is for the private owners to decide....
***

Thanks to Penny Dell and Arthur Harfman for the original contact information, and to Kathy Horrocks, a cousin of Josephine Lawless.