"In June 1945, Koji, a fat baby boy was born. August of the same year, the war against Japan was over. The Japanese Canadians were still not permitted to have their freedom. We were only allowed to go to Japan or beyond the Canadian Rockies. Most of our relatives departed for Japan, but we decided to remain in Canada. In 1946, our family of six moved to a beet farm in Taber, Alberta. During an extremely busy autumn Kiyo and Toshiko were taken out of school to help with the beet harvest. They were young, but toiled in the fields alongside us. At the end of November in 1950, we returned to British Columbia. We rented a house in Steveston comprising a kitchen and a large bedroom. The house,which we had been living in before the war, was inhabited by a new family. I wanted to purchase the house, so I ventured off to ask the owners about buying it back. To my amazement, the owner demanded $7,000 in cash. I was furious, for I knew that they had purchased the house for $1,000 from the government. I refused to pay such an exorbitant sum. I searched for employment as a gardener and was successful in finding a job in Vancouver. Grandma worked at the local fish cannery. Once again, we found ourselves on a hectic schedule. Grandma would work the night shift at the cannery while I remained at home with the children. Grandma returned home then I would leave for work. Our time together as a family was limited, luckily the children had each other. Occasionally, I returned to the area where our first home used to be. I remember the times before the war and how greatly it changed our lives," said Grandpa Domai, thoughtfully.
– Source: Nobuo Domai, January 1992. As told to his granddaughter, Jessica.
(All but one of the Domai children attended U.B.C. and my husband and one of his sisters are now retired teachers. In the late1960s my in-laws built a new house in Steveston. Nobuo put in a 'glorious garden'. Unfortunately, he died in January 2000. My husband and his brother now help to look after the garden for his mother. I think my husband will always help with that garden because his father made it a place where we all loved to gather. – Diana Domai)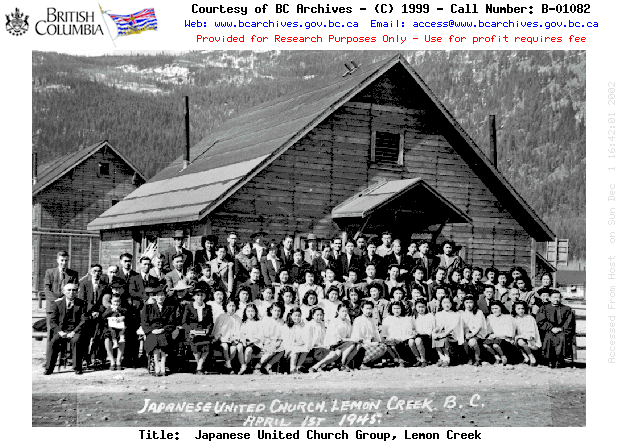 Photographer unknown. There was also a Buddhist church at Lemon Creek, to which the Domais belonged.
In November, 2002, I [Michael Kluckner] went to Lemon Creek, which is a set of flat meadows near the mouth of the creek along Slocan Lake, and could recognize the location of the aerial photograph above from the saddle in the mountains. A modern ranch and a small resort occupy the landnow. There is not a trace of the wartime buildings, although apparently the remains of the vegetable gardens are still evident if one knowswhere to look.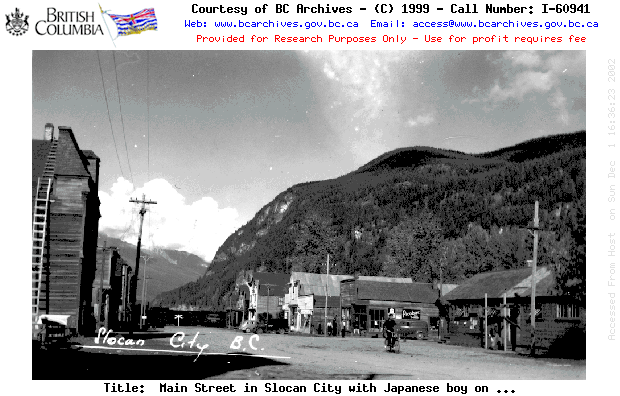 Much changed today, Slocan City has few of the boomtown buildings that made it suitable as a"ready-made" internment camp. Joy Kogawa's novel Obasan is set in Slocan City– her family rented an old cabin on the outskirtsof town and spent the internment years there, before moving to Alberta to a beet farm (like the Domais). In Obasan, p. 105, there is a "letter" entry from May 14, 1942: 'Aya, kids, Dad and Ihave decided to go to Slocan. We hear that's one of the best ghost towns.'

From Bernie Draper, 2014: I really enjoyed reading and viewing the pictures and narratives about Japanese Internment in this area. Although I was not there during the time the camp operated, I was in Slocan City in 1954-55, and at that time there were still some of the old Cabins on the Lemon Creek site. Which I think later was taken over by Mickey Murakami, but now your blogger states it is a ranch...how things change.

I remember having my hair cut by Mrs Fujibyashi in the old Arlington Hotel in Slocan City, she was a wonderful lady and always had time for anyone to talk. And there was Mr Yamamoto who was a boat builder...I have no idea what happened to them all...he had a daughter named Grace who I thought was so beautiful!

But I stayed only one year and left to join the Army OTC in Camp Borden, and never met any of these nice people again. They were Canadians, and I still find it disgusting how they were treated by a group of racist politicians! May it never happen again!


Note from Bob Maruyama, Modesto, California, 2007: Thoroughly enjoyed your website on JpnsCdn internmt during WWII. We were interred at Lemon Crk where I attended kindergarten and 1st grade. We were shipped to Winnipeg, returned to Surrey in '51. I graduated from UBC w/ElecEngrg degree and emigrated to Calif in '62. On Oct/06 we celebrated in Van our grandfather's 100th annvrsy of immigratg from Miyage, Jpn to Canada on the 'Suian Maru' in 1906. Mr Domai of LC was a good friend of my father. His son and I were in 1st grade together as shown in your site photo (Christmas tree cutouts that we made).

Note from Tamara Smith, 2007: We have just finished creating a new website for the Slocan Valley. This is anon-profit, community owned website for the people of the Slocan valley and beyond -- www.slocanvalley.com

"The Orchard," New Denver

Written in 2002: Soon after its creation on March 4, 1942, the BC Security Commission decided to dispatch Japanese-Canadians from the coast to remote interior towns, especially those which had numbers of unoccupied or derelict buildings. Sandon, Kaslo, Greenwood and Slocan City in the Kootenays met that criterion, as did a few former gold-mining towns in the Bridge River area near Lillooet. Local authorities were consulted on the potential influx, and in most cases showed little prejudice. During April-May of 1942, over 1,000 Japanese carpenters, plumbers and electricians prepared existing buildings for occupation, but as spaces were created for only two-thirds of the 23,480 Japanese who had been"pooled" in Vancouver the Commission announced on June 24, 1942 its intention to build houses in the Slocan Valley – in Slocan City, Lemon Creek and Roseberry, 16 miles north of New Denver, as well as in New Denver's "Orchard," the 80-acre Harris Ranch on the edge of Slocan Lake, separated from the town on its north side by Carpenter Creek.


After the war, the "Orchard" community languished, with some residents moving to Japan or back to the coast after travel restrictions were lifted. The report referenced above, written in 1979, recommended the preservation of a few of the surviving intact internment houses which were slated for demolition to make way for a New Denver Health Care Centre. Eventually, in 1994, these buildings, a garden and interpretive materials were assembled into the Nikkei Internment Memorial Centre at 306 Josephine Street in the"Orchard." One building is in original 1942 style, while another reflects the renovations people did in the 1950s. There is also the Kohan Reflection Garden on the edge of the lake nearby, designed by Ray Nikkel.

With a little imagination, it is easy today to see the orchard layout of ancient fruit trees and camp houses, now evolved due to renovations and new construction. I was intrigued to see, on an early winter's morn, the number of aged Japanese-Canadian women walking together on the quiet streets. One was Kay Takahara, who spent 1942 to 1944 at New Denver, then was moved to Tashme in 1945. Following the war, she chose "repatriation" and went to Japan,where she lived for nine years. Then she returned to New Denver, where her parents had continued to live in their renovated internment house, and stayed on after their deaths, spending in total more than half a century of her life on that fated shore.