or read it online
here
.
***
From Norman Ravvin
, writer (of The Joyful Child, Lola by Night, Hidden Canada: An Intimate Travelogue, and Sex, Skyscrapers, and Standard Yiddish, among other books) and teacher (Professor at Concordia University):
I'm writing to let you know how much I like and admire Toshiko. It's got a limber way with narrative -- moving lightly over quite a sweep of events and young lives and landscape.
You convey the peculiarity and cruelty of the war years for the B.C. Japanese community, and the confusion and stupidity of the mainstream Canadian way of handling things related to the "enemy" at home. The place – rural B.C. and then Vancouver – comes across with great vitality. I'm most moved by the portrayal of wartime Vancouver flophouse and street life, along with the between-the-cracks way of living in squatters' shacks, picking up odd jobs.
The whole thing seems surreal, but you lay it down concretely. Like your other work, the things Vancouver used to be come into view, and I'm sad for not having experienced them myself.
Romeo and Juliet float nicely through it all.
I'm glad I have it to show people and I'll let you know when Shelley teaches it at McGill. I would think it would have a very clear impact on young Canadians who will know little to nothing about what you have to tell.
***

From Chris Pearson, Art History Faculty, Capilano University: "I really found the narrative engaging and believable, and the locations so vivid. The scenes in old Vancouver were marvelous, like travelling back in time. What a lot of research this must have entailed! I really liked the way you show the unexpectedly complex interplay between all the different ethnic groups in the province, and the varied and interesting permutations this could entail. The 'young love' theme (definitely sexy!) was a brilliant way of bringing readers of all backgrounds right into the emotional heart of the narrative, something we can all relate to. One value of a book of this kind is to make you feel more 'at home' in the place you grew up in, I think. Vancouver and BC seem to be all about the transitory and the expedient these days, and to have a bit of historical grounding—even as the actual built environment of that period vanishes before our eyes—is somehow reassuring."


September, 2015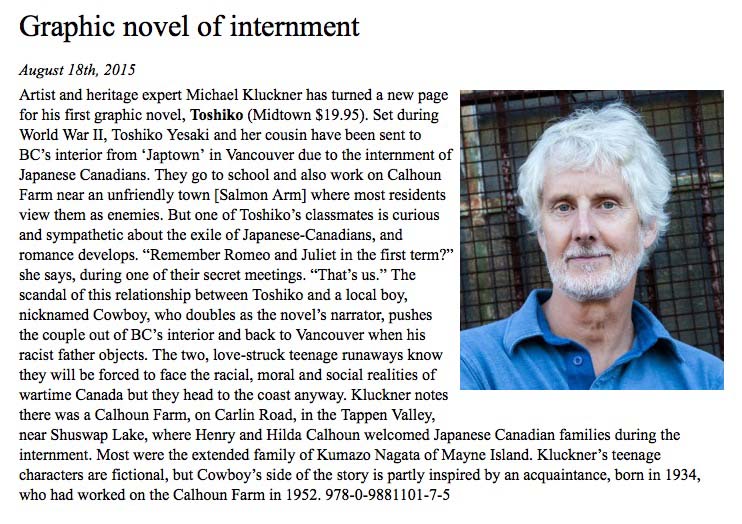 August 11, 2015

From Caroline Adderson, author of novels, short stories, and children's books, as well as host of the Vancouver Vanishes page on Facebook:
"Toshiko was a delight. I loved the Romeo and Juliet through-line and how Toshiko and Cowboy played out that story in a way that is so specific to a time and place: BC during the internment. The endnotes and illustrations added so many interesting layers. Vanier Park an army base? Who knew? (Well, you did, obviously!) My favourite frame is the one where you give the cow a voice. Thanks so much for this wonderful book."

August 7, 2015