We booked in November 2021 for Sydney when the Omicron Covid variant wasn't yet heard of, but by the time we flew in mid-December both Australia and Canada were overrun with it. We would probably not have travelled, despite being fully vaxxed, except that it had been more than 2 years since we'd seen our daughter and grandson and we knew we could shipwreck at her house and spend time in her garden.

So it was a very strange trip from my art point of view as we were avoiding the streets and cafés full of people, the observing and drawing of which is one of the great pleasures of travelling for me, and stayed close to home most of the time.

There are many earlier trips to Australia on my travel page, which include links to art of the years 2006-2010 when we lived there.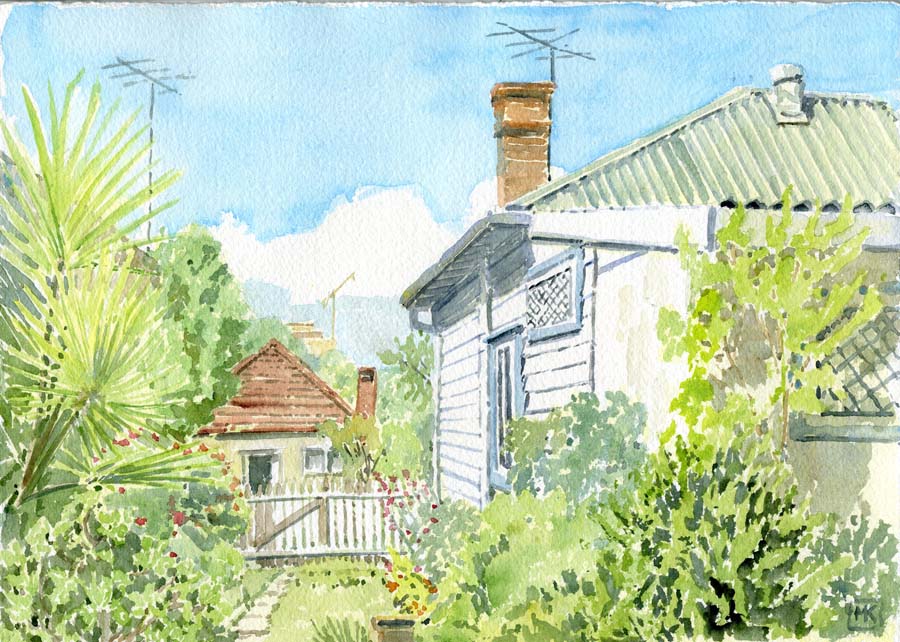 Home was this: a 1920s cottage in the Lidcombe suburb about 45 minutes west of Central Sydney. At the top of the former driveway was a little "Granny Flat," as all Sydney outbuildings seem to be called regardless of whether they have plumbing, where I could paint and draw and where I sat to do this.