Houses at 681 and 673 Battle Street, in the old residential neighbourhood south and east of Kamloops' downtown. The small bungalow is perhaps more typical of the area than the large, two-storey house, which nevertheless has always intrigued me, partly because it is made of concrete blocks, partly because a small plaque, visible on the wall between the two upper-floor windows, reads "IDEAL." The neighbourhood is evidently the recipient of an upzoning, as many of the properties on this and the surrounding blocks are recently sold or are for sale with breathless signs reading "Development Property." Growing Kamloops' apartment area is expanding.
I painted this in June, 2003; as luck had it, correspondent Arlana Nickel was able to provide some information. Her grandparents, William and Aida Snowden, moved from North Bend in 1923 and bought the "Ideal" from its builder, E.A. Walkley, who manufactured the "Ideal" concrete blocks in a long shed located at the back of the next door lot which he also sold to the Snowdens. According to the Kamloops archives, in 1911 he purchased the Small and Dobson Cement Plant in BC Fruitlands. The second all-block home he built for himself is 467 St. Paul Street, a bungalow now used as a Woman's Shelter. Two doors away is another single-storey home made with the Walkley block. There are also many homes in the area with foundation walls built of concrete blocks.
"After my grandmother died in 1982 the home was sold. It then became a rooming house for the past 18+ years," writes Arlana Nickel. "We bought it back this past December and are in the slow process of restoring it."
Houses and "stone" walls of concrete blocks, sometimes smooth-finished and other times "rusticated" to imitate granite, were fairly common in BC – a province with little good building stone and a similar dearth of good brick clay. They are especially common in the Grandview neighbourhood of Vancouver, where Bond-O-Steel blocks manufactured by the Victor Cement Block and Machine Company were apparently the dominant brand. I can think of a few concrete-block houses in Revelstoke, several including one next to the freeway in Chilliwack, and a small one just west of Keremeos on the south side of the highway.
Please send in photos and locations of concrete-block houses!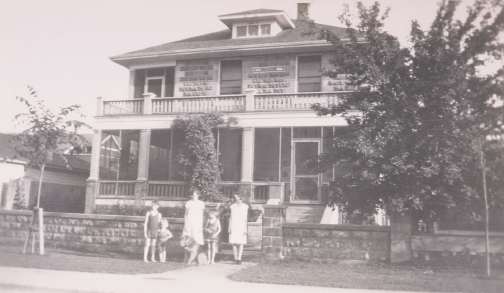 The "Ideal" in the '20s: Lloyd, Betty, Bonnie, Rae and Pearl Snowden. Photo by Ada Snowden, collection of Arlana Nickel
Note from Karin Smoluk: We've recently bought an older property in downtown Kamloops, and am trying to find out more about the structure. Upon learning that it was built by E.A. Walkley in the early 1900's I searched the web and came up with your website on vanishing B.C. . I'm interested in finding pictures of the house we've purchased and am wondering if you came across any , or if you know the route which I should take in finding any. The archives here in town has nothing for me as far as pictures go. The address of the property is 467 St. Paul Street. I believe the home was built by Walkley as his own home, we will be opening it up as our Notary practice in the spring.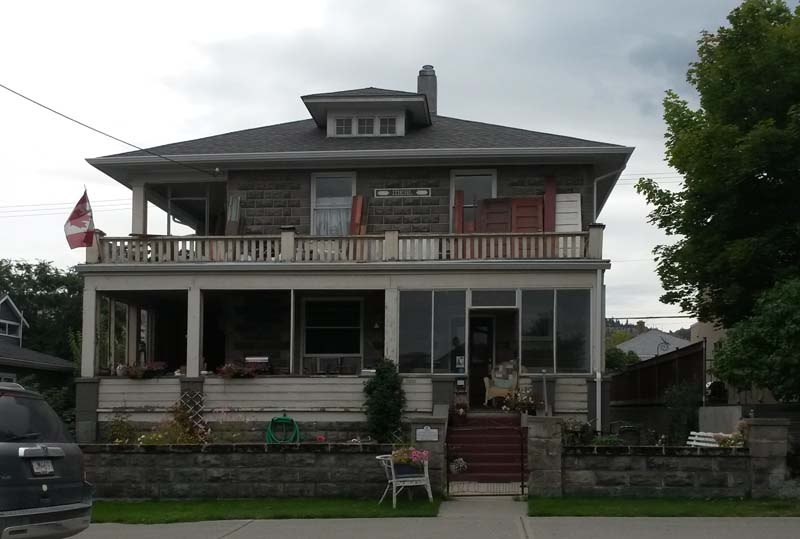 2019: An up to date photo – still looking good.
From Lynn Poole, 2020: I recently came across an antique sewing machine with an original receipt enclosed. I googled the original Owners name and address and your page and drawing of 673 Battle Street came up with a photo that included Pearl Snowden. Miss Pearl had purchased my sewing Machine in December of 1948. I was so excited to find some history on this machine and I thought I would share it with you.