I went there at dawn on an August morning in 1994, on a day that promised to be scorching. On a butte above the Thompson River east of Spences Bridge, visible from the Trans Canada highway, there stood a farmhouse (the little red blob in the left distance) on an irrigated patch of land that was used, I think, for grazing sheep. The house was a storey-and-a-half tall with side gables and a single shed-roofed dormer on the front.
From Dr. Marie Anderson, 2013: Our family place, Anderson Organic Farms, is operating under my sister Judy Blades (Anderson) and her husband Joseph. I suppose you are correct in saying Vanishing Toketic as that refers to the CPR siding 'Toketic' , which has indeed vanished along with the passenger trains which serviced our are till the late 50's. Thanks to Anderson Organic Farms our family has a family presence today.
Note from Coyla Stewart, 2002: This farm belonged to the Anderson family. The house burnt down by accident, while trying to drive out rats or something like that, got out of control. My Grandmother, Aunt and Mother lived on the area just below, you can still see the remnants of their first house, actually a shack, their house next to it burnt down around 1938 or thereabouts.
My father is from the Shulus Band near Merritt and my mother was from the Cook's Ferry band now in Spences Bridge. I've been told that her actual Band was the Pokhaist to which her mother belonged. This Band was broken up for one reason or another, mostly political with the land distributed to their descendants. My Grandmother's maiden name was Lucy Timothy. The Timothy name is associated with Chief Shumahatsa through marriage, but I don't know the details. My people were actually there before the Andersons, as a matter of fact it was a sister of my Grandmother who adopted Jacob Anderson who later became the rancher and builder of that red ranch house on the hill. They farmed and raised cattle. By adopted, I mean as a son, I don't know about the legalities and all, but for all practical purposes he became a member of both the Band and our family. I may be wrong about the person being my grandmother's sister though, because I recall my mother calling him Uncle Jacob. He was like an Uncle to her, in fact as a child we used to visit summers at that ranch house and I would spend the summers there. My Grandmother Lucy died in 1956 and we buried here there at the Band graveyard in Toketi, we held a service for her at the Pokhaist church. My mother attended a boarding school called St Georges (located somewhere north of Lytton) until she graduated from the eighth grade.
Note from Aaron Sam: Mary and Jacob Anderson were my grandparents. Their children were Marie, Lorna, Judy, Grace, Bernice, David, Aiona (my mother) and Trudine.
Request for information from Lisa Donaldson: I was searching the net on my family history and came across your website (Vanishing BC). My Great Grandmother was born in Shulus BC at the Immaculate Conception Mission in 1880. Her name was Emily May Mcneill (Amelie on baptismal record) and she was of Aboriginal Ancestry. We believe that he father Alfred Mcneil was Metis and her mother Susanne Jane George was Aboriginal. I am hoping to find out where she came from? My family has been working for a while on this and any information you might have on Shulus would be ever so helpful.
St. Aidan's of Pokhaist Church

(Right: watercolour painted in 2004) I have been fascinated by the little church in the sagebrush on the south side of the Thompson River between Spences Bridge and Ashcroft ever since I was a child and we drove the Trans Canada highway every year between Vancouver and our summer cabin on Shuswap Lake. The first information I was able to find was a 1960 photograph in Donovan Clemson's Old Wooden Buildings (Hancock House, 1978) which identified it as St. Aidan's of Pokhaist Village. The name Pokhaist or Pukaist Creek appears on old maps I have; it drains into the Thompson River nearby. Other nearby Anglican churches include St. Michael and All Angels' at Spences Bridge, which was erected about 1906 following the devastation of the old Indian village and church in a terrible landslide in August, 1905; and St. John before the Gate at Cornwall, the Indian village between Ashcroft Manor on the Trans Canada highway and the town of Ashcroft.
According to Early Indian Village Churches, by John Veillette and Gary White (UBC Press, 1977), St. Aidan's is an Anglican church but the authors were unable to determine a date of construction or any other information about it.
From the Anglican Diocese of Cariboo Archives: Originally served within the Lytton Indian Mission, Shulus (All Saints' Parish, Shulus, B.C.) had been separated into an independent Indian mission by 1920. From Shulus various other congregations and communities have been served. Currently, the parish includes St. Philip's, Canford; St. Catherine's, 14 Mile House; and St. Michael and All Angels, Spences Bridge. Previously, congregations at Pokhaist, Toketi, Cornwall and others have been included in the parish's ministry. Since 1986 Shulus and Merritt have been joined together as the Nicola Valley Pastoral Zone, a venture in a joint pastoral ministry in charge of one priest. Fonds consists of parish register, baptism register (1950-1965), civil register (1945-1957), service registers (1917-1965), correspondence, financial records. Includes Canford, St. Philip; Cornwall, St. John before the Gate; Nicola, St. John the Baptist; Nyshakup, St. Augustine; Pokhaist and Toketi, St. Aidan; Spences Bridge, St. Michael and All Angels. Parish register includes: baptisms (1923-1950), confirmations (1927-1982), marriages (1923-1983), burials (1925-1983). During the 1970's St. Alban's, Ashcroft also became responsible for the new congregation at Logan Lake and for St. John at the Latin Gate Church, Cornwall and the Toketi congregation which were previously under the Shulus Indian Mission. By 1987 Logan Lake had become a separate ministry while St. Christopher, Clinton had been placed again under Ashcroft. The parish currently includes Cornwall, Toketi and Clinton.
Note from Coyla Stewart: My great grandfather was Chief Shumahatsa of the Pokhaist. Our band burial ground is there, close to the Pokhaist church. My mother, sister and many others are buried there.

From Brian Kipp, 2013: I have always been fond of this church, and was grateful to learn its name on your website. I visited the church this week, the inside is still great, but the roof is on its last legs. Any idea who might be a contact to talk about a roof repair? I had it in mind that a Kamloops congregation might be able to organize this on a volunteer basis.
From Wes, 2013: I was there on the 26 of March this year and took some pictures of the inside of the church and was amazed how everything is still in very good shape, except the outside is showing its age, to bad as soon the roof will be leaking badly. I hope you don't mind as I am sending you some of the photos.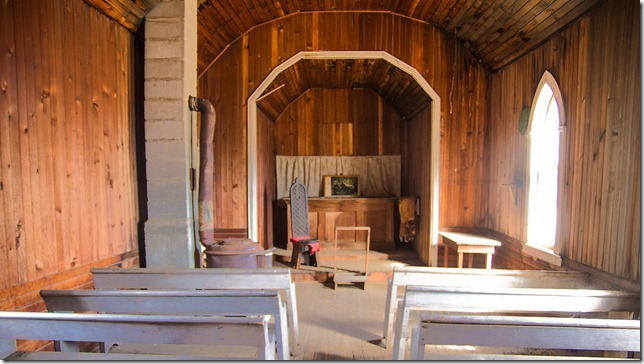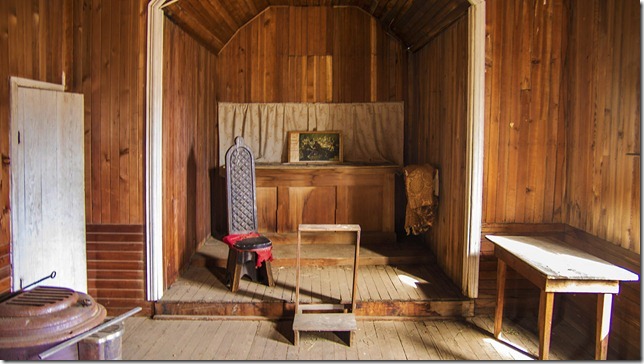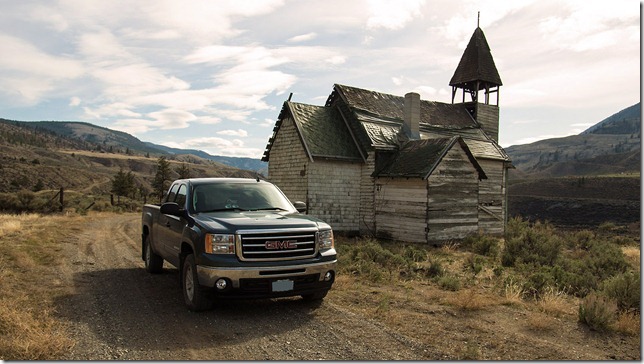 Below: Photos by Lucien Campeau, taken in the fall of 2002.