December 24, 2007

-we're fighting back against the flies with the latest addition to the household, a Venus Fly Trap. It's something of an unequal contest due to the numbers of them, as I wrote about earlier in the month.

-one of the first acts of the new Kevin Rudd government was to launch an attack on Japan's sham "scientific whaling" harvest in the southern ocean. Last week it announced it was sending an armed customs ship to monitor and film the Japanese as a prelude to an international lawsuit. Then, Japan backed down on its plan to kill 50 humpback whales, the ones that travel up the east coast of Australia every year, but will continue to hunt about 1000 smaller species. The newspapers have been full of stories about how "whale meat has been sold as dog food in Japan and there is a push to encourage children to consume it to help reduce stockpiles."

-as further evidence of Australians' love of marine creatures, people have been told to stay away from the area of the Sydney Fish Market near Darling Harbour unless they're on the annual quest to buy the freshest possible seafood. There are always huge line-ups, practically gridlock, on Christmas Eve, as Sydneysiders jostle to get the makings of Christmas lunch. Half or more Australians eat seafood for the main Christmas meal, a classic being prawns on the barbie, salad and chardonnay -- well, white wine at least. But according to an item on the radio, 41% will eat some kind of roast meat for the traditional Christmas lunch. Every Australian of a certain age, including Christine, tells horror stories of childhood Christmases in the blazing heat with meals of roast goose, baked ham, stuffing, pudding with hard sauce and every other conceivable trimming.

-Bing's "White Christmas" just came on the radio ... arghh. Last night we played the Phil Spector Christmas album from the early '60s -- even it didn't really work to rev up the seasonal spirit. Someone just said on the radio that in one of the big malls they'd only had one lost child so far but several lost husbands.

In fact, Christmas just seems to be a prelude to two of the big sporting events of the season on Boxing Day: the start at midday of the fabled Sydney-Hobart yacht race, and the Boxing Day Test (a cricket game). This year, the latter involves Australia against India. It will continue for as much as five days, several hours a day, being more a test of patience than anything else. Needless to say, I get a spirited defence of traditional test cricket from most of the rellies here; I never thought I'd be in the position of arguing that baseball is a comparatively exciting game.

-the handful of people who've known me for yonks will recall that I had a brief career as an editorial cartoonist for the

Vancouver Province

and

Victoria Times

back around 1979-80. I can remember, for example, drawing 2 cartoons on the eve of the 1980 US presidential election; in one, Reagan rode a horse into a sunset with a cinematic "The End" emblazoned above it, while in the other he rode on a horse out of a sunrise with "The Beginning" above. Guess which one they ran?

Anyway, I've always wished I had the combination of talents to be an A-list cartoonist and have admired and envied the handful who did. So I really enjoyed the article in the

Weekend Australian

by one of its cartoonists, Bill Leak, containing directions on how to draw the new prime minister.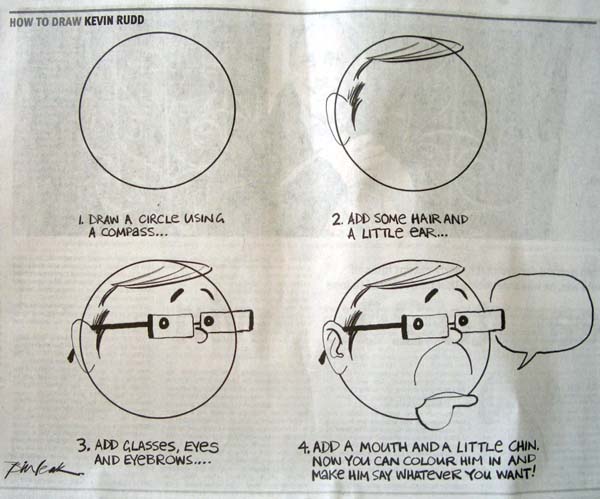 His accompanying article was extremely funny. "For cartoonists," he wrote, "a change of government marks the dawn of a whole new phase in their life, right up there with being expelled from school and the birth of their first child." He went on to say that he was extremely disappointed with "what Rudd and his cohorts have given us to work with," and how he's already becoming "misty-eyed and nostalgic whenever I think of the treasure-trove of grotesqueries that was the Howard government: the PM's caterpillar eyebrows and that wonderful bottom lip that looked as if some Ethiopian tribal beautician had inserted an ashtray into it; [Treasurer Peter] Costello's endearing nose, so reminiscent of a chimpanzee's bottom; [Foreign Minister] Alexander Downer's pneumatic face, so reminiscent of a slapped bottom..." and so on. He expressed thanks to Rudd for keeping former rock star Peter Garrett, who is huge and bald with an almost menacing, cadaverous face, in the cabinet, but the rest are too bland to be any use at all.

Perhaps if there's reincarnation I could develop that killer instinct in my next life?