May 22, 2008:

we took a road trip for a couple of days down to Canberra where there was a (very disappointing) art exhibition called The Triumph of Landscape: From Turner to Monet. It should have been called Lousy Landscapes with a Few Gems. But the countryside we saw for real was very beautiful and inspiring for the

pôchades

in my sketchbook. A highlight is always visiting the New South Wales country towns with their wonderful 19th-century architecture.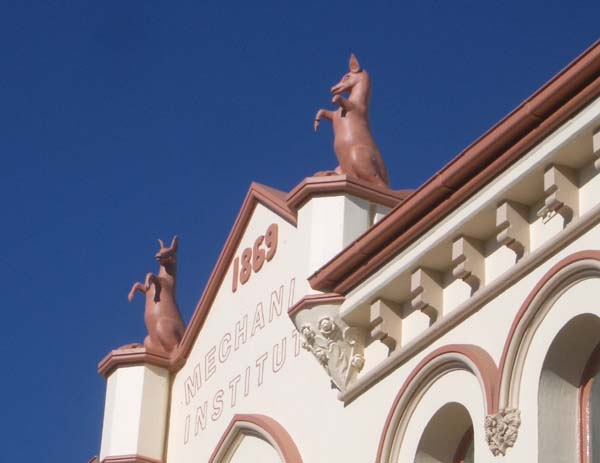 Roos rampant atop the old Mechanics' Institute in Yass, a town of a few thousand near Canberra that a century ago was a contender for the role of national capital because it, like Canberra, was more or less half-way between the metropolises of Sydney and Melbourne. Unlike hilly Yass, which had been a town since the 1820s, Canberra was effectively a blank slate easily adapted to the ideals of grand urban planning. Canadians will recognize in this the saga of Ottawa aka "Queen Victoria's Revenge," equidistant more or less from Toronto and Montreal. And like the case of Ottawa, where nobody from Toronto, Montreal (or Vancouver) wants to move, Canberra is shunned: it's blazing in summer, freezing in winter and lacks a certain
je ne sais quoi
in the quality of its neighbourhoods and cultural scene. However, there have recently been billboards posted in the congested subway stations in Sydney stating, "If you lived in Canberra, you'd be home by now." Ditto for Adelaide, the quiet little capital city of South Australia, which has been advertising its easier, cheaper lifestyle to the drudges of the big cities.
-one of the few things I as a child knew about Australia, besides Skippy the Bush Kangaroo and Koala Lumpur, was that it had a Flying Doctor Service to reach the remote stations of the Outback. The RFDS celebrated its 80th birthday last week.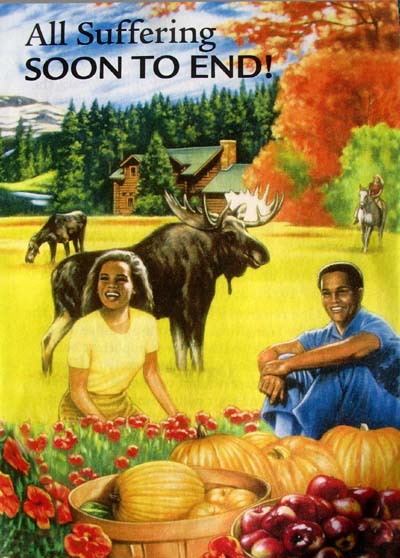 -while we were away, the local JWs visited Roland's at Flat 2 and, finding him unwilling to answer the door, left this splendid brochure with cover by the noted religious artist Two-Moose Lautrec. How come he was so lucky, we asked ourselves?

Roland felt it provided a mystic connection with our upcoming trip to Canada, as it featured us with our Aussie tans in a recognizably bounteous northern landscape.

Ergo, the Oz-blog ends for a while as we're on a plane in two days for Vancouver to spend a few weeks. One of the reasons for the trip was because the City of Vancouver was planning the Mayor's Arts Awards, at which my

Vancouver Remembered

would formally receive its book prize and I would receive a much-needed fame injection. I put off booking as long as possible, to make sure they had confirmed the date for the ceremony on the 26th of May. Then an email arrived the other day saying, in effect, sorry we have to postpone the awards ceremony for a month -- will you still be here? I wonder often (

increasingly

often) why I bother.


-and finally, before we go away I wanted to put up the bare-bones beginnings of a new project, an A-Z from an immigrant's point-of view, just to get it out of mind and onto the (web)page. As with some of my previous projects, especially Vanishing British Columbia, it's going to grow on-line with suggestions from readers and hopefully become a publishable work. Look for old ads, new collages, watercolours, quotations, paintings and poems that illuminate the uniqueness of this country. For true-blue fair-dinkum Aussies, "ute" and "Chesty Bond" seem like normal words, but for the rest of us it's almost a new culture.

On a more serious level, Australia's unusual ways and forms are as much a victim of globalization as everybody else's. Things I've always noticed and admired, like the distinctive shopping streets with their continuous sun awnings, are disappearing as people flock to the "me-too" indoor malls that began to wreck North American cities two generations ago; architecture is changing, the wide-verandahed houses of the past giving way to McMansions and brick ranchers that wouldn't look out of place in the outskirts of Tulsa. So, not surprisingly for me, there's a "Vanishing Oz" component to it, too.