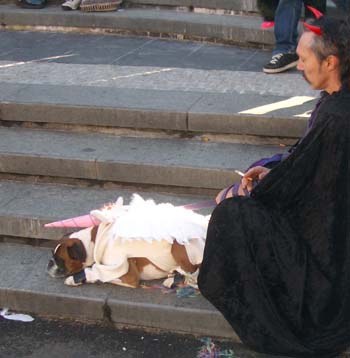 It was like being a part of a medieval street fair, as many of the observers and most of the paraders were in wonderful, colourful costumes, everything from gowns to rags to armour. Many wore masks. There was dancing and drumming and an air of gay abandon, as one used to say. We had the impression that anybody who wanted to just joined in. We, being inhibited, stayed on the sidelines of course.
In the afternoon there were open-air concerts on the plaza of the Carrington, the historic and grand hotel at the top of the street. And why shouldn't everyone feel happy, as the days are finally starting to get longer? Dark at 5, dawn at about 7:30 makes for a pretty tight day.
-and to update Iguanagate (from below), the fiery MP Belinda Neil, whose "Do You Know Who I Am?" harangue allegedly started the argument with the nightclub staff, has been "stood down" from her role as ... get this, the chair of the parliamentary Communications Committee! It was a stroke of genius worthy of Catch-22 for the prime minister to put such a personality in that role. Meanwhile, everyone is awaiting the police report, and the pundits are suggesting that if it can be proved that Neil bullied her staff into changing their statutory declarations she could do jail time.
-and, in the battle of the scientific studies, last week's report that Aussies were the world's fatsos was trumped by yesterday's, declaring Aussies to have the world's second-longest life expectancy (after Japan). A bit of a disconnect there... ?